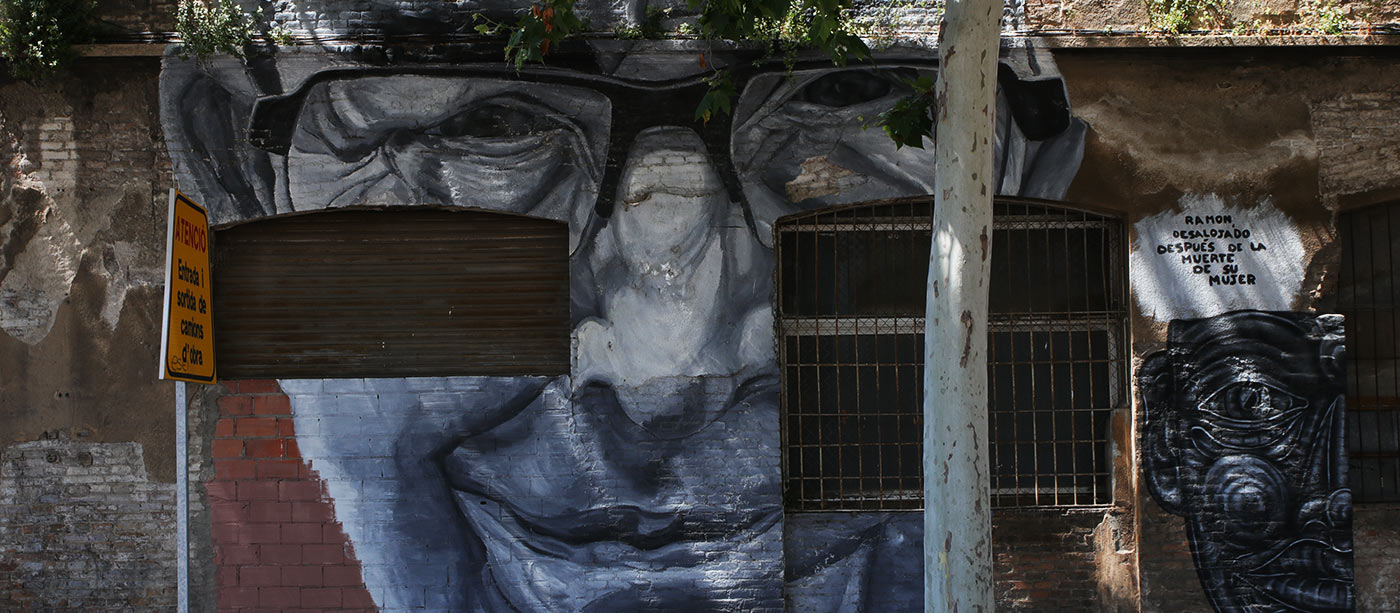 Discover Poblenou neighborhood!
One of the most alternative areas in Barcelona!
Discover Poblenou neighborhood!
One of the most alternative areas in Barcelona!
Here is the ultimate guide for Poblenou neighborhood in Barcelona
Located in an alternative area in Barcelona, this neighborhood is by far one the coolest spots to hangout in the city. Get lost in Poblenou and find a relaxing spot in the sun to enjoy the views or even a cozy coffee place to meet the locals. This is a highly recommended barrio to visit!
Tell Me About Poblenou
In the 19th century the Poblenou neighborhood used to be Barcelona's industrial area. It was even called the "Catalan Manchester." The remains of old factories still fill this neighborhood and are an important part of how this neighborhood found its cool, artsy vibe. The abandoned factories are now the perfect landscape for local artists to get to work. There are many artistic spaces, galleries, and show rooms that have taken over a now vibrant area of Barcelona.
Since the 1992 Olympics were held in here, the Barcelona City Council wanted to revamp the neighborhood. Therefore, Poblenou is not as intimate as it once was in terms of the new trendy shops and restaurants on the rise. However, there are still traditional mom-and-pop stores that are scattered throughout.
Good Tips:
Why should I get lost in Poblenou?
If you're an art connoisseur, you have to check out Poblenou! It is home to the Design Museum of Barcelona, La Plataforma (art gallery and exhibition space), and Addicted To Life (art gallery and performance venue). But, if you're not in the mood to go to a traditional art exhibit, you can always walk around and find some of the raddest graffiti spots in Barcelona. After all this exploring you´ve got to check out one of the epic coffee shops that are popping up all over Poblenou. Industrial, arty, cool, designer coffee shops with baristas who know what's up with a coffee machine. Perfection.
Good Tips:
Rambla del Poblenou
Rambla del Poblenou is a traditional, more low-key local Las Ramblas. It is lined with cute shops, bars, and restaurants. Sit outside and watch locals and a few tourists alike do their thing! It´s a charming area, and gives a great opportunity to really soak in a less tourist driven Barcelona. If you're not about the hustle on the main boulevard of the neighborhood, there are lots of nice restaurants surrounding it.
Good Tips:
Las fiestas del Poblenou
Poblenou is an extremely lively neighborhood that frequently puts on street parties with live performances. But specifically, for two weeks in September, there is Festa Mejor del Poblenou.
They celebrate with music, dancing, art displays, community meals, and sport competitions. It´s a really special, fun and inviting party, celebrating the trendy and traditional barrio!
Did you know?
Marbella Skatepark
There is also a dope skate park in Poblenou called Marbella. It is professionally designed and open 24/7 all year long. There is no entrance fee, and it's bound to be a good time. Check out our past blog post about Marbella skatepark to understand more about it.
Good tips
Marbella Beach
Playa Marbella is a beach in the Poblenou neighborhood that tends to attract younger crowds because it is a nudist beach. It is full of locals, and there is almost always someone playing volleyball on their beach court. If you want to read more about this beach, check out our blog post guide to nudist beaches in Barcelona .
If you're looking for a hostel in this neighborhood, the Sant Jordi hostel locations are nearby! The closest one to the Poblenou is Sant Jordi Hostels – Sagrada Familia.
Did you know?