It's Free
It's Open All Day, Every Day
It's On The Beach in Barcelona
There's No Staff, No Sponsors & No Commercialization
Skate at Your Own Rick – Bring Pads & Helmet
Be Respectful of the Park, the Locals & the Environment
Don't Pee in the Bushes
And Don't Forget to Go Big… or Go Home!
Be sure to check out the video →
*it was shot on the opening day – it's not normally that crowded!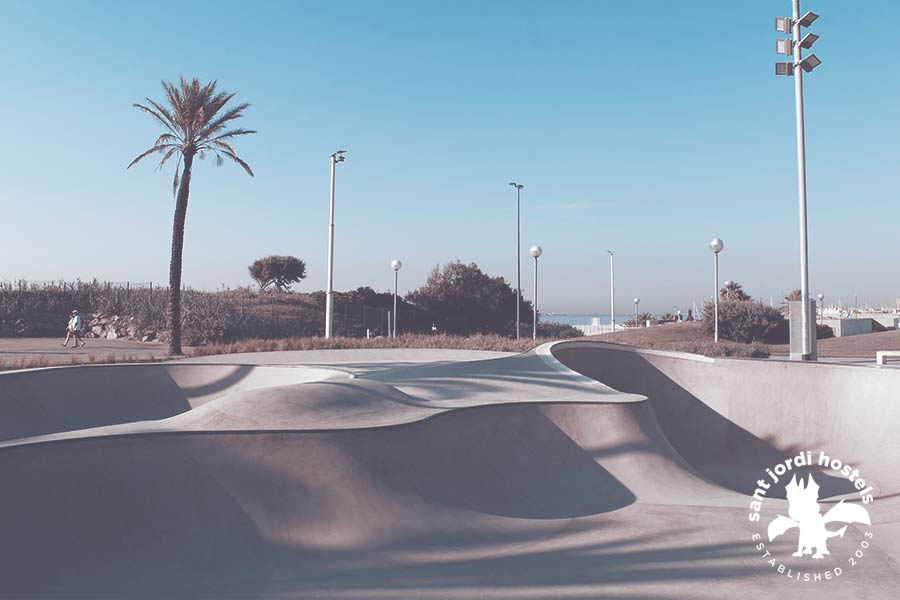 A Professional Quality Skate Park in Barcelona!
A free public skate park on the Beach in Barcelona, the Mar Bella Skate Park is a professionally designed, public skate park for locals and tourists alike.
Thanks to Sergi Arenas (park designer), Sergi Carulla, Oscar Blasco, the entire construction crew, the city council of Poble Nou and the city of Barcelona for creating a world class skate park on the beach in Barcelona, where the next generation of skaters in Barcelona can take the sport and the Barcelona skate scene to the next level.
The Mar Bella Skate Park in Barcelona was designed with every level of skateboarder in mind. There are various elements and different areas for skate boarders of varying skill levels and styles. At the upper level of the skate park there is a street skate area with stairs, rails and banks. At the other end, closer to the beach, is the pool area, with a smaller pool area for beginners and a larger bowl section for the more experienced skaters. Connecting the two parts is the snake a serious of humps designed to promote flow and generate speed.
How to Get to the Best Skate Park in Barcelona
If you are staying with us at Sant Jordi Hostels Barcelona, just ask your friendly neighborhood receptionist how to get there.
Take the Metro
The closest metro stop is the Poble Nou metro stop on the L4 (yellow line). From the Poble Nou metro stop it is a short, 4 block skate, down C/ Bilbao in the direction of the beach. If you are not sure which way to go on c/ Bailbao, here is a hint – c/ Bilbao is a one way street… go in the direction that the cars are going. That is it. Keep following c/ Bilbao until you see the skate park. Nothing to it!