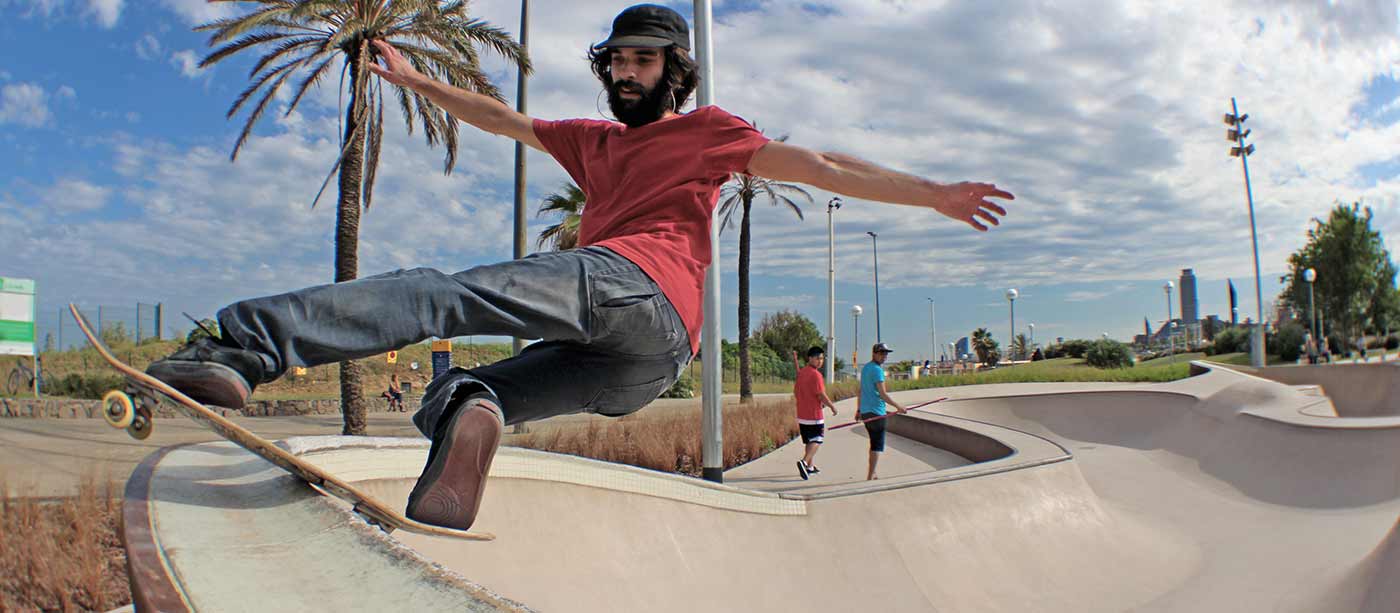 Barcelona Skateboarding Guide
The Skateboarding Capital of Europe
Everything about Barcelona skateboarding
Barcelona is famous for many things: beautiful beaches, great parties, tons of street art, amazing skate spots, and… well, many other things. It's no secret and actually a little over talked about that Barcelona has come to be known as the European capital of skateboarding. Yeah, the streets are smooth, the locals are chill and the architecture seems to be custom designed for skaters: we've heard it all before. You don't need me to tell you that Barcelona is filled with sick skateboarding spots: ledges, gaps, banks, rails and about everything else a skater could dream of. I'm sure you've seen it in the videos and mags.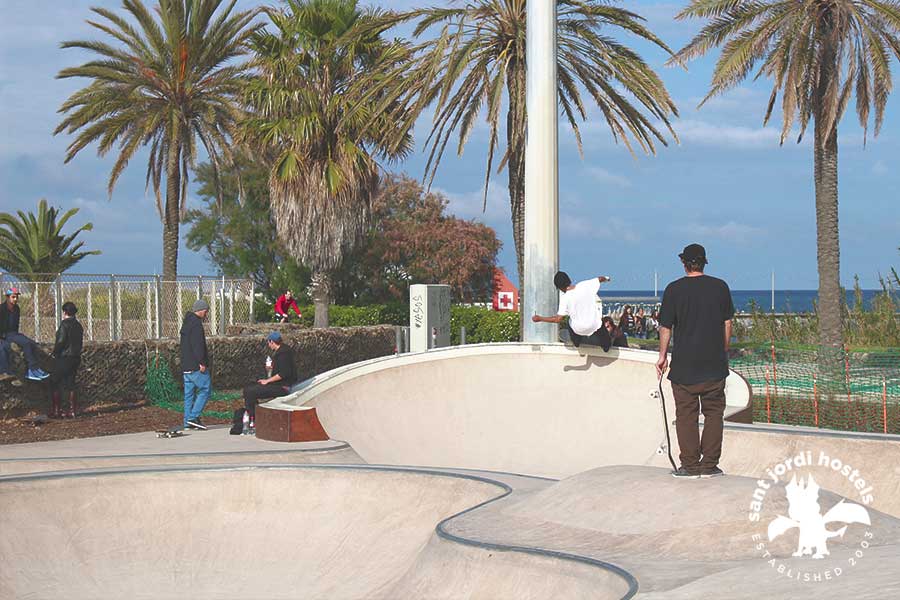 The Basics about Skateboarding in Barcelona
The main skateboarding spots in Barcelona are no secret – Right? Everyone has seen MACBA, Universitat, Parallel, and Sants: They're all shot out. Ok, "who cares" you say, most of us just want a good session at a sick spot where you don't get hassled by the cops, residents, local shop owners or randoms who just don't like skateboarding or skateboarders. Barcelona is still the Place!
It's true – the golden days of skateboarding in Barcelona are over. The cops have started to take more interest in the skateboarders and will on occasion give tickets or take boards. The biggest problem is that Barcelona has become so famous for skateboarding and so many people are constantly traveling here to skateboard that it has become a year-round thing. It's funny though – 90% of the time it really doesn't matter. Every day of the week, no matter how early or how late, there will always be someone skateboarding at MACBA or Sants, often right in front of the cops. If the cops don't want it going on you will know and it probably won't end in you getting a ticket – unless you push the issue of course. The cops in Barcelona actually have better things to do. Imagine!
So, I haven't told you anything new. You've heard it all before. I'm sure anyone can do an internet search and find guides like ours on the most famous Barcelona skateboarding spots. Everyone knows Barcelona isn't what it used to be. The secret is – it's still sick! The thing that makes Barcelona so great for skateboarding is that there are literally spots everywhere. The way it normally works here is that you will hear about a spot and on your way to that spot you find 3 more spots. It's actually a little ridiculous. It's enough to make your head spin. You really get the feeling that someone designed the city with skateboarding in mind.
Stay tuned for more in-depth information on specific skateboard spots in Barcleona and other updates to "Skateboarding Barcelona, A Locals Guide." For further information on the best place for skateboarders to stay in Barcelona and how to have a great time afterhours, continue reading.
The Ultimate Accommodation for Skateboarders in Barcelona
One thing you might not know is that there is a perfect place for skaters to stay in Barcelona. First, a hotel is out of the question. Don't do it! Unless you're rich, you brought your own party or you just want to be left alone in your room with your sad, lonely mini-bar, hotels in Barcelona suck.
Youth hostels in Barcelona are the way to go. As we are a top rated Barcelona hostel chain and have designed our newest and most modern skate inspired hostel entirely around the Barcelona skateboarding scene, take a minute to check out what makes us so damn cool!!! The quality and standard of Barcelona hostels is impressive and most offer a lot more than just a bunk bed and sheets. We have taken this concept of high quality and standard to the next level – and beyond.
Our Sant Jordi Hostel Sagrada Familia is a skateboarder's paradise.  The place is sick! You will not only get a specially designed Barcelona city map with all the best skate spots of Barcelona clearly marked, you can also skate a pretty sick mini-ramp on the back patio. And, just so you don't get bored – ever!!! – most nights of the week there are organized Sant Jordi Barcelona bar crawls and parties. It is unreal! Just check out this video for an example of a real Sant Jordi Barcelona bar crawl. We don't charge you anything for the party and there is usually a huge group. We take all the guests out together to some of the best bars and clubs of Barcelona. It's a really good way to meet other people and have an amazing experience. For an amazing Barcelona experience, come check out our hostels in Barcelona.