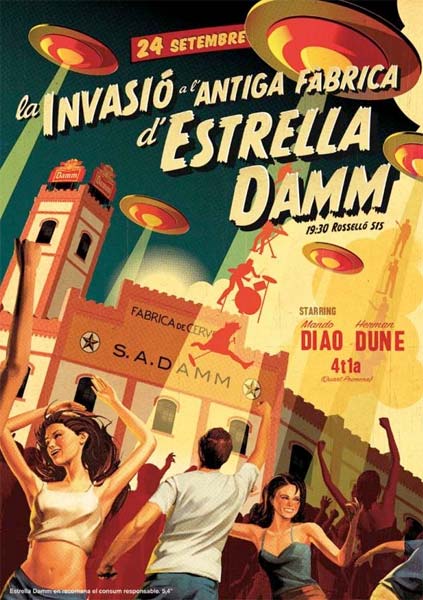 Barcelona BAM Free Concert at the Estrella Damm Brewery in Barcelona
Every year since 2008 during the La Merce festival of Barcelona the popular Barcelona Brewery Estrella Damm has teamed up with BAM (Barcelona Acció Musical) to present a free, open-air, live concert with top notch bands in a street festival environment in front of their original brewery in the l'Eixample district of Barcelona. Last year more than 15,000 people filled the streets in front of the old Estrella Damm brewery to watch such famous bands as 'Belle and Sebastian' and 'Ok Go'. Hitting the strees at 19:30 on Saturday, September 24th 2011, this year should be even better. Don't miss out on the musical invasion of La Merce, the streets of Barcelona and l' Antiga Fabrica d' Estrella Damm!
Estrella Damm's La Merce 2011 Free Concert Line-up
This year's line-up includes a positively lively mix of Catalan, French and Swedish pop, folk, and alternative rock. On the night of the 24th of September, 2011, at 19:30 the festivities will kick off with the popular folk-pop band from Catalunya 4t1a (quart primera). With a mellow pop, instrumental sound and thoughtful lyrics (in Catalan), 4t1a is a true Barcelona band. At 21:00 the French pop-folk duo, Herman Dune, take the stage. Herman Dune, a mellow pop-folk band with an optimistically bittersweet style, is a long-time favorite of the Indie scene and is sure to draw a crowd and put on a great performance. The Headlining act, Mando Diao, will take the stage at 22:30. A popular Alternative rock group from Sweden, Mando Diao has an energetic, raw, garage band style that is sure to end the night with a bang.
Best of all, not more than one block away from the BAM organized free concert at the Estrella Damm brewery is our newly renovated, Barcelona hostel, Sant Jordi Hostel Sagrada Familia: a new skateboard inspired hostel minutes from the party. Stay with us and you can have an amazing accommodation during Merce 2011 right next to the action at an affordable price. Also, not only is our Sant Jordi Hostel Sagrada Familia right next to the Estrella Damm factory where the free concert will be held but it is also just a short walk from the famous Sagrada Familia cathedral, designed by Antoni Gaudi and one of the most visited sites in all of Barcelona.
Sant Jordi Hostels Barcelona Party After the Concert
After the concert, you can join us on one of our famous Sant Jordi Hostels Barcelona bar crawls. Enjoy one of the top rated Sant Jordi Barcelona hostels parties, the famous La Merce festival of Barcelona and the much anticipated BAM organized free concert at l' Antiga Fabrica d' Estrella Damm.
Sant Jordi Hostels Barcelona… More than a hostel, a life experience!!!!
How to Get to the Merce 2011 Estrella Damm concert
Take Metro Line 5 (Blue) to the Sant Pau/Dos de Maig stop. After exiting the station walk down-hill on either c/ Dos de Maig or c/ de Cartegena (depending on which exit you use). Either way you will cross c/ Rosello. The whole city block between c/ Dos de Maig and c/ de Cartegena just above c/ Rosello is the Estrella Damm beer factory. It is a huge yellow building with a large tower that has a big lit-up yellow star on top. It will be very hard to miss.