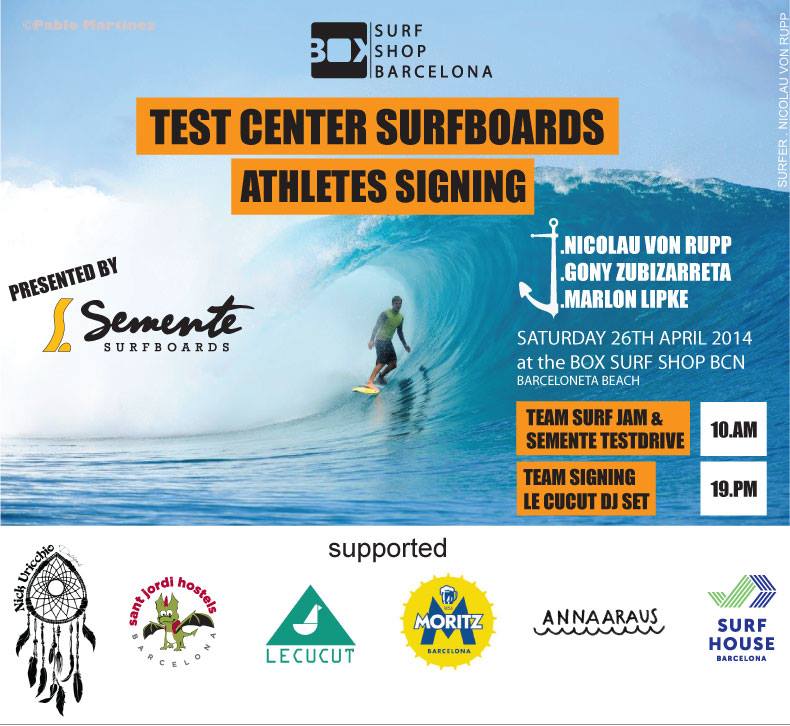 This weekend Sant Jordi Hostels Barcelona will be hosting the Semente surf team. We are very excited to have profesional surfers, Nicolau Von Rupp, Gony Zubizarreta and Marlon Lipke staying with us in our skate hostel in Barcelona.
What's Goin' Down:
The pros will be rocking the latest surfboard models from Semente Surfboards at Barceloneta Beach. Also a few Semente Surfboards will be availablable to surf!
Come for a test drive and have a chat with shaper Nick Uricchio.
***VERY IMPORTANT INFORMATION***
After the surf session, Box Surf Shop is organizing a surf party with free beer!
The party starts at 19:00 (7:00 pm) with LE CUCUT DJ SET and a lot of other surprises! Do not miss this surf party!!! See you there.
When:
Saturday, April 26th
Surf Jam starts at 10:00 (10:00 am)
Team signing at 19:00 (7:00 pm)
Where:
at the Box Surf Shop on Barceloneta Beach