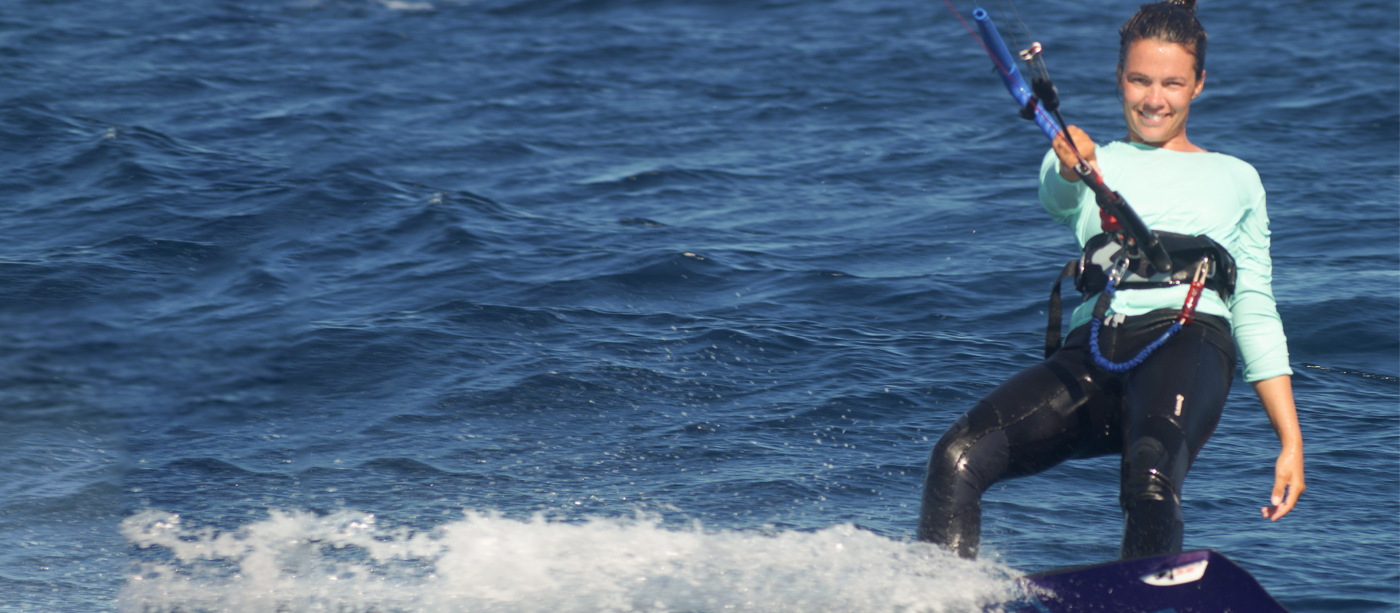 Kitesurfing at Barcelona's Kitesurf Hotspot
We've teamed up with the Mojokite team to introduce you all about the Kitesurfing experience in Barcelona!
Kitesurfing at Barcelona's Kitesurf Hotspot
We've teamed up with the Mojokite team to introduce you all about the Kitesurfing experience in Barcelona!
The Best Kitesurf Hotspot is only 30 minutes away from our Hostel!
Kitesurfing is one of the fastest growing sports in the world. It's not surprising: while soaring over the water with a powerful kite under your control, you will for sure feel the adrenaline rushing and get a great feeling of freedom. Best of all, it's pretty easy to learn and pretty much everyone can learn it! Near Barcelona's city center, you can find the perfect beach for kitesurfing: Castelldefels. Castelldefels is a super safe place for kitesurfing, which makes it perfect for begginers; it has a wide, long stretch of sandy beach with steady winds, no waves, currents or rocks – making it the most popular kitesurf beach of the Barcelona area. Sounds good, right?! So what can you expect out of a day of kitesurfing?
A chill morning
Good news for those of you who like to sleep in or squeeze in a morning activity around the city while on holiday: the wind only starts around 12:00/13:00!
Castelldefels beach is just a short 30min train ride away from the Barcelona city center, with the train station being ideally located close by our Sant Jordi Hostels Rock Palace – so you'll have enough time to check out a few sights or have a nice long brunch before heading out to go kitesurfing.
The train drops you right at the beach in Castelldefels, it really couldn't be easier!
Great beach vibes
Once you've arrived in Castelldefels, you'll find the kitesurf spot at just a short walking distance from the station.
As soon as the wind starts picking up, you'll surely see a sky full of kites dancing around and you'll know exactly where to go.
Local kitesurf school and shop Mojokite is there and active every windy day and can help you out with whatever you need to make your day a success: kitesurf lessons, gear rentals, forecast information, good vibes and nice people to shred with.
The wind usually stays for a good few hours, so you can easily take a break in-between to watch the show of local kitesurfers flying through the air doing some impressive tricks.
After-kite beers
Even if you've had only one kitesurfing experience before, you'll know what we're talking about: a beer always tastes so much better after kitesurfing!
Luckily, there is a bunch of places by the beach that can fulfil this need. A local favorite would definitely be Takua Bar, where you'll find many of the kitesurfers enjoying the late afternoon sun after their kitesurf session.
Another option would of course be to bring a picnic and hang out on the beach to watch the stunning Castelldefels sunset – it won't let you down!
Sleep - eat - surf - repeat!
During the windy season* you can easily get a few good days of wind a week, so if you're in the area for a bit longer you can just pop down to Castelldefels any time the wind is good and really get the most of it during your stay. Warning: kitesurfing is super addictive!
* The best wind seasons are spring: March through May, and autumn: September through mid December. In wintertime it's usually too cold and in summertime the beach is too busy, making kitesurfing impossible in and around Castelldefels / Barcelona. Want to know more details about the forecast and other kite spots in the area? Check out the Kitesurf Barcelona community page for all insider info!
Getting there smooth, quick and cheap!
If you're staying in Sant Jordi Hostels Rock Palace, you'll be less than 10 minutes away from the train station "Passeig de Gràcia".
Once you get there, you will need to get your ticket! Castelldefels is 1 zone away from the Barcelona area, this means you'll need a 2-Zone transport ticket (1 single ticket is about 2,80€; a 10-ride ticket is about 22,40€). From "Passeig de Gràcia" station, the R2 train leaves every 19 minutes, in this link you can check the latest info and timetables.
Map to the best Kitesurf Hotspot