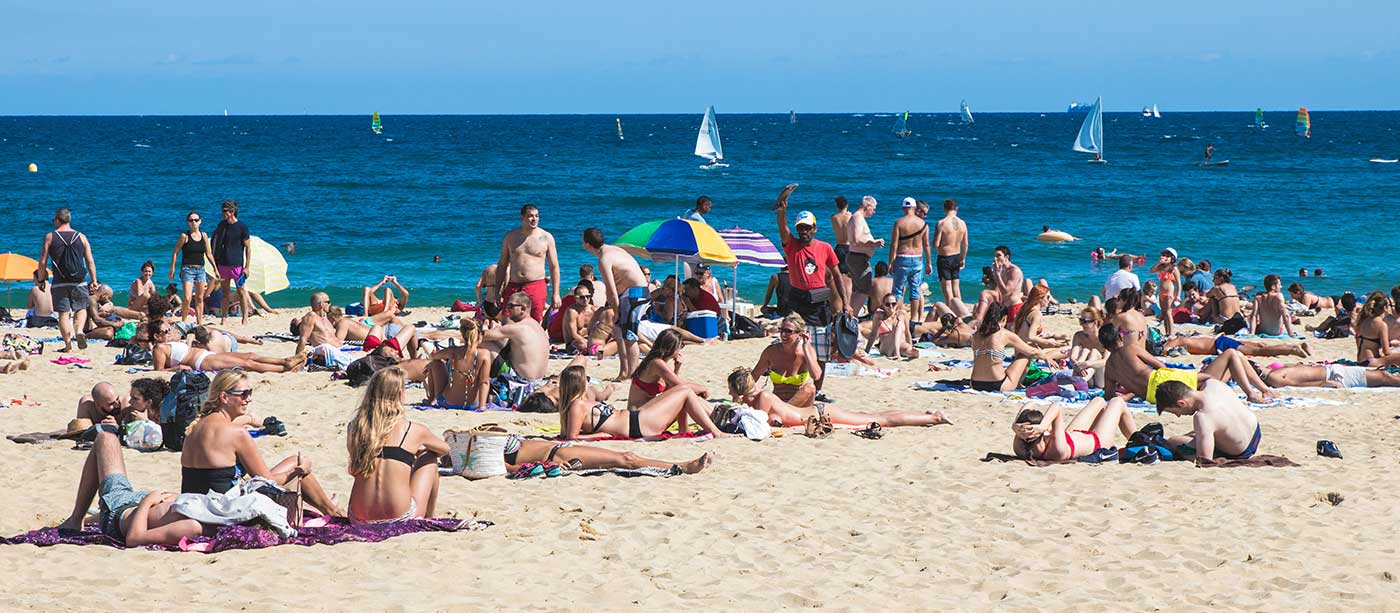 Top 3 Barcelona Best Beaches
Here's a guide to the best beaches in Barcelona!
Top 3 Barcelona Best Beaches
Here's a guide to the best beaches in Barcelona!
The Barcelona Beach life
The summer days are warm and lengthy, here in Barcelona. That means there's plenty of time to hangout in that saucy European sunshine at the best beaches in Barcelona.
Now, a little back-story… The beautiful beaches of Barcelona weren't really beaches until 1991. An urban planning scheme put forward in anticipation for the 1992 Olympics saw a new, sandy, accessible seafront. The remodel changed the face of Barcelona and transformed it into one of the most attractive holiday destinations in Europe.
Bogatell Beach
Bogatell is our top pick for the best beach in Barcelona! It's the cleanest, has the softest sand and the clearest water. Being further away from the centre, in the Poble Nou district, means the atmosphere is much less chaotic. Locals, families and groups of friends tend to visit this stretch. Now even though it's actually illegal, the break wall is a great spot for snorkelling and jumping off the rocks. Bogatell has couple of bars and restaurants around, but we recommend bringing your own food and drinks. If you get desperate for some greasy goodness, there is also a 24hour McDonalds across the road. The easiest way to get here is either by bus, or the L4 metro line to stop Llacuna. If you're a skater, this is a nice skate way and very close to Marbella Skate Park.
Nova Icària Beach
You can't miss Nova Icària beach! One, because it's our second pick for best beach in Barcelona. Two, because it's literally right in front of the massive 52m iconic metallic fish sculpture. Another 1992 Olympics additive to the city. Nova Icaria is a great place to play beach sports, especially volley ball and foot volleyball. This beach is even accessible for people with reduced mobility and disabilities. Volunteers can help disabled people take a dip in the water if they wish. Located close to Port Olimpic, you can catch the L4 to stop Vila Olimpica, or alternatively we recommended riding a bike along the picturesque waterfront.
Barceloneta Beach
The iconic Barceloneta stretch is certainly the most popular beach in Barcelona. It's the biggest, closest and most accessible. Simply take the L4 line and hop off at stop Barceloneta. Once arriving, find your patch of sand and chill… because everything you could possibly need will come to you. There are people walking up and down the beach selling beer, water, mojitos, beach blankets, sandwiches, massages, hair braids… and even donuts. The donut man A.K.A Bambolino carries these tasty treats on a tray on top of his head. Yes, his head. There are even a slew of trendy beach bars that have been constructed right on the sand for the summer season. There is certainly nothing wrong with a post-beach, pre-party cocktail or three after soaking up some Vitamin D. If water sports are your thing, you can get all sorts of goodies from Box Surf Shop or Surf House. Surf house is also a great place for healthy eats. Barceloneta is a common place to paddleboard, and on the odd occasion even catches a few waves.
Accomodation near the beach in Barcelona
The easiest way to get to the best beaches of Barcelona is to take the L4 metro line. Our centrally located Sant Jordi Hostels – Rock Palace is close to Passeig de Gracia (L4) metro, or alternatively it's just a beautiful walk through the Barrios of Barcelona away. If you're looking for a more relaxed boutique style hostel, stay at Sant Jordi Hostels – Gracia. It's a straight shoot from Joanic (L4) metro in the bohemian Gracia district.