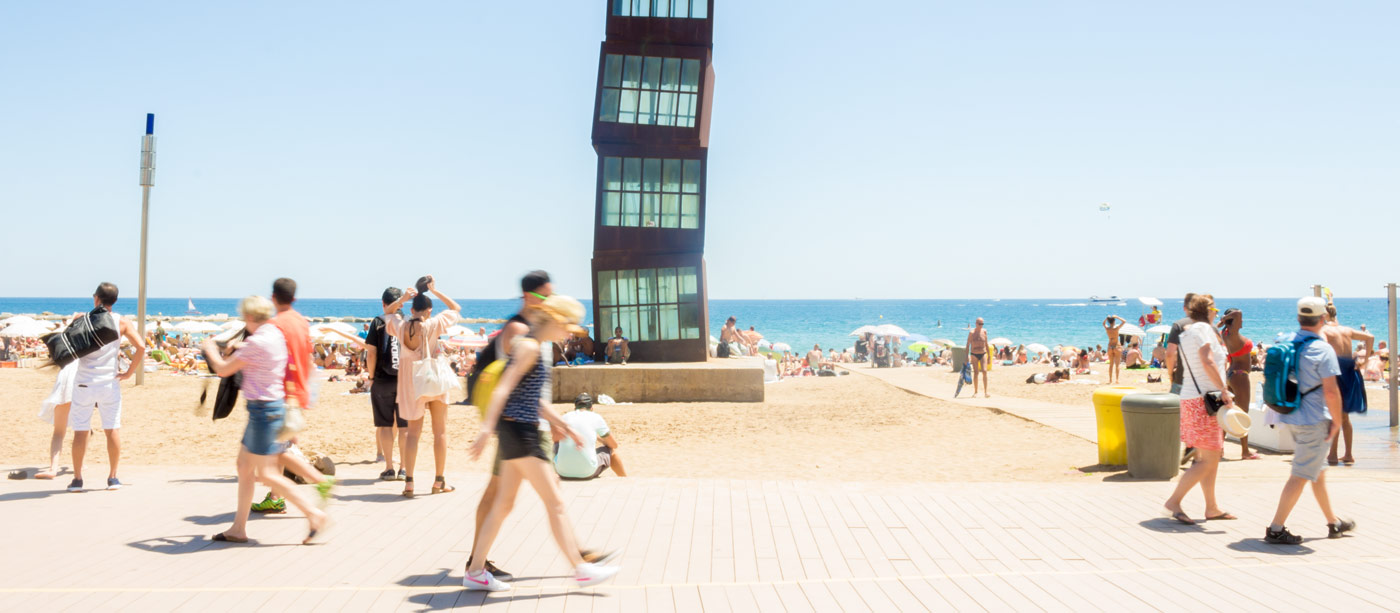 History & Today
The narrow pokey streets with balconies full of drying clothes aren't what you'd typically expect in prime seafront locations. Still mainly dominated by locals, the residential area of Barceloneta Beach radiates real authenticity and Spanish charisma.
Construction of the district began in the 18th century, and was originally populated by fisherman and working class residents. Due to it's density and growing population, during the 19th century the houses were adjusted into the 28m2 quarter style apartments – or 'quarts de pis' – which the area is now recognised for.
The 1992 Olympics prompted a decision to modernise the area. This included the demolition of old restaurants, a revamp of the beach front and a new port to be build. The new sandy stretch of beach had a very positive impact on Barcelona, and caused it to rise in popularity.
THE BEST BEACH IN BARCELONA
You'll never have to leave the beach because people patrol up and down selling beer, water, beach blankets, massages and a myriad of other goods. There's also lots of bars and restaurants constructed on the beach for the summer season.
If beach sports are your thing Barceloneta beach has you covered, with a versatile range of both water and beach sports including beach volleyball, paddle boarding, surfing, a public outdoor gym or yoga and pilates classes. The boardwalk stretching from the landmark W hotel to Port Olimpic is a popular place to run, skate, ride or just have a romantic afternoon stroll. For sporting equipment hire we recommend box surf shop.
BARS & RESTAURANTS
If you're after some drinks or tapas, there's lots of bars and restaurants along Passeig de Joan de Borbo (near Barceloneta metro stop on the L4), and continues all along the boardwalk. These places do tend to charge tourist prices though. Speckled throughout the neighborhood you'll find other cute wine and tapas bars, amazing burgers, pizzerias and the some of the best seafood restaurants in the city.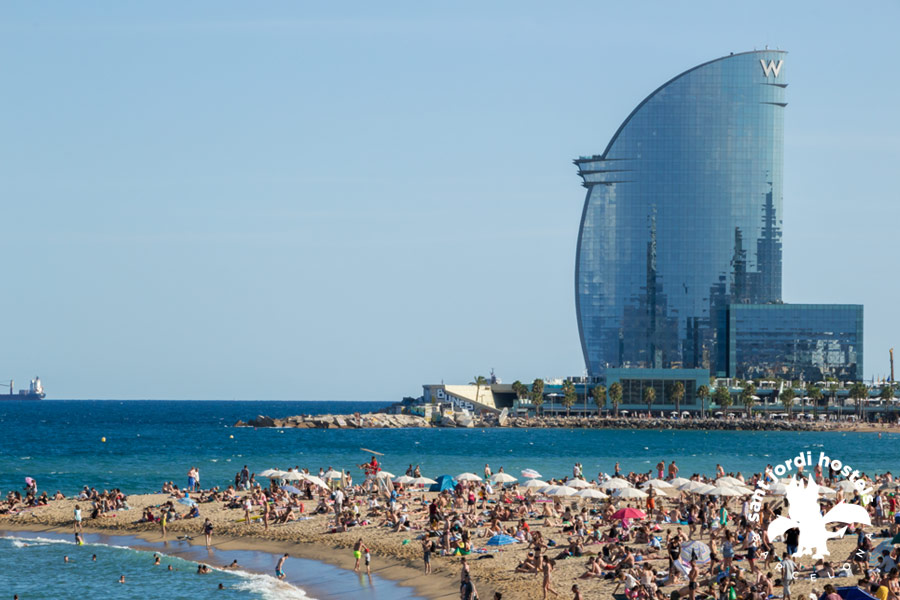 WE RECOMMEND
Tapas – Cova Fumada
Drinks – K bar
Health Food – Surf House
Paella – Can Ramonet
Surf Gear – Box Surf Shop
NIGHTLIFE
You like to party? Perfect, because nightlife is definitely one of Barcelona's strong suits. Barceloneta offers an array of bars and world class nightclubs. You'll notice the beach itself even becomes a party as clubbers spill outside (where there's men selling cheap beers, water and sandwiches to sustain you until sunrise). Entry prices and music styles of clubs vary depending on the night, so it's a good idea to check before hand. Although the party often doesn't get going until 2am, entry is usually free before 1, and if you're looking to spare some cash, arriving a little bit early to get your entry stamps is always a good option.
Sant Hostels Barcelona offer FREE nights out 7 days a week, where we take you to places that we love and you'll actually want to go. We frequently end our bar crawls at the beach clubs including Opium, Pacha and Shoko.
People tend to finish their nights watching the sunrise over the stunning Mediterranean sea. If I can give you one tip, one single piece of advice… DO NOT leave your belongings on the beach while you go for a swim (or fall asleep) – because 9 times out of 10 it's not going to be there when you get back.
The beach in Barcelona has a special vibrance and is a great place to explore. Whether you're after street shopping, relaxing, eating, exercising or partying – this is definitely the perfect place to visit.
Check out our Things to do in Barcelona page or more information about Barcelona sites, food, neighborhoods, local-knowledge and much more.