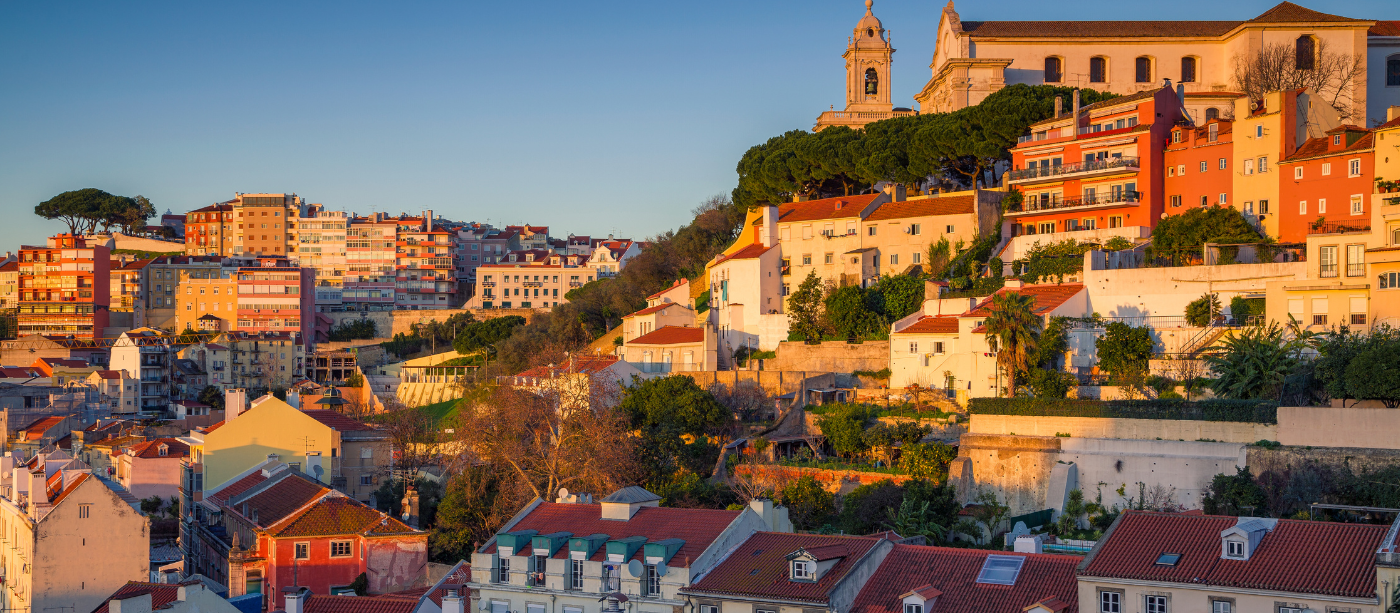 72 Hours in Lisbon
Lisbon is ideally suited for a three-day city break, with more than enough to keep you entertained for 72 hours.
By Marissa Weiss
72 Hours in Lisbon
Lisbon is ideally suited for a three-day city break, with more than enough to keep you entertained for 72 hours.
By Marissa Weiss
Here's the best itinerary for three days in Lisbon!
Lisbon is a richly cultured city with endless shops to wander, food to taste, and museums to explore. With so much to experience it can be daunting to decide what to do during a short visit. Our recommended three day itinerary is packed with all the must-see sights and inside secrets to make your visit to Lisbon memorable.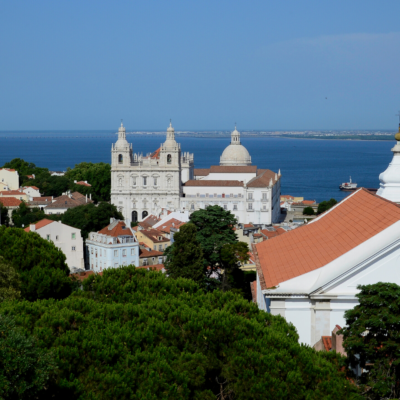 Day 1
Start your day in the neighborhoods of Barrio Alto & Chiado. You´ll find an abundance of breakfast cafes such as Fauna & Flora and Heim Cafe serving both sweet and savory treats to kickstart your day. Use the April 25 th Bridge as a compass as you slowly wander westward until you reach LxFactory, a hip and trendy arts center with a wide array of unique restaurants and artsy retailers. Sundays they host their weekly LxMarket, a flea market with vintage clothing, art, handmade gifts, and food.
After wandering shops, continue walking west underneath the April 25 th Bridge, towards Jerónimos Monastery. On the way, stop at Pastéis de Belém, the only place is Lisbon to follow the original recipe of pastel de nata, an egg custard tart invented in 1837 at Jerónimos Monastery. Grab it to go or take a seat inside their formal dining area for a brief respite. With a full stomach, explore Jeronimo´s Monastery, a UNESCO World Heritage Site with magnificent architecture that survived the 1755 Lisbon earthquake. Afterwards, take a stroll down to the Tower of Belem to watch the sunset. Take in the scenery, listen to the local musicians in the park, and bask in the last few rays of sunlight. Hop on a tram or bus back to Barrio Alto and discover Time Out Market, an indoor food hall with a curated menu including local cuisine, pizza, sushi, donuts, and so much more. Find a seat and reminisce about your day over some authentic Portuguese cuisine.
PROTIP: Get your tickets to Jerónimos Monastery in advance online, an entry time of about 16:00 hours (4pm) is perfect timing for this itinerary.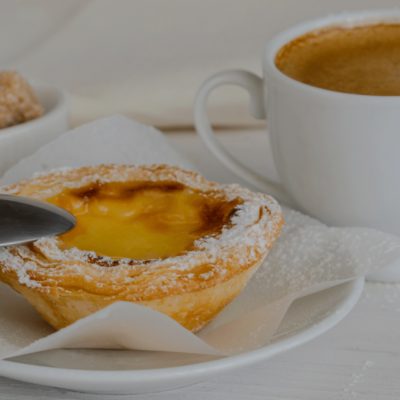 Day 2
Take a day trip to Sintra via train, tickets cost around €5 round trip and it only takes about 40 minutes to reach. Sintra is a small municipality in the mountains north-west of Lisbon best-known for its romanticist architecture. The town of Sintra itself is small but scattered throughout the mountain are remarkable historic estates, villas, gardens, royal palaces, and castles to explore. The most well-known is Pena Palace, a romanticist palace known for its bright red and yellow façade. It's like stepping into a fairytale, sitting atop a mountain hidden among the green foliage and mystical fog. Other attractions include Quinta da Regaleira, Castelo dos Mouros, and Palácio de Monserrate. Quinta da Regaleira is an elaborate estate built in the late 1800´s by the principal owner and an Italian architect. The landmark reflects their cultural, philosophic, and scientific interests with memorable features, such as the Initiatic Well. Once fulfilled, make your way down the mountain, wandering Sintra´s boutiques, restaurants, and street vendors. Eventually, you will come upon the train station where you can make your swift return to Lisbon.
PROTIP: There are many ways to get around the mountain including walking, public buses, tuk-tuks, and taxis. Walking is exhausting and takes time, buses are relatively cheap, and taxis will always be the fastest. If you opt for a taxi, use a rideshare app such as Bolt, FreeNow, and Uber to avoid being charged extra.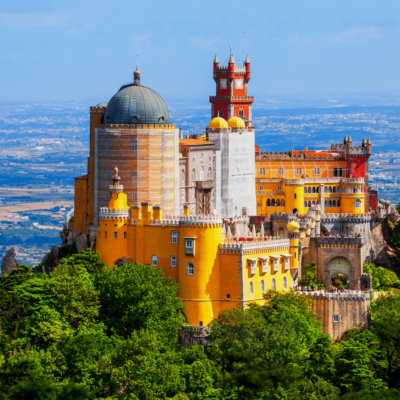 Day 3
Start your day in the Baixa neighborhood at a cafe, such as The Folks. In the heart of Lisbon you can gaze in wonder at the vibrant district of grand plazas and classical ¨Pombaline¨ style buildings – neoclassical buildings built in a grid city layout after the devastating earthquake of 1755 reduced the district to rubble. Visit the Elevador de Santa Justa, an industrial age marvel covered in finely detailed wrought iron. Make your way over to the Alfama district following the winding passageways up the hill towards Castelo de São Jorge, a stone castle with eight centuries of history on the highest hill in Lisbon. The castle was converted into a Royal Palace, left in ruins due to the 1755 earthquake, and finally restored in the 20th century. Today you can walk among the ruins, observe the ongoing archaeological site, stroll among peacocks, and catch some of the best panoramic views of Lisbon. Take an evening cruise along the Tagus river to see Lisbon from a whole new perspective. The less touristy boat tours will offer complimentary drinks and snacks. Once back on land, return to Barro Alto & Chiado and explore the world's oldest bookstore, Livraria Bertrand. First opened in 1732, Bertrand holds the Guinness World Record for the oldest bookstore still operating today. Any book purchased can be officially stamped in Portuguese, Spanish, or English marking its origin at the oldest bookstore in the world. Wrap up your night at a Fado restaurant. Fado is a genre of music native to Lisbon best known as Portuguese soul featuring powerhouse singers and a couple of guitarists who play nostalgic music about longing. Located in historic districts such as Barro Alto, Fado restaurants are small establishments that require reservations in advance due to the high demand. Canto da Atalaia is a traditional fado restaurant that serves spectacular local cuisine and memorable must-see performances that bring locals and tourists back night after night.
PROTIP: Instead of waiting in line and paying for a trip up the Elevador de Santa Justa, check out our social media post about accessing the viewpoint for free!