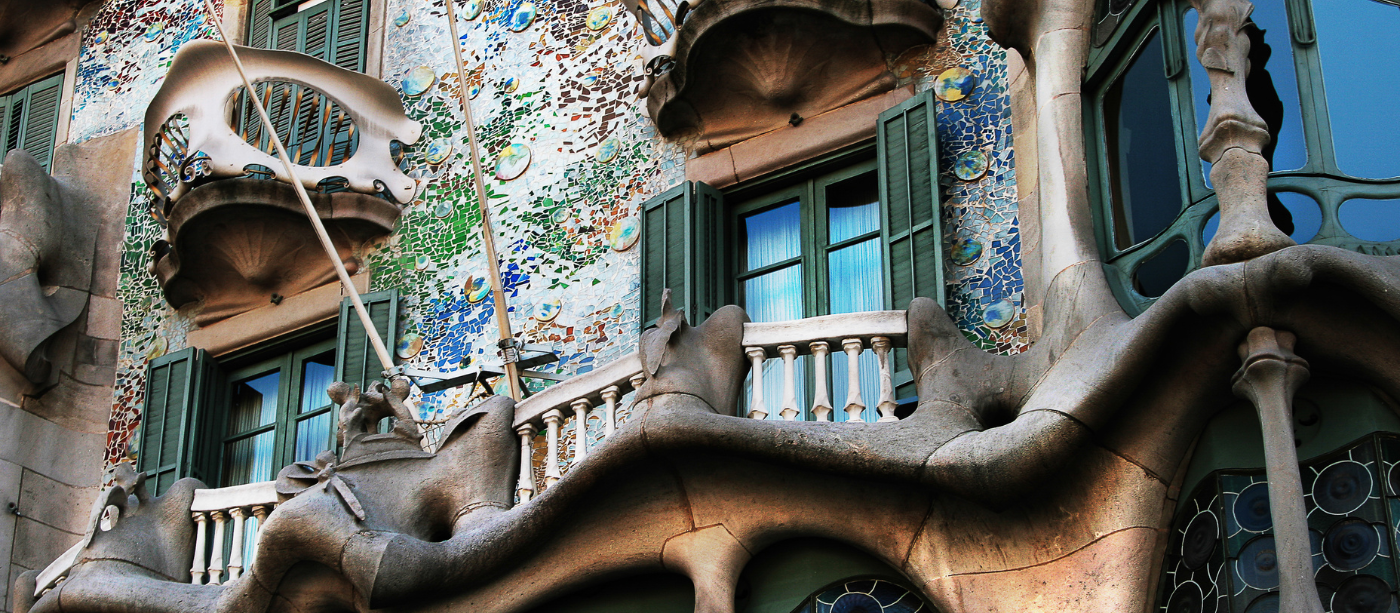 Must See Gaudí Houses in Barcelona
Discover the 4 houses Gaudi was commissioned to design!
By Marissa Weiss
Must See Gaudí Houses in Barcelona
Discover the 4 houses Gaudi was commissioned to design!
By Marissa Weiss
A guide to the best Gaudi houses in Barcelona, including Casa Vicens and Casa Calvet!
Barcelona is Gaudi´s city. No other architect is as well known or loved in Barcelona as Antoni Gaudi. While La Sagrada Familia is the most widely known piece in his portfolio, he was commissioned earlier in his career to design houses for affluent families during the end of the 1800s, early 1900s. Some are well-known and others are hidden treasures waiting to be discovered on your next trip to Barcelona.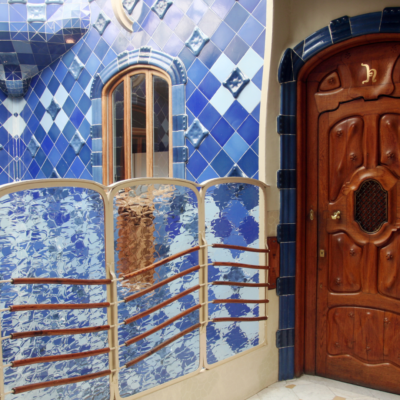 Casa Vicens
Built over the span of 2 years (1883-85) Casa Vicens is Gaudi´s first major commission. It served as a summer home for the Vicens family and was one of the very first buildings to incorporate Modernism in Catalonia and Europe! Gaudi was inspired by Mediterranean flora and fauna. The building showcases medieval and Arabic influences with geometric shapes and rich ornamentation. An extension was built in 1925 designed by Joan Baptista Serra de Martínez including a garden surrounding the building inspired by Gaudi´s original design for the garden. Restoration and rehabilitation began in 2014 and was opened to the public for the first time in 2017. Casa Vicens is considered one of the first examples of aesthetic renewal in architecture that took place at the end of the 19th century in Europe.
Fun Fact: Casa Vicens is drastically different from Gaudi´s more well known masterpieces. There are no trencadís (a type of mosaic), curved lines, or hallways. The building is decorated in whole, geometric tiles and Gaudi used hexagonal distributors to eliminate hallways. All of which make a rather unique, visual experience!
Address: Carrer de les Carolines, 20-26 Barcelona Spain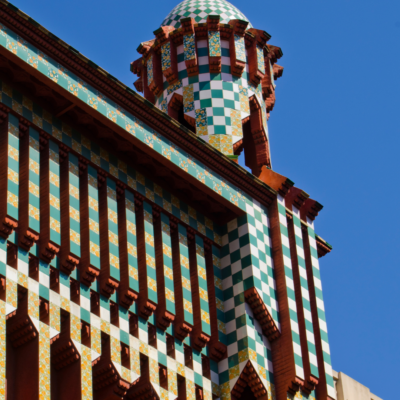 Casa Calvet
Awarded the Best Artistic Building of the Year by the Barcelona City Council in 1900, Casa Calvet is considered Gaudi´s most conservative work. It was constructed from 1898 to 1900 for Pere Mártir Calvet, a textile manufacturer who was named after Saint Peter the Martyr (Sant Pere Mártir). Gaudi filled the building with details referencing Calvet´s life: cotton bobbin shaped columns flanking the entrance, his initial ¨C¨ carved into the stone over the house´s door, 3 busts of saints including Saint Peter. The house was built from stone quarried in Montjuïc and pays tribute to the baroque Catalan style. Most buildings in Barcelona appear extravagant from the front while the rear façade overlooking the interior courtyard of the city block typically is rather domestic. Not this time! Gaudi was just as extravagant with the rear façade as he was with the front façade at Casa Calvet. This level of extravagance later marked his work on Casa Batlló and Casa Milá. Sadly, Casa Calvet is not open for visitors at the moment.
Fun Fact: The original building plans exceeded the maximum height allowed by the municipal ordinances. When informed, Gaudi threatened to cut off the top of the building at the height the City Council approved. With the respect of the Church, aristocracy, bourgeoisie, and public authorities the matter was dropped without further discussion.
Address: Carrer de Casp, 48 – Barcelona, Spain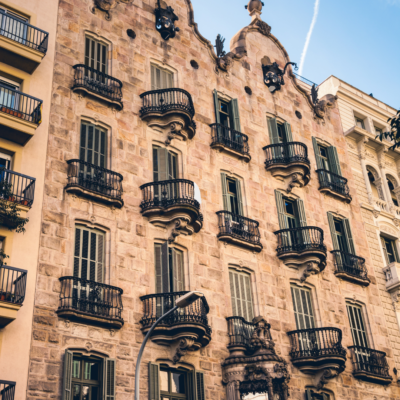 Casa Batlló
Located on Passeig de Gràcia, Casa Batlló sits on the avenue that once connected Gràcia with Barcelona, today Gràcia is a fully integrated district in the city. In 1860, Passeig de Gràcia was the backbone of the city, boasting the most beautiful houses for important families. It was a promenade for pedestrians and horse drawn carriages. Built before electrical light in Barcelona, skylights and central patios were decorated with gradient blue tiles and varying sized windows to distribute light evenly. Gaudi invented a ventilation system inspired by the gills of a fish to regulate air flow, maintain heat in winter, and ventilate in summer. Broken mosaics known as trencadís were used for sustainable and aesthetic value. Gaudi desired beauty in balance with nature. Casa Batlló, known as ¨the House of the Dragon,¨ is a symbolic masterpiece inspired by Sant Jordi, the patron saint of Catalunya. The ceramic tiles on the crown of the building form a colorful mantle resembling the scales on a dragon´s back. 
Fun Fact: Casa Batlló was not a new construction but rather a renovation of a building previously designed in 1877 by Emilio Sala Cortés, Gaudi's architecture teacher. The original plan was to remove the current building and build from scratch but Gaudi was adamant to carry out a full renovation, transforming classic to modern in just 2 years. 
Address: Passeig de Gràcia, 43 – Barcelona, Spain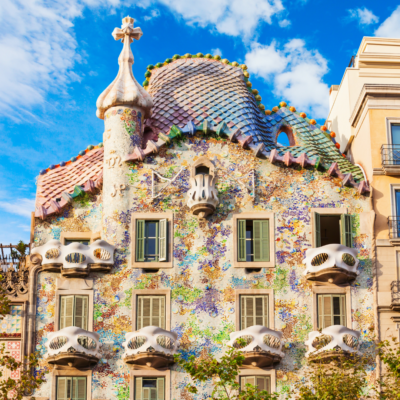 Casa Milá
Often referred to as ¨the stone quarry,¨ Casa Milá was built between 1906 and 1912 as a collaboration between Gaudi and Josep Maria Jujol who designed the wrought iron balconies and rolling stone façade. La Pedrera is innovative with self supporting balconies, underground parking, elevators, and an intricate rooftop. They were way before their time, who needed underground parking in 1912? Gaudi was inspired by art nouveau, a style considered modernist at the time. He was harshly critiqued and ridiculed by local architecture critics, newspapers, and locals. Most were concerned with the use of decorative shapes and curves rather than straight lines. There is not a single straight angle in the house! As a staunch catholic, Gaudi wanted Casa Milá to be a religious symbol for Barcelona, much like La Sagrada Familia is today. This was his last project before he began working on Sagrada Familia.
Fun Fact: Gaudi almost quit the project! In addition to the public's harsh opposition, the local government passed a law limiting the height of buildings. Those that surpassed the height limit were set for demolition, including Casa Milá. So many technical problems arose, making Gaudi consider backing out. Eventually, a priest persuaded him to continue building the house.
Address: Passeig de Gràcia, 92 – Barcelona Spain