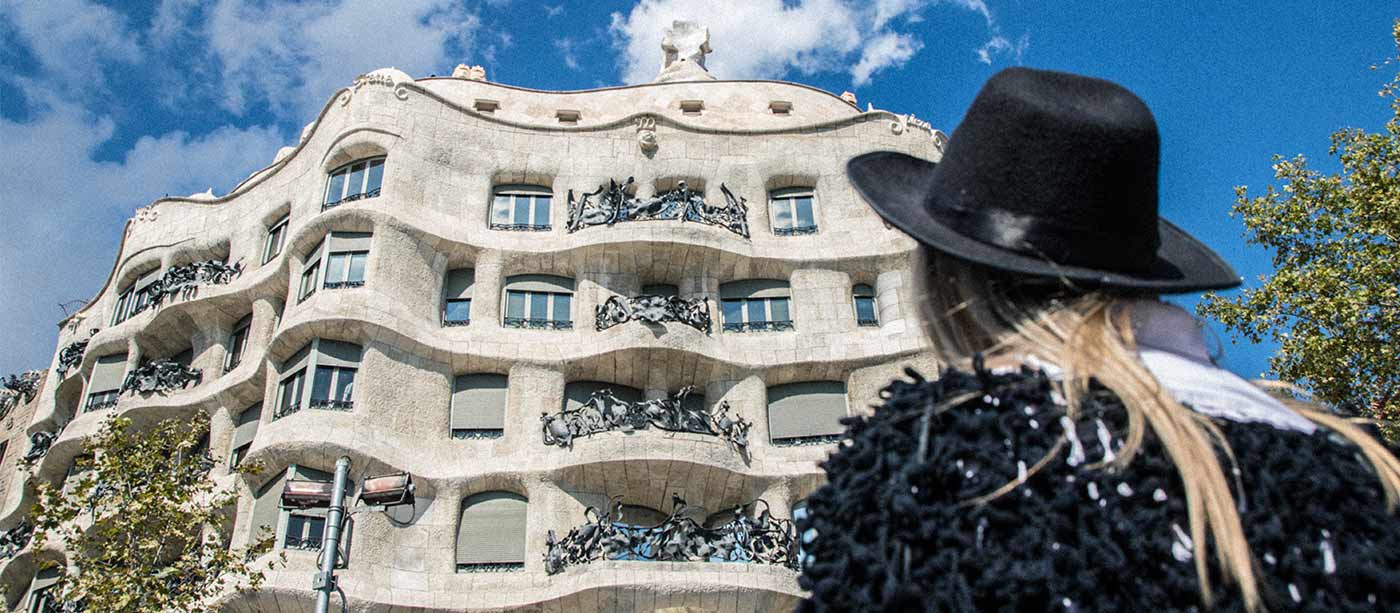 One of the most famous Modernist buildings in the world!
La Pedrera
One of the most famous Modernist buildings in the world!
Visit La Pedrera
Casa Milà, or La Pedrera as it is more popularly known, is one of Barcelona's beloved Gaudi buildings. Found on Passeig de Gracia, it is one of the most famous modernist buildings in the world today
Design
Antoni Gaudi looked at architecture as a complete art form. Each of his buildings have been created in a way so unique and precise, that they will continue to remain significant throughout time. The design of La Pedrera is just another example of his fascinating architectural talent. This particular project was built with a constant curve, both inside and out. Meaning there are no right angles. The name ´La Pedrera' loosely meaning 'The Quarry' is a nickname making reference to the stone facade of the structure; as it was constructed using mostly limestone. This has given the building a smooth and fluid looking appearance. Almost wave-like
History
As with most houses build in this area, at this time, La Pedrera was built to stand out. Residents of this new effluent Eixample barrio wanted others to know their wealth. In 1906, Casa Mila was commissioned by wealthy widow Roser Segimon and her new husband Pere Milà. The 2000sm plot lies on the corner of Passeig de Gracia and Carrer de Provencia. La Pedrera would include 20 apartments over 9 floors below the Mila residence, that would be available for rent. The building was finished 4 years later in 1910. Over the decades following, La Pedrera would begin to deteriorate. This was until 1984 when it was declared a World Heritage Site and completely restored. Two years after the restoration it was purchased by Caixa and is now used as a historic museum and cultural centre. It is one of the most visited attractions in Barcelona. Guests can enter most days of the year. There's even some events held here in the evenings.
Interior Courtyards, Apartments and Attic
Entering La Pedrera, you will first walk through the interior courtyards. Your eyes are immediately drawn upward, where the direct natural light flows down from the circular open ceiling. Gauadi has designed this building with luminosity in mind, making sure light reaches to every apartment. Next you can either take the lift or stairs up to the attic. This whimsically dim and eerie floor, which is filled with striking gothic style arched brickwork, houses a collection of Gaudi's designs. There are scale models, original blueprints and photos to inspect as you stroll around. The other major indoor section is a period-decorated apartment. Here is where you really notice the detail to light, as it flows throughout the apartment. A lot of the furniture was even designed by Gaudi to fit the apartment. A very interesting space – It's like taking a step back in time.
Rooftop Terrace
Now, whilst all elements are incredible, the rooftop is the most notable part of this building. The chimneys and ventilation shafts have been coated with limestone, glass and marble, which create a mosaic Gaudi-esque design. This stands alongside packs of warrior like sculptures, who seem to be watching over the rooftop. The different sizes and shapes of the courtyards below have formed a layout that looks like an asymmetrical 8 formation. This design delivers light to all 9 levels of apartments below. Gaudi combines functionality with beauty. As you follow this pattern around the rooftop, take notice of the different views on each side of the building. The most breathtaking is of The Sagrada Familia, which can be first glimpsed through a small arch. Its placement is impeccable, and this is one of the best photo opportunities at La Pedrera building. This was the last private residence Gaudi designed before devoting himself solely to the incredible Sagrada Familia church.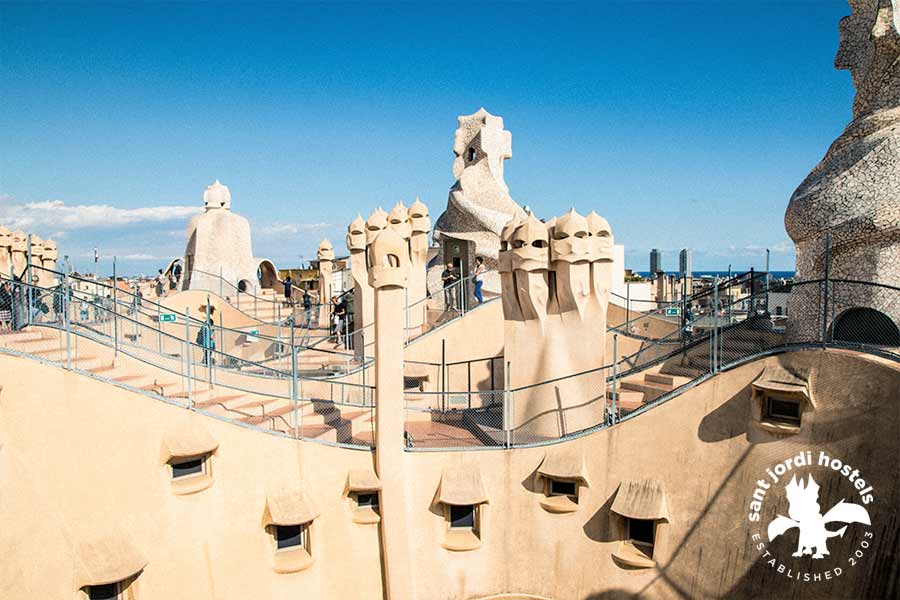 Tickets & General info
Tickets range from 11,00 Euro for children through to 22,00 Euro for adults, with other variable discounts available. If you want to skip the line, you can buy a premium ticket for a few extra euros. Tickets are available online from their website – https://tickets.lapedrera.com