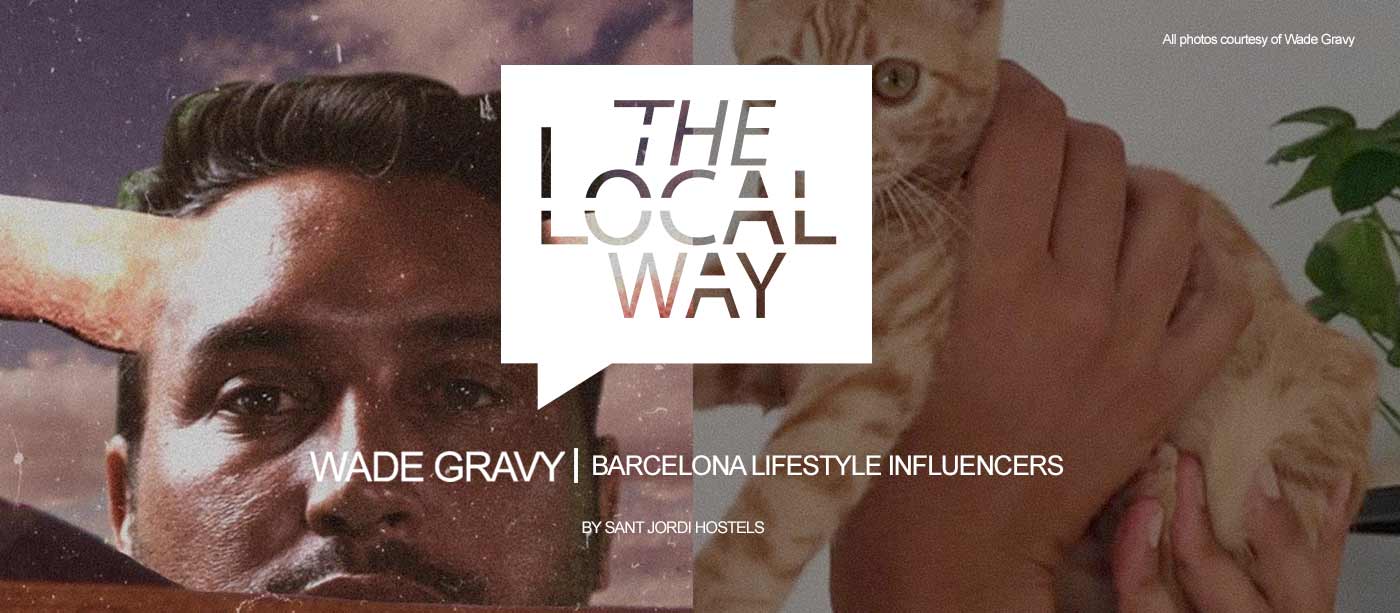 Meet the Barcelona Influencer Wade Gravy
Notable and notorious influencers share their Barcelona stories with The Local Way.
Meet the Barcelona Lifestyle Influencer Wade Gravy
Notable and notorious influencers share their Barcelona stories with The Local Way.
The Local Way X Wade Gravy
In this article you'll find some of the best tips and experiences from Barcelona lifestyle influencer, Wade Gravy! This Australian legend moved from Sydney to the Catalan capital a few years back. It's safe to say he has had some epic times since. This import knows Barcelona like a true local, and doesn't let a moment pass him by… You'll find him soaking up the climate, terrain and fiestas in the perfect way. Read on to hear some of his wicked insights, stories and tips.
How would you describe Barcelona?
One of the world's great cities, in terms of lifestyle, art, fashion, food, bars, nightclubs, history and architecture, that just so happens to be by the sea, and benefits from the best weather in Europe. A real paradise, where you can do whatever you want to do and be whoever you want to be, have as much fun as is physically possible and always find someone interesting to talk to, and something different to do. As far as I'm concerned, as a surfer, traveller and lover of food, wine and partying, that it's the best place in the world for me, a perfect combo of big city excitement and natural beauty.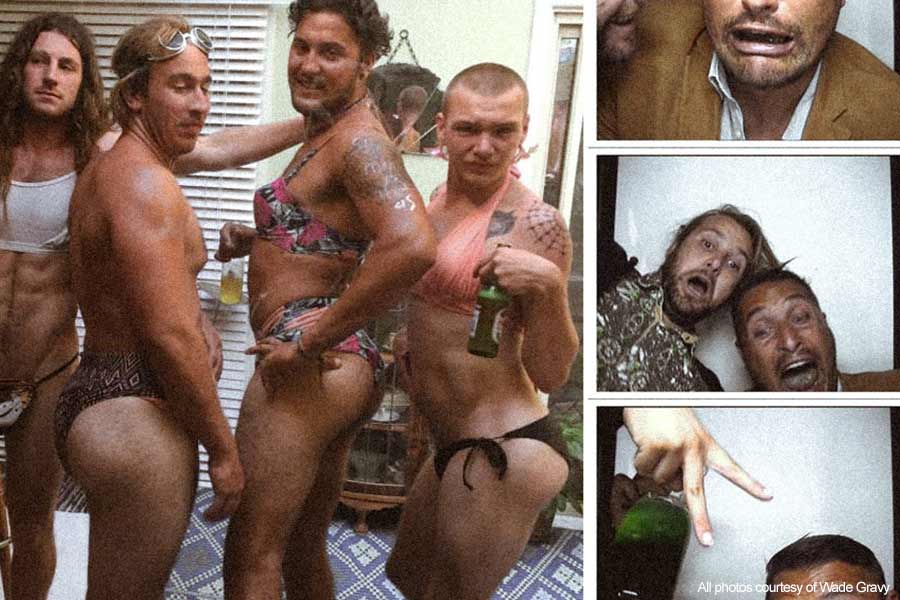 When did you move to Barcelona?
I first came here 10 years ago and have been on and off since. Now I'm here for good, as a base, while I travel around Spain for 50 Fiestas and Stoke Travel trips. I'm probably on the road for about half the year, and when I'm back in Barcelona I really like making the most of the city.
What is 50 Fiestas all about?
The premise is multilayered. We want to show the world the people and culture and landscapes of Spain by travelling around and visiting the weirdest and wildest parties in the country. We want to demonstrate just how the Spanish people use fiestas to unify their community, and how in Spain partying isn't viewed as being a negative force in society. We want to entertain by throwing ourselves into wild and unpredictable situations that are nothing like we've ever experienced at home. We want to encourage you all to get off the beaten track and see it all for yourself, because if a couple of boneheads from Australia can do this, then you most certainly can too.
Why did you choose Barcelona to move to?
Rolled into Copenhagen airport without a ticket and asked where the next available flight went to. The lady at the ticket counter said I could either go to Prague or Barcelona, and I was craving the beach after a Scandinavian winter, and I think I chose well as Barcelona became home soon after. Soon after we founded Stoke Travel, and Barcelona became our home base.
In your opinion, what is the most fun thing to do in Barcelona?
Oh boy, what a question! For me the most fun thing to do in Barcelona is fully nail a day, to just string together the day's activities seamlessly and get the most out of it. Don't get up too late, grab breakfast from the Santa Caterina market, head down to the beach for a swim, or hopefully a surf, grab a post-aqua beer and soak up the sun, with a generous side of people watching. Have a skate on the way home, and even stop for a caña and a bomba in Barceloneta. Find a terrace with some friends who are good for a laugh and drink vermouth. Have a nap. Head up to the Carmel Bunkers with some wine for the sunset, then on to one of the million fantastic bars and dive into a negroni; eat some olives. Bar hop around the Gothic, El Born, Raval, Poble Sec, Gracia or Eixample. Eat on the way, just little bits over the course of the night. Get drunk, go to a club and catch a gig or just lose your mind on the dancefloor. Do that until the sun comes up. Pull the shutters down and get four hours sleep. Do it all again…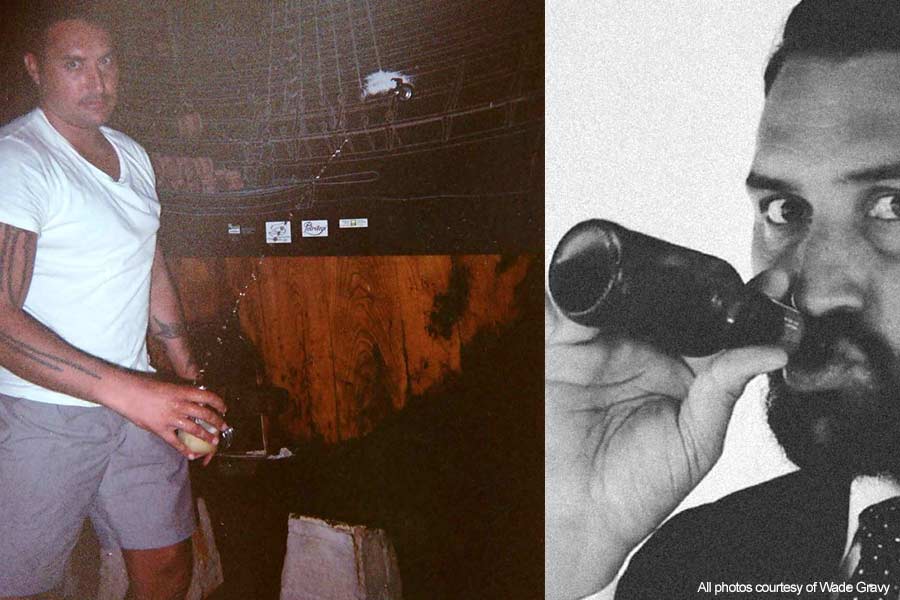 What is the weirdest thing to do in Barcelona?
We filmed the castellers, or human castles, during the Merce festival in September. They are stacks of people. sometimes up to 15 levels high, made up of dozens of members of a castle building team. The last few levels are tiny children wearing helmets, who climb up the outside and to the top. It's undeniably dangerous, and we saw plenty of high stacks fall. We have made it our life's work to travel around documenting Spain's strange fiestas, but it was surprising to see such an outrageous tradition in the middle of the city. The Catalans watching were experts on the human castle scene, too. It wasn't like some bizarre curiosity for them, they knew all about the different structures they were building, the degree of difficulty. Sometimes Barcelona can seem like just another of the world's great cities, and then something happens to remind you that you are indeed somewhere special.
What's the weirdest thing you have done in Barcelona?
Haha, nothing that we can publish here… In a city like Barcelona you can satisfy all of your weirdest desires if you
look hard enough. For the sake of this article, the weirdest thing I've done is some of the stuff I've eaten. The people here will eat every damn part of the animals they slaughter, and for my sensitive Australian palette sometimes the insides of a pig, or its feet, nose, ears, etc, are a bit, hmmmm, rich.
Where is the best place to have a beer in Barcelona?
On a terrace with friends and my dog. In winter find a terrace in the sun, and in summer find a terrace in the shade. I'm not a big beer guy, so i'll sub out my cerveza for a Rias Baixas white wine, or a super refreshing Basque txakoli, if it's nice and sunny out, or a La Rioja, or Ribeiro de Duero red at night, or anytime of the day in winter.
What is your favorite street in Barcelona?
I'm going to say Passeig Joan de Bordó, in Barceloneta, because you only ever roll through there to go to the beach, restaurants, bars — something fun. That said, there is fun available on just about every street in Barcelona.
What is your craziest party story in Barcelona?
Once a month or so when it gets so wild that I wake up without any recollection of what went down or where I was. Actually that probably happens once a week. Waking up one morning with my shoes on, but my pants off was a good one. What possibly could have happened the night before for me to end up like that?
How many weird looks do you typically get in a day?
Oh boy, because I'm super tall for Spain I get plenty, like I don't know, how many people do I walk past in a day? 1000? More? Well 95% of them will look at me weirdly. You get used to it.
Do you stay in hostels when you travel?
Where possible. Many places are off the tourist track, so we have to stay in some pretty strange spots, but when there are hostels available we'll stay there and make some friends and maybe some new fans.
Do you have a hostel story to share with us?
We stayed in one, down in the south of Spain near Granada, that was literally underground in a cave. There was no natural light, and the ceiling was very low (i'm 197cms tall). The people were lovely, but it definitely had a weird Hills Have Eyes vibe. Cave people are very proud of being cave people, and living underground like moles makes them a little… interesting.
A free massage at Barceloneta or a cerveza beer from the Pakistani guys on the beach?
You know what, the massages are pretty good. Those ladies know their way around a spinal cord. I'm going to go for the free massage and then just buy a beer when it's done.