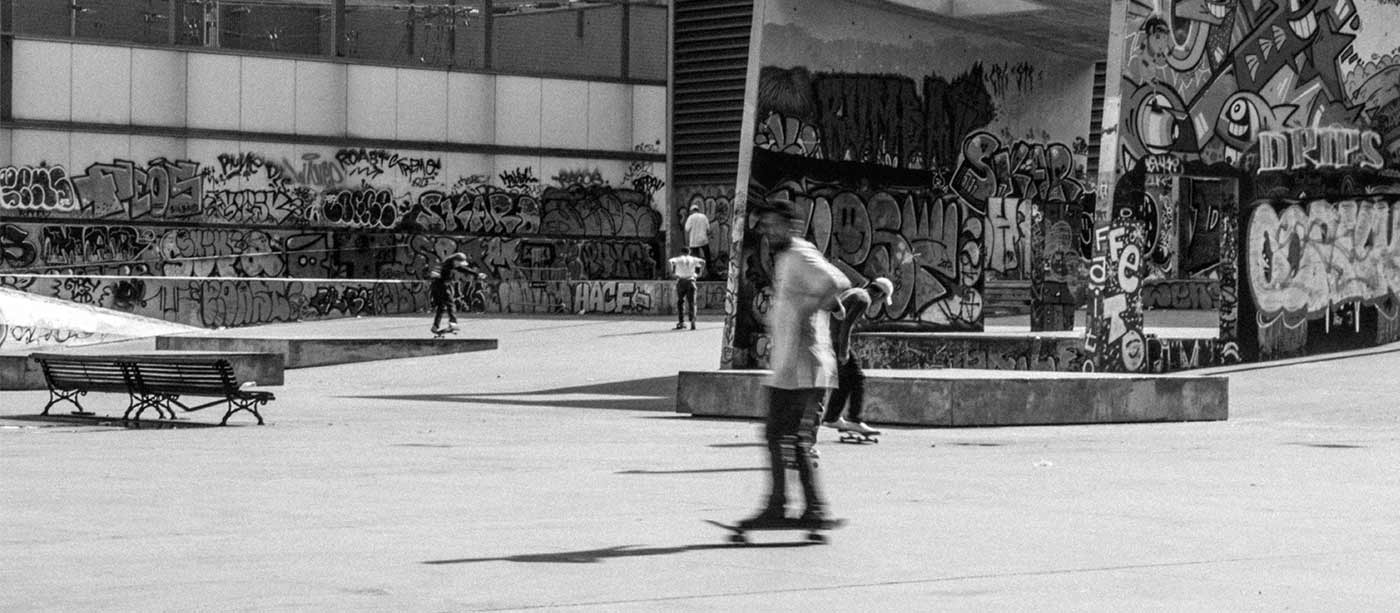 The Best Barcelona skatespots
Barcelona is the ultimate playground for skaters!
The best Barcelona skatespots
Barcelona is the ultimate playground for skaters!
Macba Skatespot
MACBA is the mecca, really. Recognised by skates across the globe, The Museum of Contemporary Art is without a doubt the number one skate spot in Barcelona. Why is it so famous? Well, in the late 90's it was featured in a movie called 'Misled Youth'. The draw was the 'The Big Four' – a ledge with four stairs that was perfect for tricks, accompanied by a smooth surface to cruise along. It's frequented by a mix of professionals, amateurs and aspirants from all ages and ethnicities. These characters have created a community where skating and street culture trump all. It's not uncommon for sponsors, film crews and photographers to be probing around too. From day to night at MACBA there are skaters fighting against their own abilities, attempting to conquer whatever trick is currently challenging them. This place has a vibe. Don't miss it.
Parallel Skatespot
Paralell, Paralell, Paralell! This is one of Barcelona's most emblematic street skate spots. Located in the Poble Sec district, Paralell has a cool atmosphere with an urban feel. There's also lots of amazing speciality graffiti walls here if you're a fan of street art. Now, people do tend to have mixed feelings since it underwent a bit of a remodel a couple of years… But this historic spot is still filled with wooden benches, ledges, manual pads with metal corners and stairs. So there are lots of places to cruise around hitting tricks, and it's not too crowded. This skate spot is found between Raval and the base of Mont Juic Mountain. Mont Juic has lots of epic hills to bomb, if that's what your into. This spot is close to Apollo, which is home to the famous Nasty Mondays party. This event breaks the normal constraints of the club scene in Barcelona. The music is diverse and ranges from Rock to Indie to pop. Think more alternate and underground – less commercial and touristic. Yes, they do have ´coat´ check.
Universitat Skatespot
Found in the heart of Barcelona, right above Universitat Metro station, this ultra smooth little plaza is one of the best skatespots in Barcelona. It has three long granite ledges sitting back to back, which is perfect for hitting a variety of tricks in one go. Unlike MACBA, this spot varies from busy to quiet… So you've got some space to do your thing without running into people. It's also generally just a beautiful spot to hangout day or night. If you're looking for accommodation near the Universitat skatespot, Sant Jordi Rock Palace is a mere few blocks away.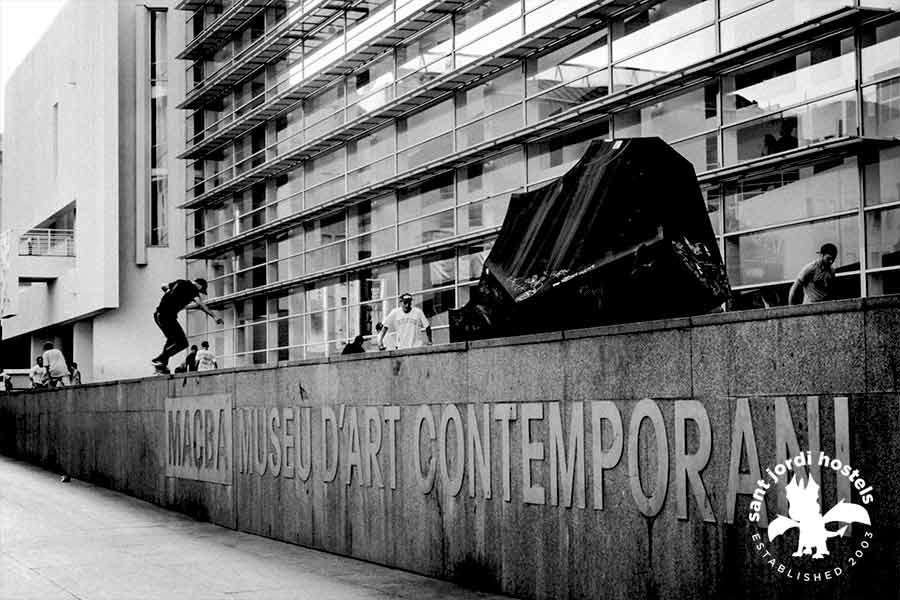 Forum Skatespot
Forum is the biggest skate spot in Barcelona. The more you explore here, the more you find… The spot with lots of cool features that just keeps on giving. It lies between Diagonal Mar shopping centre and the waters edge of Port Forum. Forum is actually used for some of Barcelona's biggest and best festivals, so it's a good idea to check what's up before. Forum is essentially like a big plaza, very big. It has sets of stairs, wall rides, rails, boxes and the classic wave made cement bricks. There's also a skate park top-right waterside. Street to park, Forum has you covered. It is the best place to spend an entire day skating without dodging pedestrians. Bring some food and drinks and finish the session by swimming in the ocean. To get here take the L4 line, tram or alternatively skate down along the smooth promenade from Sant Jordi Sagrada Familia Skate Hostel.
Marbella – Barcelona Skatepark
Located right on the waterfront of Mar bella Beach, this Barcelona Skate Park is a worthy place to visit. Mar Bella is all about carving and flow. Reminiscent of Venice beach, this ocean inspired skate park has three main zones – Street, Flow and Bowl. Starting at the street section you can warm up by hitting some rails and curbs. Next move through the Flow section to one of the multiple bowls. Mar Bella has been well designed. It produces some smooth and wavey runs. The park is around 3000sm in size and suitable for all levels. You can get here using the L4 line, but considering how skate friendly the city is, we recommend skating along the boardwalk. Picturesque.
Barcelona Skate Hostel
There is only one place to stay if you love skating, and that is Sant Jordi hostels – Sagrada Familia. This designer hostel even has a mini ramp inside. Yes, a skate-able mini ramp with graffiti ridden and soundproof walls. Music up, boards down. Then what better way to chill out than sprawling out on the myriad of beanbags in the common area? Where it's not uncommon for Lords of Dog town to be playing on the projector. Sant Jordi Hostels – Sagrada Familia has state of the art facilities, board rental, comfortable beds and fun staff… Its even frequented by world famous skaters like Evan Smith and Luan de Oliveira. Sant Jordi knows whats up – You wouldn't want to stay anywhere else!