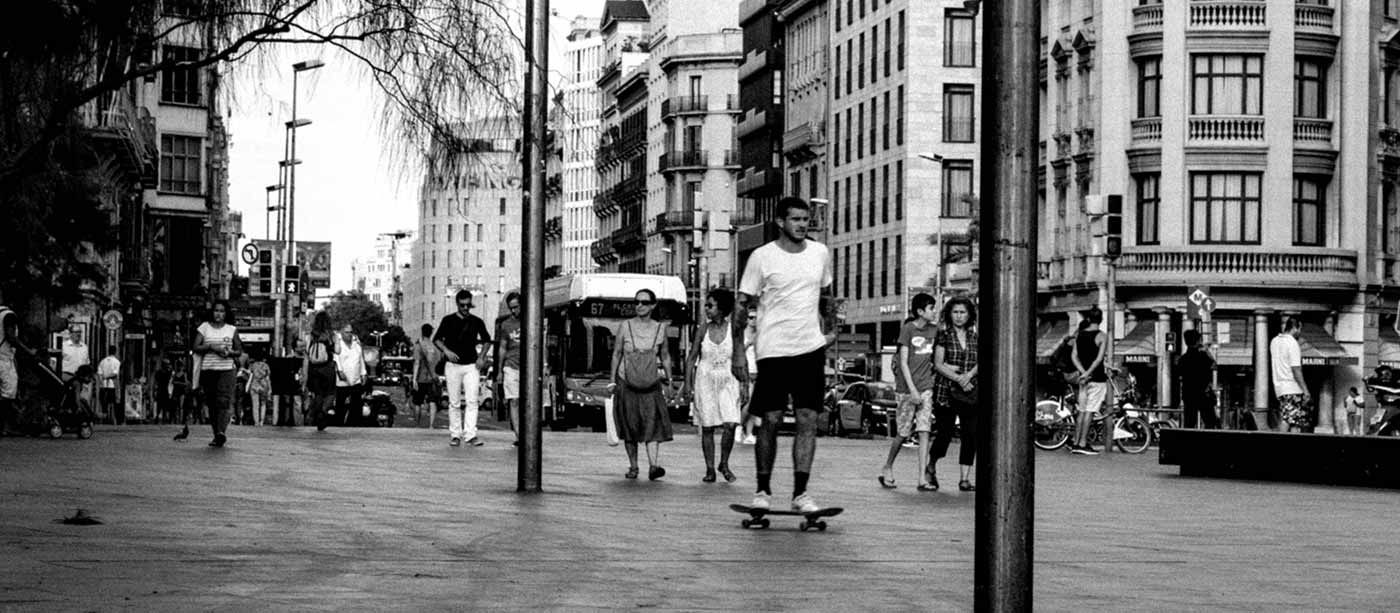 One of the best skateboarding spots in Barcelona
Universitat skatespot is full of granite ledges
One of the best skateboarding spots in Barcelona
Universitat skatespot is full of granite ledges
Universitat is no Secret, But it's still Worth a Skate
One of the best and most popular skate spots in Barcleona, Universitat is certainly no secret. That being said, it still deserves to be included in our locals guide to skateboarding Barcelona and is definitely worth checking out. Universitat is easy to get to, really fun to skate, has a great vibe and is not far from MACBA, in case you want to hit up both spots in the same session.
Considering the variety and sheer amount of skate spots in Barcelona, Universitat is actually a fairly simple spot without a wide variety of obstacles. If you're into banks, rails, stairs or whatever else, this might not be the spot for you. Universitat is nothing more than a large flat plaza with three long granite benches lined up in a row, one after the other. If you've never skated it before, you might be wondering why it is such a popular spot and why we would include it in our locals guide to skateboarding Barcelona.
What Makes Universitat Such a Popular Skate Spot in Barcelona
What make Universitat such a popular skate spot in Barcelona is that the ground is smooth – unreal smooth – and, as the ledges are wide and a little less than knee-high, they are good for manuals and the perfect height for grinds and slides. There is also a great atmosphere at Universitat. There are always a lot of people walking through the plaza and they tend to enjoy watching the skaters. It might sound like a hassle having a lot of people constantly cruising around, but somehow the people don't normally get in the way. The plaza is pretty big and the people tend to be conscious enough to give the skateboarders some space to do their thing.
There are a couple of things to be careful of while skateboarding Universitat. First, be sure to check the tops of the ledges to see if they have been waxed. Rollerbladers often wax the tops of the ledges. They can be quite slippery and if you're not careful you might end up on your back. The plaza is also surrounded on all sides by traffic-filled roads and there are lots of people always walking around. This can make the whole skate experience a little stressful. You just have to be careful not to shoot your board out into the street or into a random old lady.
How to get to Universitat?
This is one of the best things about Universitat; it is really easy to get to. Just hop on the metro, take the line 1 (red) or line 2 (purple) and get off at the stop Univeristat. No matter which exit you use, when you come out you should be able to see the plaza.
The Best Accomodation for Skateboarders in Barcelona
There is a really cool hostel designed especially for skateboarders traveling to Barcelona. As Barcelona has become famous as a Mecca for skateboarders from around the world, Sant Jordi Hostels decided it was time to give skateboarders the perfect place to come home to after a long day of exploring the amazing skate spots of Barcelona. Sant Jordi Hostel Sagrada Familia is truly a skateboarders' paradise. Designed entirely around the concept of skateboarding, Sant Jordi Hostel Sagrada Familia is not only inexpensive, fun, clean, modern and just an all around nice place to stay, but also caters specifically to the needs of skateboarders and even has a fully functional mini-ramp on the back patio that can be used by guests who are experienced ramp skaters. One of the top rated hostels in Barcelona, Sant Jordi Hostel Sagrada Familia is an excellent choice for any skateboarder think of traveling to Barcelona. Also, if you want to enjoy a little of the famous Barcelona night-life, Sant Jordi hostels regularly organizes party nights out in Barcelona. It is a great way to experience the bar and club scene of Barcelona and to get to know some of the other guests in the hostel.