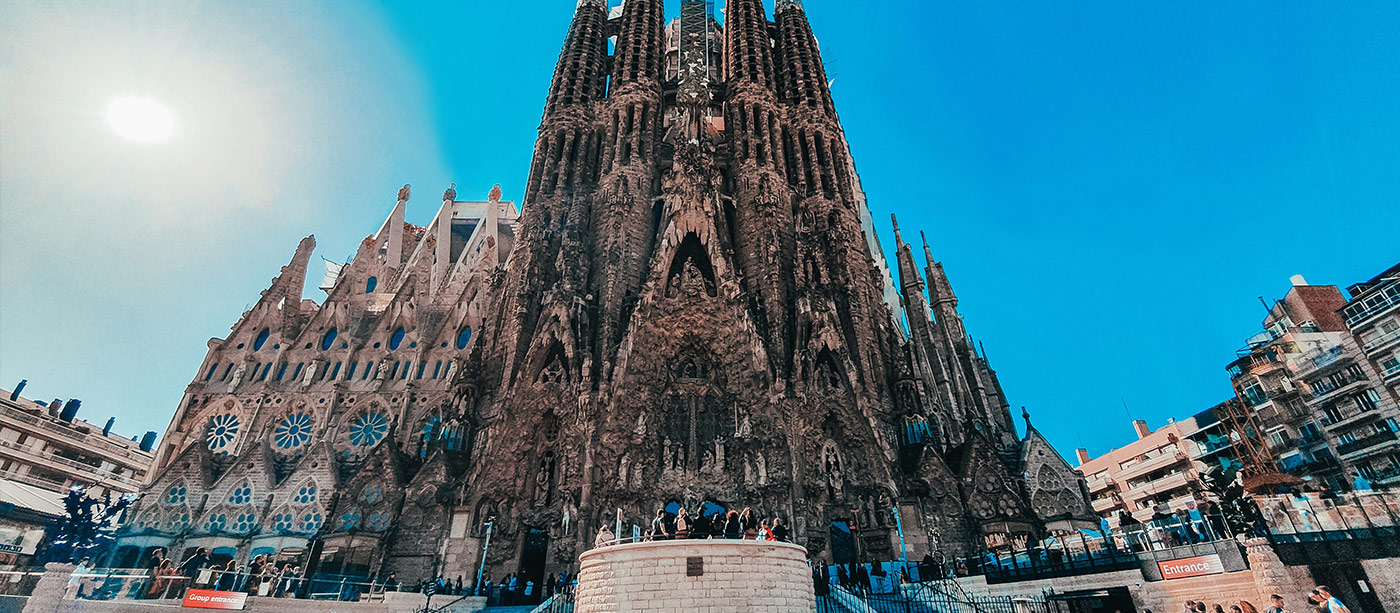 Barcelona's most beautiful buildings!
These buildings should be at the top of your list of things to see in Barcelona
Barcelona's most beautiful buildings!
These buildings should be at the top of your list of things to see in Barcelona
Here are the top 5 most beautiful buildings in Barcelona
Barcelona is just one of those cities that is a hard fault. No matter what your vibe is Barcelona is sure to deliver the goods and this time we are exploring some of the most beautiful and must-see buildings in the Catalan Capital. Like always we know you will not be disappointed with our recommendations for these compelling and varied styles of gothic and modern Spanish architecture.
Walden 7
First on our list is the Walden 7, located on the western outskirts of Barcelona, architect Ricardo Bofill had a utopian style vision for a grand social-housing concept that would stand as a monument celebrating a change in Catalunya. The idea behind Walden 7 unique structure was to create public spaces and gardens for the residents to enjoy. To look at it's like a vertical labyrinth with no repetitiveness or uniformity, the exterior is a distinctive red and the courtyards are an intense blue, violet and yellow. This apartment building is a fortress of solitude.
Address: Ctra. Reial, 106, 08960 Sant Just Desvern, Barcelona
Palau Guell
This magnificent building of modernism is located very close to Barcelona's famous Las Ramblas in the Ravel District. Gaudi was commissioned to design a city palace with apartments, event and exhibition spaces and not only was the task brilliantly completed by Gaudi he also decorated the palace with impressive ironwork, woodwork, ceramics, stained glass and stonework. What's most striking about this building are the 20 Gaudi typical chimneys on the roof decorated in ceramics and built to ventilate the palace so be sure to pay the 12 euros and walk it's rooftop.
Address: Carrer Nou de la Rambla, 3-5, 08001 Barcelona
Casa Calvet
Number four on our list the famous Casa Calvet, and yes this is another Gaudi special. Designed for a textiles manufacture which served both as a commercial property and residence, Casa Calvet was built way back in 1898 and completed in 1900. Considered as some of Gaudi's more conservative work yet it still contains many modernist elements which make it look like something from a fairy tale. You will spot this landmark a mile away by its traditional and innovate facades and impressive wrought ironwork on the balconies. Don't forget to check out the restaurant which can be found on the ground floor.
Address: Carrer Sant Marc, 57, 08253 Barcelona
Casa Vicens
Next up is Gaudi's Casa Vicens which has since become a house museum and declared a World Heritage site by UNESCO in 2005. Located in the beautiful neighbourhood of Gracia, Gaudi's very first home, inspired by nature and built over 130 years ago was the first of many masterpieces to come from Gaudi. What makes this building stand out is its simplicity, colouring, natural motifs and it's abundant decoration. The building is covered in specular green and white tiles and behind the decoration you will notice a hit of Indian and Japanese inspiration.
Address: Carrer de les Carolines, 20-26, 08012 Barcelona
Sagrada Familia
Finally number five on our list and quite easily the most impressive of the lot is the iconic La Sagrada Familia. Famous for being Barcelona's unfinished art nouveau masterpiece, the large Roman Catholic minor basilica is a World Heritage Site. Dedicated to the resurrection of Jesus Christ with its impressive 18 spires that represent the 12 Apostles, the Virgin Mary, 4 Evangelists and the tallest of them all, Jesus Christ. Plans to be finished in 2026 may have been derailed by covid, however completed or not this inspiring beauty is without a doubt not to be missed.
 Address: Carrer de Mallorca, 401, 08013 Barcelona
Barcelona's most beautiful buildings Map