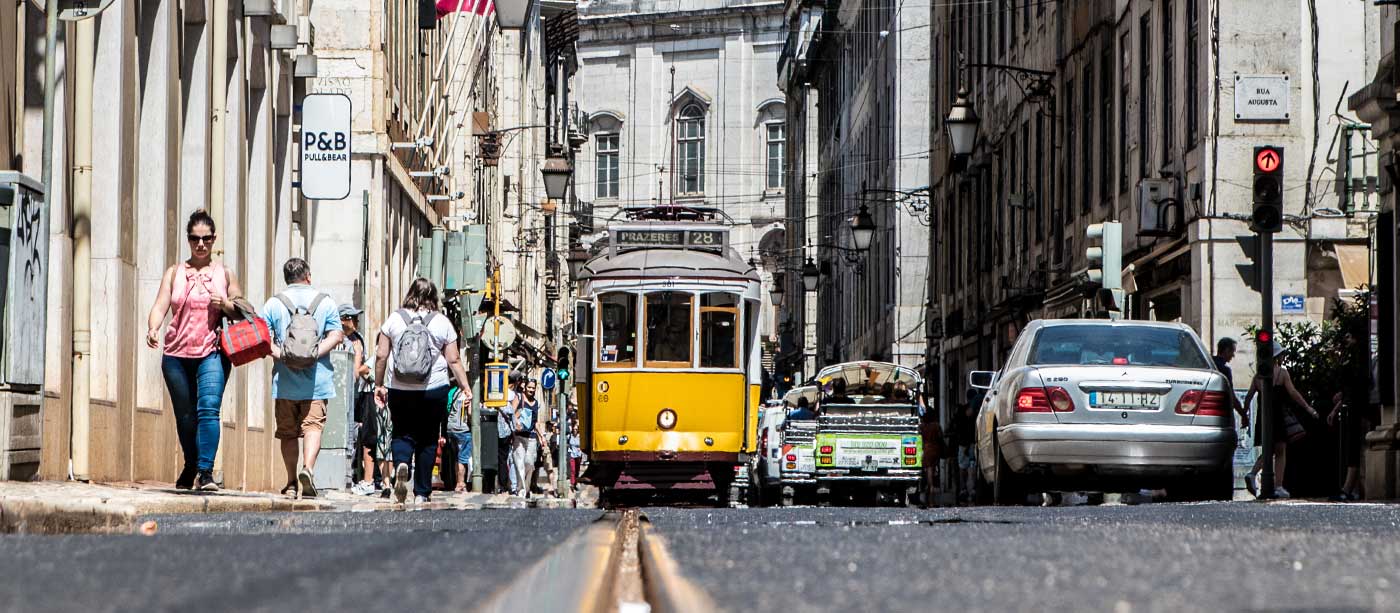 Jump on Tram 28 in Lisbon!
Discover Lisbon and experience the emblematic Tram 28
Jump on Tram 28 in Lisbon!
Discover Lisbon and experience the emblematic Tram 28
History
The first tram tracks were laid in 1873 and operated by a horse car line. It wasn't until 1901 that lines were converted to an electric system. At its peak, during the 1950s, 27 tramlines were running in Lisbon. Over time with the construction of a metro system and the expansion of the bus routes, a slow decline began for the tram industry. 6 lines are remaining in use today. Albeit a tourist attraction, these lines are still very important for transport, as some parts of the city can only be crossed by these small trams. The quaint yellow trams are now emblematic of Lisbon.
Don't forget:
Tram 28
You can't miss Tram 28! The most famous Tram even stops right in front of our hostel in Lisbon. Perfect, right!? Tram 28 is without a doubt the most used tramline in the city. It's not only an amazing way to see Lisbon, but it also functions as an important transport route for locals. So expect to wait a while to board, and potentially to stand up during the trip. We recommend waiting a little longer for a seat or pick a less crowded time, such as the early morning or later in the evening. The total trip time is 1 hour. The line starts in Martim Moniz square and winds through the narrow streets of the old city including areas like Graça, Mouraria, Alfama, Baixa, Chiado, Madragoa, and Bairro Alto. Taking Tram 28 is a very cheap and effective way to check out the city. This route reveals two epic viewpoints Miradouro das Portas do Sol and Miradouro de Santa Luzia, so get your cameras ready. The tramline finishes at Cemitério dos Prazeres, which translates to "Cemetery of Pleasures". It's a beautiful and peaceful spot worth exploring, with great views of the 25 April Bridge.
Tickets
A single ticket bought on board the tram costs around €2.90. But we recommend you buy a 24-hour ticket which costs around €6.30. This includes all metro, tram, and bus services! Bargain. Annoyingly you can only purchase a 24-hour ticket at a metro station.