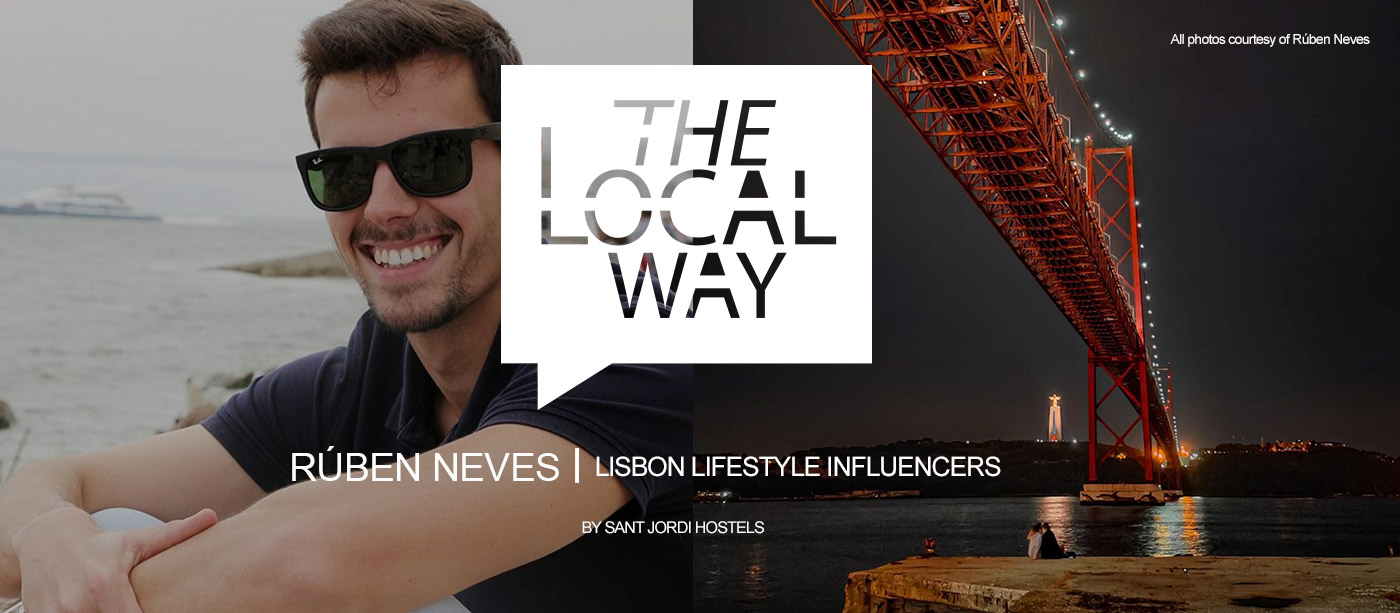 Meet the Lisbon photographer Rúben Neves
Notable and notorious influencers share their Lisbon stories with The Local Way.
Meet the Lisbon photographer Rúben Neves
Notable and notorious influencers share their Lisbon stories with The Local Way.
Without a doubt you are one of our favorite photographers in Lisbon. Describe a little about yourself and your career in photography.
My name is Rúben Neves, I'm from Santarém, a city in the center of Portugal, and I have been living in Lisbon for about 9 years. My passion for photography started as I got to know Lisbon better, taking photos of the amazing monuments, streets, squares and buildings. It started to grow day by day, doing street photography and then I was able to buy a drone and I started to fly it in Lisbon. It is an amazing feeling being able to see and photograph the city and landscape from the sky, and it is amazing to share these views so that people around me can enjoy it as much as I do. Besides the drone I love taking portrait photography as well.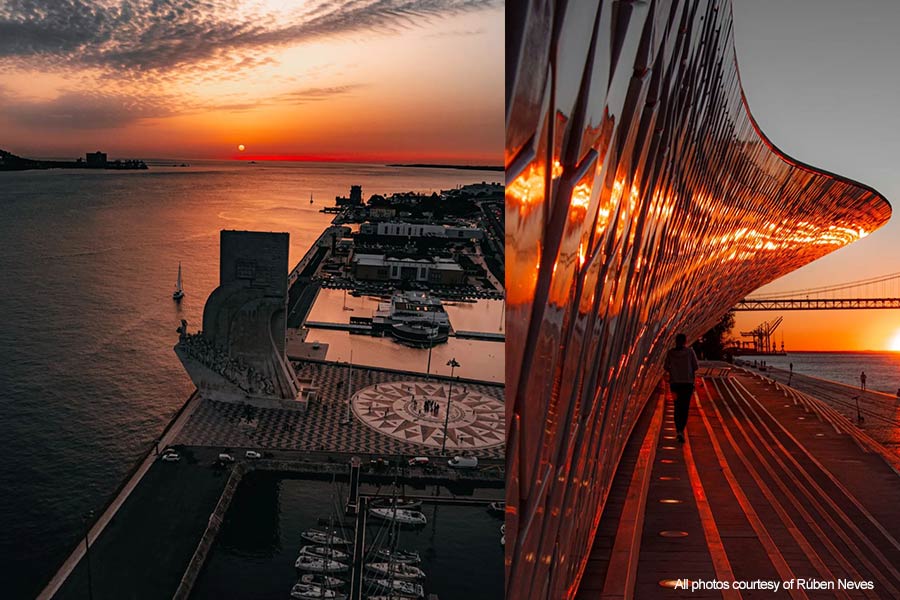 Could you describe what would be a perfect day in Lisbon for you?
My perfect day starts with watching the sunrise in Alfama (the best place for that is Miradouro de Santa Luzia) and enjoying that part of the city when everyone is asleep. Then go for a walk downtown by the river and stop for a coffee and some pastries. Then probably enjoy downtown viewpoints, in the castle, Bairro Alto, Bica and check out the amazing shops close by. Maybe drink some fresh juice in some local square and enjoy the rhythmic lifestyle of Lisbon. Lunch at Belém (Belém, Doca de Santa Amaro and Alcântara have some nice places), go for a walk by the river under the bridge and stop for another coffee. Then head to the beaches, checkout the beautiful buildings in Estoril and Cascais by the seaside, then maybe check out Sintra village. I like to finish my day by watching the sunset in the amazing Sintra seaside.
We love your drone shots.Do you have some tips about wind, weather, best time etc.
The best time to fly a drone is at sunrise, the wind is usually low and the light is amazing. Of course, the summer time is a much better and safer time to fly. I never fly my drone when it's windy, raining or just bad weather in general. There´s some rules that are required to fly a drone and it's essential you follow them.
Where are the best places to eat Cod fish (Bacalhau) in Lisbon?
There are many places for sure, but my favorite are Restaurante Cervejaria Lisboa Portugal and Restaurante D'Bacalhau and of course Casa do Pastel de Bacalhau.
Any recommendations for places to eat Pastel de Nata?
There are the well-known Pasteis de Belém, but I prefer the pastries from Manteigaria or from Nata de Lisboa or even from the typical São Martinho da Arcada.
What's your favorite photo you took in Lisbon?
My favourite photo was one of my first photos with my current drone (DJI Air 2S) and it represents my favorite time of the day in the best place in Lisbon to photograph.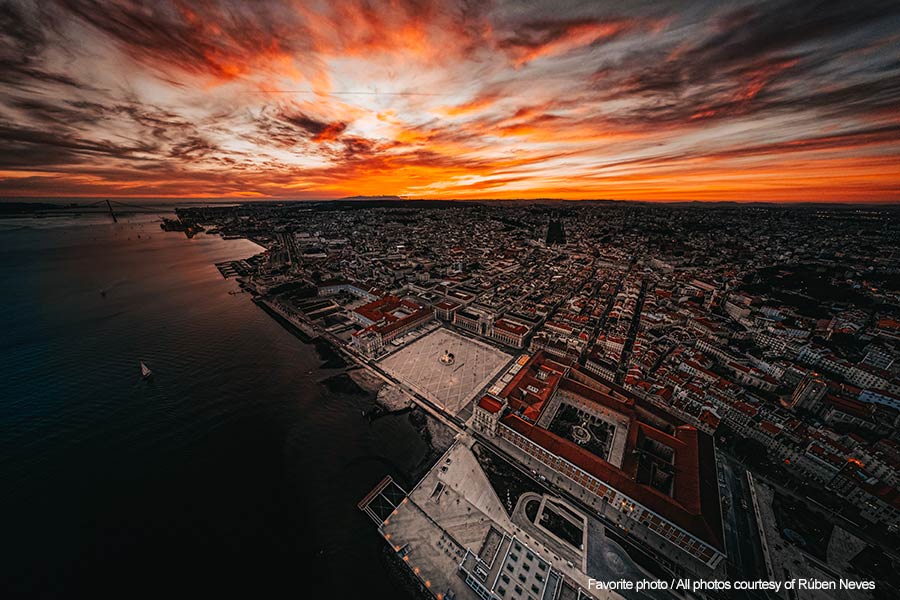 In your opinion, what are the best ways to move around the city?
Like any city the best way to move around and enjoy every second is by car, however Lisbon has many options such as bike lanes everywhere or by tram or metro. There are plans to open more metro stations in 2025, connecting the west part of the city with the city center and that for sure will be the best option. But for a typical ride the tram is also good.
What do you consider the most beautiful street in Lisbon?
The beautiful Rua Augusta for me it's the best. But there are many others in Alfama or the city center.
Tell us a little about your collab with OPPO.
It started with an invitation from OPPO to create content for them. At the start I was apprehensive but as soon as I gained more experience with their equipment I instantly felt proud to work with them. They have amazing products, with high quality performance for all levels, with photography at the top of their priority. Oppo is a great company, that shows real attention to detail not only with the collaborators but and with their clients too. Everyone should experience their products.
What are the coolest viewpoints to take photos at Lisbon?
The best viewpoint in Lisbon for me it's Miradouro da Nossa Senhora do Monte, from there you can see the best Lisbon landscape, the buildings, the bridge, the river and the castle. There's also an unknown viewpoint that's amazing, it's called Miradouro do Alvito, from there you can see the curvature of the bridge and all the cars passing by. There is also Miradouro de Santa Luzia, Miradouro das Portas do Sol, Miradouro do Castelo and Miradouro São Pedro de Alcântara.
On a rainy day in Lisbon. What would you recommend doing in Lisbon??
Check out all the amazing museums, like Ocenário de Lisboa, they have a big fish tank with amazing species. There are many museums celebrating art, architecture and history here in Lisbon. Maybe check the huge shopping malls and enjoy that vibe.
Where are the coolest places to go out at night and have fun? Could you can recommend a nice place to take pictures at night?
To photograph at night there's nothing like downtown. It becomes a different city by night with amazing lighting. The most known places are Bairro Alto and Cais do Sodré, with a lot of little bars and clubs, people drinking on the street and lots of music.
What is your favorite neighborhood?
I love Lisbon downtown, from Rossio to Praça do Comércio. However, my favorite neighborhood in Lisbon is Alfama, with lots of Portuguese culture, the fado houses, the small shops and the colorized streets makes it the best to photograph and enjoy Lisbon.
Best places to enjoy a good beer. And what's your favorite beer?
By the river is the best option. From Santa Apolónia to Belém there's many options to sit, listen to music and enjoy your beer. My favorite is called Sagres, which is a Portuguese beer.
Could you recommend some day trips?
In Lisbon the more time to stay the better. You can move around quite easy with the metro and buses. Day 1: visit downtown, Rua Augusta, Rossio Praça do Comércio, the castle, Alfama, sunset at Nossa Senhora do Monte, dinner in Chiado and party in Bairro Alto. Day 2: visit the modern part of Lisbon, called Parque das Nações and then Belém and watch the sunset. Day 3: visit the Lisbon shoreline, the beaches of Carcavelos, Estoril and Cascais and end the day watching the sunset in Guincho Beach. Day 4: visit the amazing village of Sintra, the Palácio da Pena, Castelo dos Mouros, Palácio de Monserrate, Sintra's historical centre, Palácio de Sintra, eat typical pastries like travesseiros or queijadas de Sintra and end the day watching the sunset in "secret" Praia da Ursa or Azenhas do Mar. Day 5: visit the other part of the river, Almada, where you can walk by the river, visit Cristo Rei, eat in a typical restaurant and end the day watching the sunset in Costa da Caparica beach. There are many more other places to visit I'm sure.
This interview wouldn't have been possible without all the support from Rúben Neves and the efforts of the Sant Jordi Hostels marketing team (Duda Castro, Gisela Mena and Valeria Bianchini).
*Photos courtesy of Rúben Neves 
Esta entrevista no habría sido posible sin todo el apoyo de Rúben Neves y el esfuerzo del equipo de marketing de Sant Jordi Hostels (Duda Castro, Gisela Mena y Valeria Bianchini).
*Fotografías cortesía de Rúben Neves