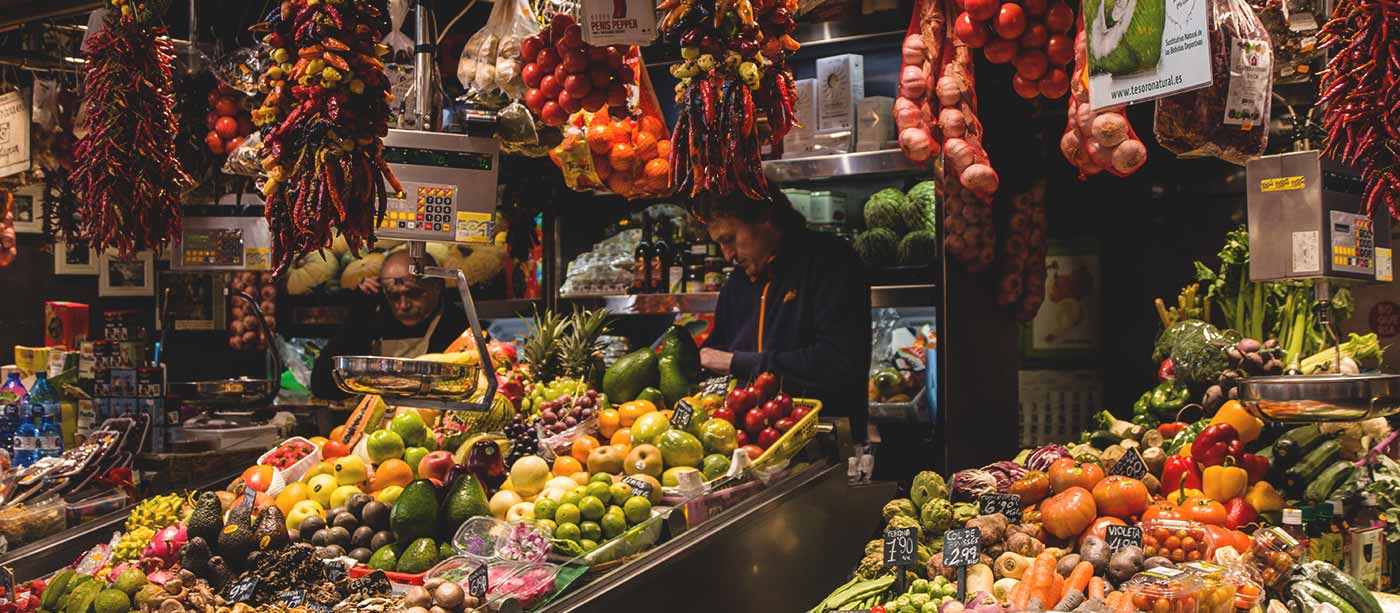 La Boqueria Market in Barcelona
One of the most famous food markets in Barcelona, La Boqueria is a true gastronomic temple
La Boqueria Market in Barcelona
One of the most famous food markets in Barcelona, La Boqueria is a true gastronomic temple
The Boqueria Market
If you are taking a stroll down Las Ramblas, you will be sure to pass the La Boqueria Barcelona market. It is located just off of Las Ramblas and very near to the Barcelona gothic quarter. You will find the market two thirds of the way down Las Ramblas, on the right hand side. This market in Barcelona is one of the largest and most famous in all of Europe.
Once you pass the entrance with the overarching colors and big Boqueria sign, there are millions of sights, smells, colors, textures and sounds to take in. Everywhere your eyes glance, there is something new. You will notice right away the slippery and sticky floors. With everyone moving through this tight space, things fall on the ground. You are walking through an open market with fresh fruits, vegetables, meats, juices, chocolates; the list is endless. The presentation is what makes this area so magical and popular. The order of the food, the way the colors blend and complement each other makes for great pictures. It makes you want to buy it all. But at the same time, you don't want to ruin the gorgeous display.
Where to Eat
If it interests you to sit and eat, that option is available as well. There are small restaurants know as "Barres de Mercados" throughout the market where you can sit on a stool to grab a bite to eat, and even order a drink. It is clear how fresh the food is here. You will see people carrying the meat and seafood directly into the market to be sold. What better way to get a nice local meal? The juices that the fruits stands offer are fresh and cheap. A cup of juice is just €1. Everything is convenient for on the go. One of my favorite things to do is to make my own trail mix with nuts, fruits, and of course chocolate to eat as I walk around and explore.
Sensory Impressions at La Boqueria
The sounds. The buzzing of conversations around you. It is loud, but not crazy like a concert. With La Boqueria being such a popular barcelona tourist site, it is not unusual to hear various languages being spoken. People come from all over the world to experience this famous Barcelona market. You will hear the workers trying to lure you in. Children laughing. This crowded market is a place of comfort and ease. Whether you are going there looking for something in particular, or just want to take a walk around to see what it is all about, you will have a good time.
When To Go To La Boqueria
La Boqueria is open every Monday through Saturday from 8:00 – 20:30. It is recommended to go before 14:00 because this is when the market is most alive. To get the most out of the experience here, head that way before lunch. You do not need to spend more than an hour there, unless you plan on sitting to eat as well. Make sure to fit this famous market into your schedule here in Barcelona.
If you are looking for a place to stay near this popular street, the Rock Palace hostel Barcelona by Sant Jordi Hostels Barcelona is the place for you. The Rock Palace is one of the best hostels in Barcelona and is only a 15-minute walk from La Rambla and the La Boqueria market. It is really just a straight line down the street until you reach Las Ramblas. If you want to take the metro there, hop on the L3 (green line) at Passeig de Gràcia and get off at Liceu. This will save a few minutes of walking.