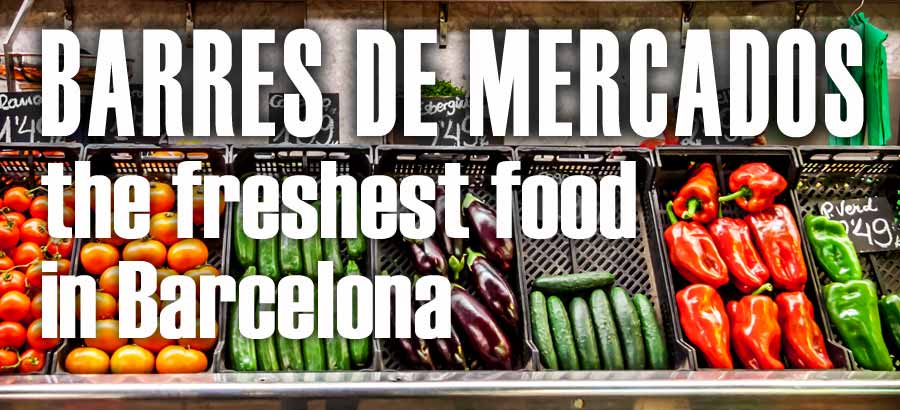 The Freshest Meals in Barcelona – The Kitchens of the Fresh Meat and Produce Markets of Barcleona
If you are interested in discovering a uniquely Catalan way of enjoying fresh food in Barcelona, a recommendable option is to visit the bars and small restaurants located inside the fresh meat and produce markets of Barcelona; where they cook, "on site", the fresh produce of the very markets in which they are located – Fresher… Impossible!!!
Every fresh meat and produce market of Barcelona has at least one bar/restaurant/café that specializes in serving good meals at great prices made with the fresh products of the market vendors themselves. They are a uniquely Spanish curiosity and are a great way to have a good meal and at the same time a real Barcelonese culinary experience. For some of the freshest food in Barcelona at great prices check out our list of a few "barres de mercados" recommended by the staff of our hostels in Barcelona.
Bar Papitu
Located in the Marcat de la Boqueria, the largest and most famous market of Barcleona, El Papitu has everything in one small location: a bar next to the street with a small shop and kitchen that serves cañas, vermuts, calamares a la romana, bravas and various other tapas. The clientele enjoy their snacks and drinks while watching the small farmer's stalls and commotion of the market.
Location: Mercat de la Boqueria (Plaça de Sant Galdric).
Cafè Magí
Café Magí is located in the mercado de Collblanc one of the most authentic and charismatic markets of Barcelona, with stalls that have been maintained for over 40 years. Selections of choice at Café Magí are coffees, refreshments, beers, bocadillos calientes de varias tortillas(warm sandwiches of Spanish tortilla).
Location: Mercat de Collblanc
Bar Torrubiano
Located in the Mercat de Sant Ildefons, El Torrubiano is a perfect example of a typical "mercado bar" located in an internal corner of the maret itself. The long bar and 4 tables that make up Bar Torrubiano are sufficient to have a nice breakfast or enjoy a lunch of all types bocadillos (sandwiches), pescado (fish), carne (meat), tapas y paella. Bar Torrubiano has an authentic southern Europen atmospher.
Location : Mercat de Sant Ildefons (Cornellà)
El Bisaura
Located in the Mercat de les Corts, El Bisaura is most similar to a street-side restaurant with a partially isolated and well decorated dining area. They make fresh dishes from the market, specializing in fish and seafood, and they have excellent wine offers.
Location: Mercat de les Corts
Bar Joan
Bar Joan is the most traditional bar of the more modern Santa Caterina market. In front of the bar it is always full of the market workers themselves, delivery men, and a varied assortment of clientele. Always rapid and efficient service with basic dishes at a good price.
Located in the Mercat de Santa Caterina