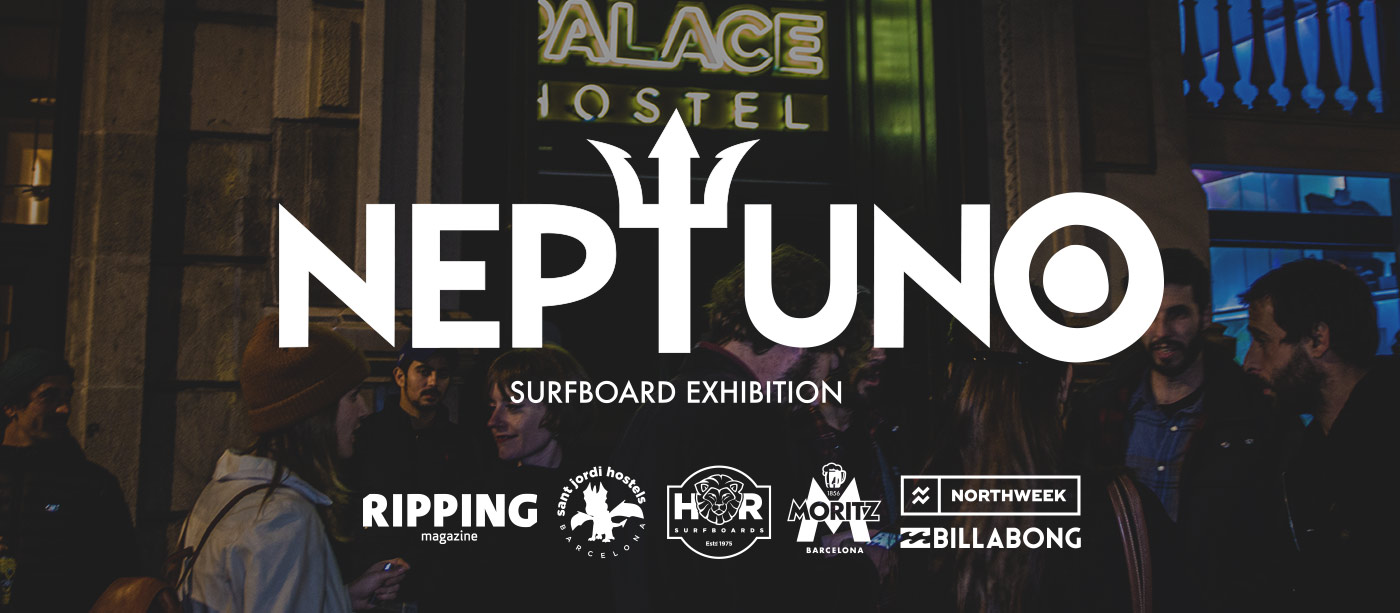 The Neptuno Surfboard Art Expo at the Rock Palace Hostel in Barcelona
The Barcelona surf and skate community converge at the Rock Palace hostel to celebrate the art of Julian Lorenzo
The Neptuno Surfboard Art Expo at the Rock Palace Hostel in Barcelona
The Barcelona surf and skate community converge at the Rock Palace hostel to celebrate the art of Julian Lorenzo
El Neptuno Surfboard Art Expo
Sant Jordi Hostels hosted the El Neptuno surfboard art exposition at the Rock Palace hostel in Barcelona. In celebration of the artist Julian Lorenzo, the whose who of the Spanish surf and skate community showed up to show their support. With a special appearance from the famous DJ Soren Manzoni, of Barcelona Nasty Monday's fame, and support from Moritz beer, the party was off the hook.
On the 16 of February 2017, Sant Jordi Hostels Barcelona put on an awesome free event. The Rock Palace hostel in Barcelona was packed with over 100 people! It was a mix of hostel guests, locals, surfers, skaters and Barcelona influencers. On top of the free beer, sponsored by Moritz, we had a really cool DJ and free giveaways.
DJ for the event was the legendary Soren Manzoni who DJ's the famous Nasty Mondays parties in Barcelona, one of the best party scenes in Barcelona. He was amazing. Since he is also a surfer, he was able to make the music really match the vibe of the event. It was a combination of surf, rock, and boarding. We put this event together just for you! This was a night to remember. Neptuno, a surf exhibition, was a party for the Barcelona surf and skate community. Barcelona skateboarder Julián Lorenzo, HR Surfboards and Ripping Magazine provided a good reason for throwing a great party. Skater Julian Lorenzo was the one who designed the incredible board that we presented for you. His astonishing artistic skills designed the fishes and whales board. Ripping Magazine is famous in Barcelona for pretty much anything that has to do with a board. They are experts in surfing, skating, and snowboarding so this event was perfect for them!
The vibes throughout the hostel were unbelievable! Everyone was chilling and mingling. It was not a crazy party scene but we had some really cool people there and it was clear, new friendships were made. People were hanging out by the DJ, in the kitchen and out on the patio. This was an event we absolutely loved to put on. We can't wait to do it again!
Our sponsors for the event included Ripping Magazine and HR Surfboards. HR Surfboards was created and founded by Hiucif Rahim. Not only is he extremely talented, but he's a really cool guy to talk to! He grew up in Brazil but has made it professionally worldwide.
Shout out to Northweek, Billabong, and Moritz for helping us put on this awesome event! It was thanks to these sponsor that we had some pretty cool free stuff. The sunglasses from Northweek were dope! Billabong had a really cool wetsuit that was raffled off. And of course, the tasty, free, cold beer from Moritz. Cheers guys!
We cannot wait to make memories with you at our next Barcelona hostel party!