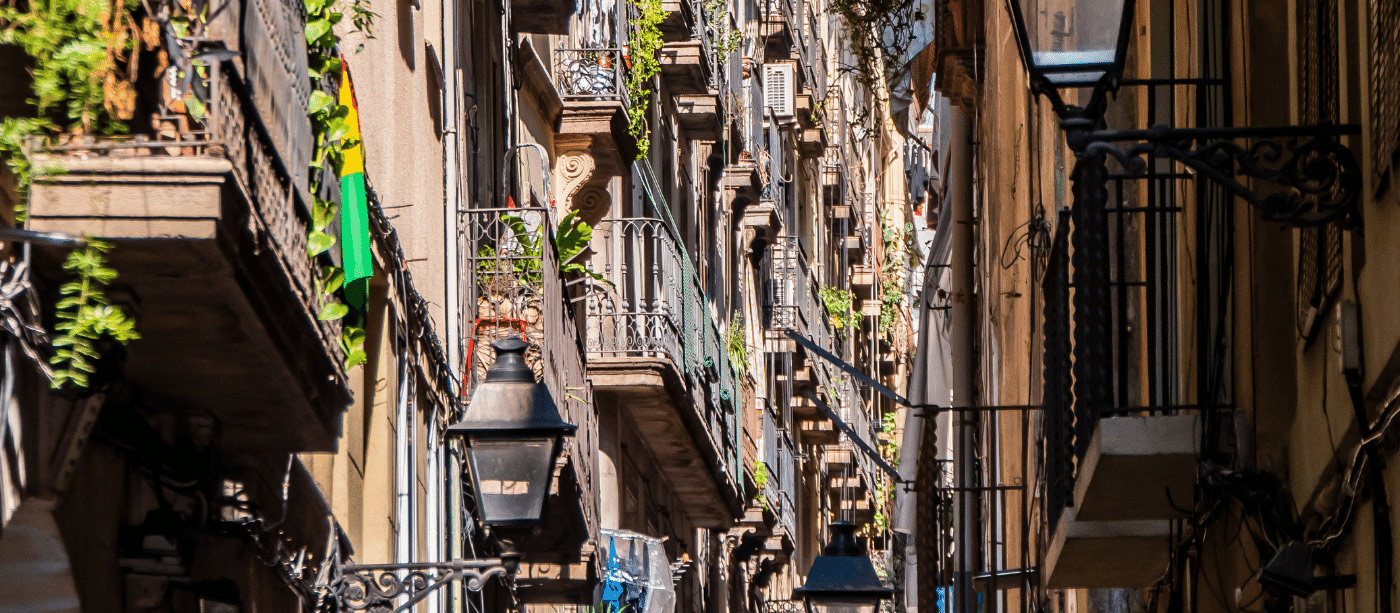 What to see in Gothic Quarter in Barcelona
Your ultimate guide to Gothic Quarter in Barcelona
What to see in Gothic Quarter in Barcelona
Your ultimate guide to Gothic Quarter in Barcelona
Here are the reasons why you should visit the Gothic Quarter in Barcelona
If you plan to visit Barcelona, one of the places you can not miss out on exploring is the Gothic Quarters. It was one of the best areas of the city with architecture from the gothic and medieval areas. With the different shops, restaurants, and buildings and as you walk down the small streets and passageways, it makes you feel as if you have travelled back in time.
One of the benefits of staying with a Sant Jordi Hostels during your time in Barcelona is the Gothic quarters are nearby them, with the distance only being a metro ride away. If you want easy access to one of the coolest parts of Barcelona, staying at one of Sant Jordi Hostels is a must.
The Kiss of Freedom
If you are an art and photography lover do not miss a chance to see the Kiss of Freedom while on your stay in Barcelona. The mural shows two people in a kiss that spreads across the wall. However, if you look closer, there are several different images (6,000) that make up the one mural. The different images are other declarations of love and sweet photos. It was built in 2014 and dedicated to Barcelona after the Spanish succession in 1714. Even if you aren't a fan of art, the wall is a nice place to visit symbolizing love and freedom, it is worth a look. Additionally, a worthy place for an Instagram photo.
Address: Carrer dels Capellans, 16, 08002 Barcelona, Espanha
Barcelona Cathedral
You probably have heard of the Sagrada Familia as you plan your travels to Barcelona, however which is less frequently talked about is the Barcelona Cathedral. As the city is based in the Catholic country of Spain, there are probably people who have been practicing the religion since as early as the 3rd and 4th centuries. However, the cathedral should be a must see even if you are not religious because of the grand, alluring and attractive architecture. It does cost around 9 euros or so to get in the building, but even if you stop by just for a picture outside, it is beyond worth it.
Address: Pla de la Seu, s/n, 08002 Barcelona, Espanha
Eat and get dessert
With all the walking, looking and picture taking, you are bound to get hungry. Luckily, there is an abundance of places to choose from when you are at the Gothic quarters. With every step you make you will see a tapas bar, brunch places, gelato, dessert places and more. The area is filled with plenty of places to satisfy any cravings you have at the moment. A recommendation would be to check out Can Culleretes, which opened its doors in 1786 and is the oldest restaurant in Barcelona, serving pure Catalan food. The walls of the restaurant show the history and culture of the place with pictures from different years. There are many options to choose from the menu, but it may be recommended to try their paella and canelons.
A must-try for dessert especially if you want a nice cafe to sit and eat at, would be Caelum. They have many traditional sweets and drinks for their guests to try. As well as the aesthetics of the cafe are extraordinary with the white tables and chairs, and the sun hits the cafe so nicely.
Shop
If you love to shop you have to make a stop at the gothic quarters, there are so many different places. From antique shops to vintage clothes to jewellery and crystal shops there is so much to look around and choose from and explore. Even though the Gothic quarters are a touristy part of Barcelona, you get so much more than just the regular cliche souvenirs from Barcelona.
Best Streets for shopping at the Gothic Quarter in Barcelona:
Passeig del Born
Carrer del Rec
Carrer del Banys Vells
Carrer d L'Argenteria
Gothic Quarter Barcelona Map