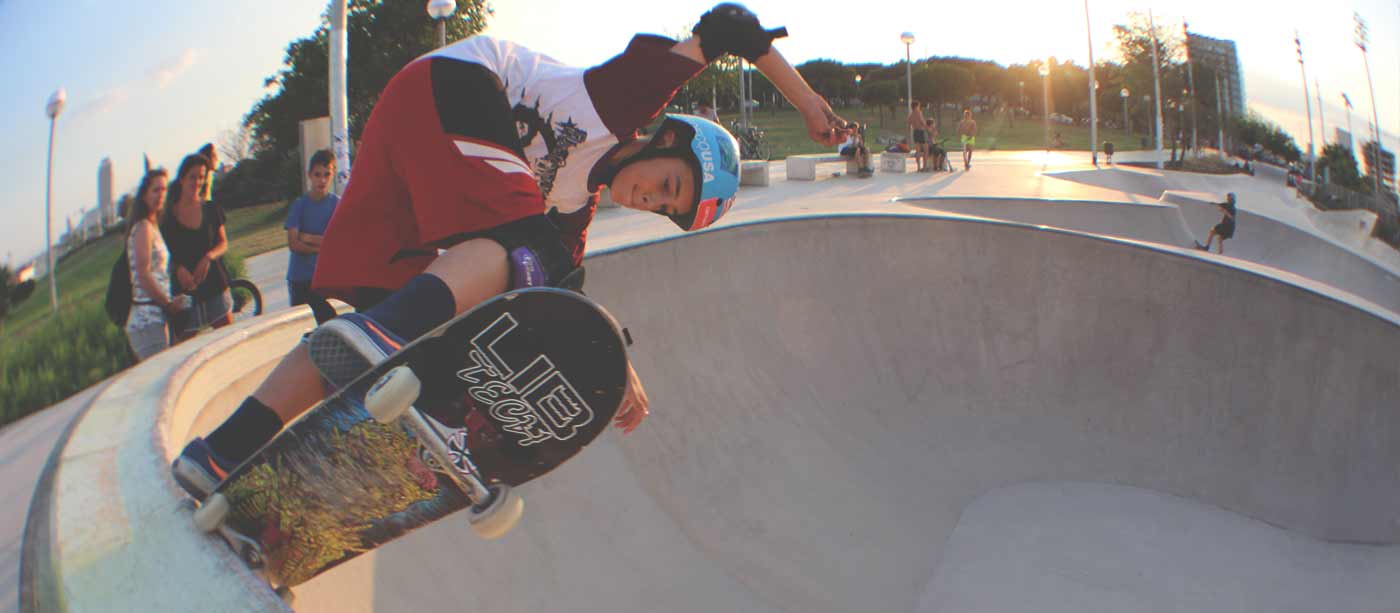 The Best Skateboarding Spots in Barcelona
Find out why Barcelona has become known as the skateboarding capital of the world
The Best Skateboarding Spots in Barcelona
Find out why Barcelona has become known as the skateboarding capital of the world
The Best Skate Spots in Barcelona
For people of all ages, skateboarding can be a thrilling way to not only get around, but to build skill doing so. Barcelona is a walking city, boasting some of the most famous architecture ever seen, so you can imagine the skate spots are similarly intense. Skaters are accepted, because hey, they know how to get around. Thanks to the smooth streets, amazing skateable terrain, and relaxed culture, Barcelona has become known as the skateboarding capital of the world. Here, we list the top 5 skate spots to visit in Barcelona.
Macba Skate Spot
The Museum for Contemporary Art is just a 15 minute walk from Sant Jordi Hostel Rock Palace. Near the city centre, the MACBA is open for skateboarding on Sundays and Tuesdays. When you get here, you will find a famous huge 4 stair and ledges drops and stairs.
Plaza Universitad
Universitat is around the corner from MACBA. You will find three long smooth stone benches and other obstacles.
Parallel
If you take the green Metro line (L3) and walk a few hundred meters from the station you will find Parallel. This spot has many manual pads, ledges, a few drops, a stage with a ledge, a long slope, benches and a long metal structure. You will find people hanging out and watching people skate while they eat their lunches. The graffiti here adds to the whole vibe of the area and is a true skaters paradise.
Forum
Near the Forum stop on the yellow metro line (L4), as you head towards the ocean, there is a famous structure for doing manuals on and tricks on the banks nearby there is a skate park, close by you will find huge wave like structures. In this area there are large stairs and ledges, a great area for exploring. If you go right in front of the water, you will find the famous brick waves. This is a quiet area to skate but is famous in skateboarding videos. If you do head out this way, bring water with you because there aren't many places to buy stuff around here.
Marbella Skatepark
This Barcelona skatepark is right near the beach. It is a popular place to go and it is great because there are no sponsors, staff or commercialisation. It was created for every type of skater in mind so you will be sure to find the area that fits your style.
Barcelona metro system provides easy access to most of the well known spots around the city. This is a cheap and convenient way to get out the city and visit the most skateboarding locations.
There are many other skate spots around the city for various types of skating, it just takes a little exploring. If you are coming to Barcelona to skate, our hostels are located near famous skateboard spots. We even have a skate hostel in Barcelona. Most of our receptionists are skateboarders. They live, breathe and eat skateboarding. Also, check out our local's guide to skateboarding Barcelona.
Skate all day, party all night, and sleep at Sant Jordi Hostels Barcelona!!
Have fun guys!