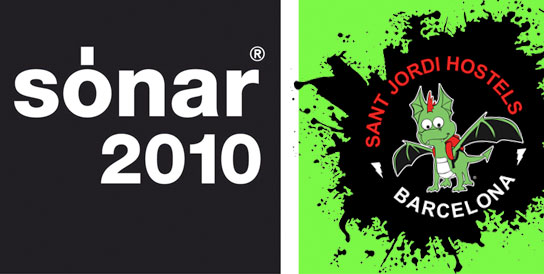 Sant Jordi Hostels Barcelona really recommend Sonar Music Festival, this event has grown from strength to strength and is now established as one of Europe's most well known music festivals.
Each year, for one weekend in June, Barcelona is flooded by thousands of music fans from all over Europe.
For the first time this year Sonar will be taking place in two Spanish cities: Barcelona and A Coruña. The two events will be taking place over the same weekend in June.
In contrast to many summer festivals, Sonar does not take place in a field, with people camping. It is a city festival, so accommodation must be found in and around Barcelona. There are two different sites for the festival in Barcelona – one for during the day (Sonar by Day) in the city centre and one for at night (Sonar by Night) that is further out of town.
Accommodation Sonar Music Festival
If you are coming to Barcelona to join the Sonar Music Festival, Sant Jordi Hostels with five diferent locations provides the best accommodation in Barcelona for you and your friends.
Thursday 18th June – Saturday 20th June 2010
We are all music lovers! Come and get crazy with us!!!
See ya There!