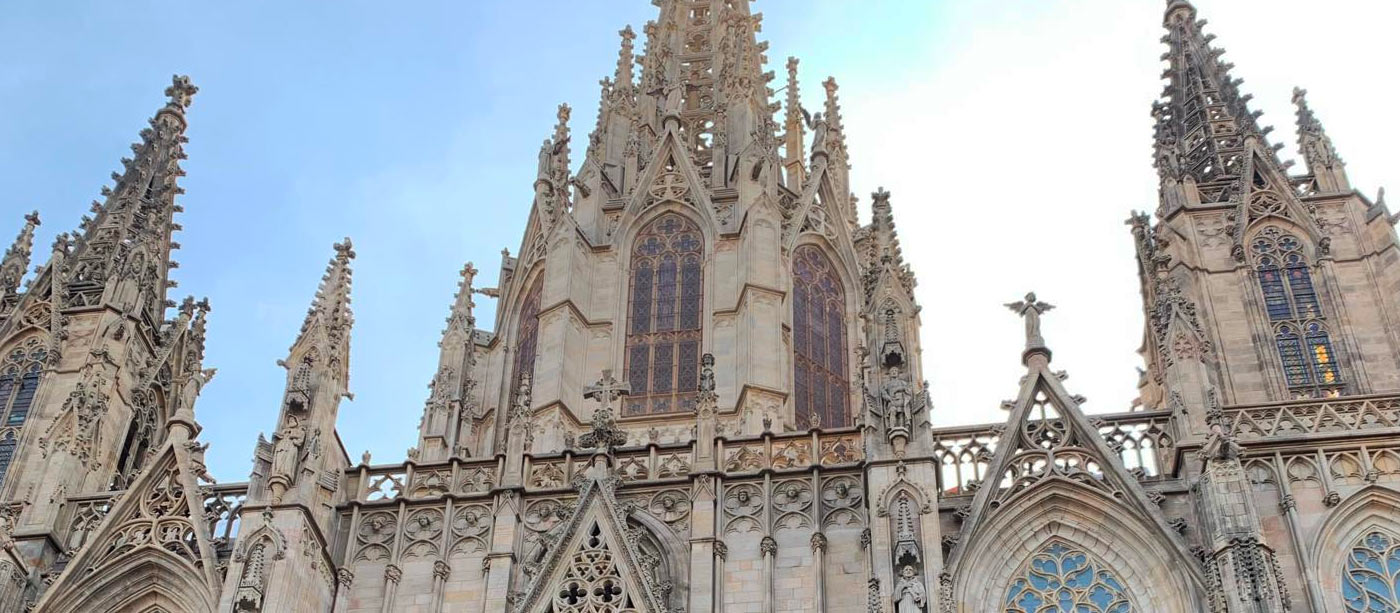 Top 5 Churches in Barcelona
Discover the greatest churches in Barcelona!
Top 5 Churches in Barcelona
Discover the greatest churches in Barcelona!
Wondering what churches in Barcelona are most important to visit?
Have you ever wondered which are the most beautiful churches in Barcelona? There are so many! And you probably won't have the time to see them all. That is why we have made a list with the TOP 5 churches you cannot miss in your visit to Barcelona.
Sagrada Familia
La Sagrada Familia is definitely a must-see for anyone who is spending time in Barcelona. La Sagrada Familia is definitely the most famous church in Barcelona but once you see it for yourself you will understand why. This truly an amazing piece of art that you must see in person because pictures truly do not give it justice.
La Sagrada Familia started its construction back in 1852 and is still in the process of being built which may seem crazy to think about but once you see the enormous size of this giant Roman Catholic Basilica you will understand why it has taken so long to build. This massive architectural work of art was created by Barcelona's most famous architect Antoni Gaudi who is known for his absolutely breathtaking works of art that also include Casa Batlló, Casa Milà and Park Güell. Gaudi passed away back in 1926 but his dream of finishing La Sagrada Familia has kept moving forward and is expected to be completed in between 2026 and 2028. This will be over 144 years of dedication to this beautiful church in Barcelona.
The Roman Catholic Basilica in Barcelona is open to the public for mass every Saturday at 8 pm and every Sunday at 9 am and also on the Eve and day of all holidays. These worships are all international masses that will be spoken in multiple languages so make sure you plan your day around it because it will take longer than your average mass. These masses are all free but you must plan to get there early because there is limited seating.
If you plan on going to La Sagrada Familia any other time of the week, do not plan on getting in for free. Tours for the Basilica range from 20€ to 33€ but make sure you buy them in advance because they will sell out fast if you try to buy them when you get to the site. You can find tickets here and with many other options including tours to Antoni Gaudi's house.
You can find La Sagrada Familia here, only a ten minute walk away from Sant Jordi Hostels Sagrada Familia.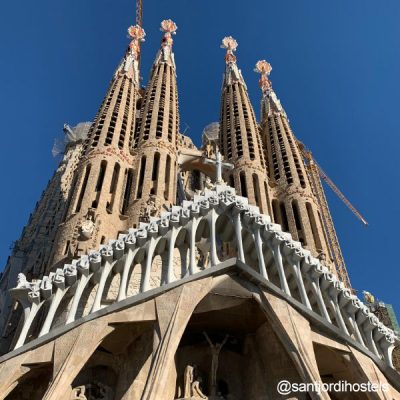 Address: Carrer de Mallorca, 401, 08013 Barcelona
Cathedral of Barcelona
Located in the heart of the Gothic Quarters of Barcelona, this beautiful Cathedral is home to the Archbishop of Barcelona and one of the most unique Cathedrals for its location and age.This Cathedral is must see for anyone who his interested in Cathedrals, the gothic period, medieval times and the Crusades.
The Cathedral of Barcelona dates back to the beginning of its construction in 1292, making it one of the oldest churches in Barcelona. The Barcelona church was built on top of previous churches that dated back to 1058. The Cathedral of Barcelona was being built during the time of Bishop Bernardo Pelegrí but was not complete for over 150 years and was now meant for Bishop Francisco Clemente Sapera. The Barcelona church was constructed during the reign of multiple kings starting with King James II of Aragon and ending with King Alfonso V of Aragon and to this day you can still see slices in the stone of where knights used to sharpen their swords.
It is a Roman Catholic church in Barcelona that is still open to the public. Masses are consistent through the week from 9 am to 7 pm but make sure you look up on the website what type of masses are going on during the weekend because services can change do to holidays. If you plan on visiting this church, make sure you come prepared and understand that they only do mass in Spanish and Catalan.
If you want to take a tour of the Cathedral of Barcelona you will want to plan on going on Sunday, it may be a little busier but it is cheaper than the rest of the week. If you choose to go during the week it will be 7€ but no matter when you go it is definitely worth it and I recommend you take the elevator up to the roof for an incredible view.
You can find Cathedral of Barcelona in the heart of the Gothic Quarters. make sure you take the time to look around the outside of the church where you will see the gargoyles that are portrayed as animals and mythical creatures around the whole church and don't forget to walk around the rest of the gothic quarters, there is so much to see!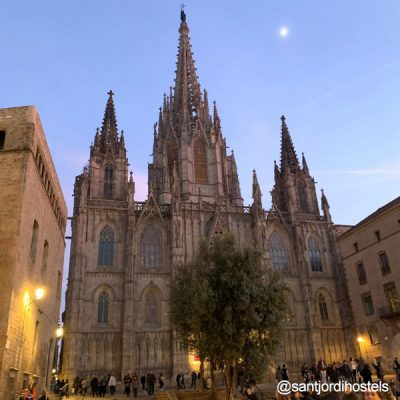 Address: Pla de la Seu, s/n, 08002 Barcelona, Spain
The Temple Expiatori del Sagrat Cor
If you love churches, mountains, and amusement parks the Temple Expiatori del Sagrat Cor is a must see for you. And yes, I said amusement parks! The Located on top of Mount Tibidabo and shares the summit of the mountain with the Tibidabo Amusement Park, this is one of the most beautiful places in Barcelona for its beautiful view and the architecture of the minor Basilica with the statue of Jesus on the top of the steeple overlooking all of Barcelona. So, If you want a fun day trip I recommend you hike to the top of the mountain, hang out at the amusement park and finish off the day looking over the city from the church. Did I mention this is the highest point in Barcelona? At the tip of the Temple Expiatori del Sagrat Cor you are standing at an astounding 564 meters above sea level.
Out of all the churches we have talked about so far the Temple Expiatori del Sagrat Cor is the most modern church we have looked at with a more neo gothic to modern architectural design. The Barcelona church began building in 1902 and was finished in 1961. After completion of the church, Pope John XXlll gave it the title of minor Basilica.
Just like the rest of the churches in Barcelona that we have talked about, the Temple Expiatori del Sagrat Cor was also Roman Catholic. This is a great place to go to church in Barcelona for multiple reasons. It will be less packed then the la Sagrada Familia and the Cathedral of Barcelona and the mass times are vert consistent. You can go to mass during the week from 8 am to 7 pm with four masses through the day and every sunday from 8 am to 7 pm with six masses throughout the day.
To tour the Temple Expiatori del Sagrat Cor it is much easier then any other churches we have discussed. The church is open Monday through Sunday 11 am to 5:45 pm and I recommend you take the opportunity and spend 4€ to take the elevator up to the top of the church and then walk up the stairs to the tip of the steeple. You will be standing directly under the statue of Jesus and overlooking all of Barcelona from the highest point you can access in Barcelona
To find the mountain you really don't even need a map, basically from any location in Barcelona you can see the Temple Expiatori del Sagrat Cor but the directions can only help because there are many ways to get up the mountain from hiking to taking the uphill metro so use this map to find the best way for you to get to the church in Barcelona.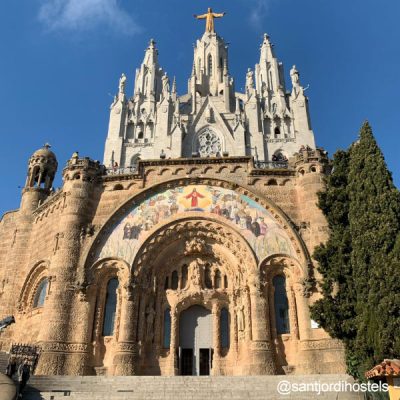 Address: Ctra. de Vallvidrera al Tibidabo, 111, 08035 Barcelona
Basílica de Santa Maria del Mar
There are many churches in Barcelona and many of them are hidden away in less known areas. These small back roads that are less traveled and less touristy lead to some great areas with a lot of things to do. With many great restaurants and stores in the area to check out you will also be able to find Basílica de Santa Maria del Mar. This church is breathtaking for its massive size and its unbelievable location, tucked in the streets of Barcelona.
This beautiful Basilica started being built back in 1329 and was not complete until 1383. This church was built through the hard labor of the people with King Pere III's permission to go up into the quarries around the mountain Montjuic to retrieve the stone they would use to build Basílica de Santa Maria del Mar. There have been a lot of issues surrounding this church since it has been built, mostly political acts that were against the church and that has caused the church to take on a lot of destruction and rebuilding. These political acts included the 11 day burn of the church that destroyed all of the priceless artwork and the altar of the church. Thankfully the people have taken care of this church and now today looks as if it was just built yesterday.
This Roman Catholic church has a rich history with the building and the destruction of the church but it also has had a strong religious past with ten saints actually going to church here including Josep Oriol who happened to grow up  being an altar server at Basílica de Santa Maria del Mar. As well of the many saints who have gone to this church it has also had some very well known priests serve mass here including St. Anthony Ma Claret  who was the Bishop of Santiago de Cuba and St. Francesc who founded The Dominican Sisters of the Annunciation. A great thing to remember about this church is they like to consider it an open house to all. Outside of touring times there are open hours where anyone can go in and pray, making this church feel more authentic and down to its religious core and not as much of a landmark or museum which many churches in Barcelona have become.
Access to the church is easy to come by whether you are just looking for a tour or to actually go to mass. Santa Maria del Mar is open from 9am to 1pm and 5pm to 8:30 pm Monday through Saturday and Sunday from 10 am to 2pm and 5pm to 8pm. There is plenty of time to see the church and make sure if you have the chance you by a ticket for a tour of the church for 10€ and up to the roof top and towers for 8,50€ and don't forget to bring your student ID for a discounted rate. If you are planning on catching a mass you're in luck because they have a service everyday at 7:30pm and a 12am international mass every Sunday.
If you would like to check out this magnificent church in Barcelona please enjoy the walk through the small streets of Barcelona which will lead you to Basílica de Santa Maria del Mar. 
Sant Pau del Camp
This list would not be complete without the oldest church in Barcelona, that being Sant Pau del Camp. This church is a must see for anyone interest in history and monasteries.
Sant Pau del Camp was originally a monastery which is a home and workplace for monks or nuns. The church was built back in 977 and to this day no one knows who the specific architect was but we do know it was built in the Romanesque style. This monastery was later attacked in 985 by the Muslims who were lead by the ruler al-Mansur who was known by his people as Almanzor. The reconstruction of this monastery did not take place until 1096. Once reconstruction was completed it 1117 it remained a monastery until the 13th century when they officially added the church to the monastery and officially named it Sant Pau del Camp.
As the pattern continues, this church in Barcelona also happens to be roman catholic. Out of all the churches we have seen this one is by far the smallest but is still know for its extreme age and very interesting history.
If you want to see this church you can go for a small charge of 5€ and it is open Monday through Friday from 10 am to 1:30 pm and 4pm to 7:30 pm and Saturday from 10am to 1:30 pm and from 4pm to 7pm and on Sundays Sant Pau Camp is closed to the public.
Sant Pau del Camp is a very simple place to get to, only a few blocks from La Rambla and about a 10 minute walk from the famous Mirador de Colom.
Map to the Top 5 Churches in Barcelona