Secrets of Tibidabo
Don't miss the Tibidabo: it will really surprise you!
By Martina Albin
Secrets of Tibidabo
Don't miss the Tibidabo: it will really surprise you!
By Martina Albin
Here are some reasons why you must see Tibidabo on your trip to Barcelona!
Tibidabo is quite literally on top of Barcelona's viewpoint on a mountain. Anywhere you are in Barcelona if you look up, you most likely will see the castle on top of the mountain where Tibidabo is located. It's possible you have heard of the Bunkers in Barcelona, which is one of the best spots to look at the spectacular views in Barcelona. However, Tibidabo is higher up the mountain than the Bunkers, and it's encouraged to explore if you want to admire the city skyline of Barcelona. Not only are the views in Tibidabo amazing and will blow your mind, but there are also many cool things to do in this area of Barcelona.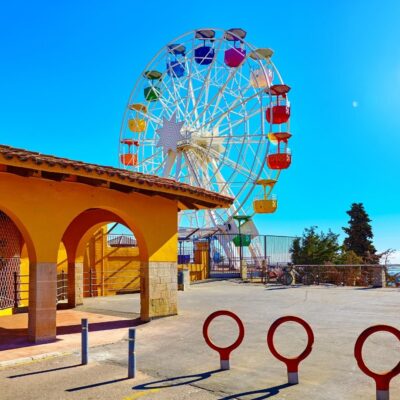 Funicular
Unless you plan a day of trekking or take a car to Tibidabo, you will have to use the bus or the funicular. The funicular is definitely recommended to use as it is a special and fun experience. The funicular is a special train that uses cable cars to go up. It only holds 30 people and is a short two-stop ride to Tibidabo. If you stand near the large windows looking down, you can take in incredible views as you go up and see more of the city of Barcelona. Tickets are easily purchased at Barcelona metro stations for the funicular, so it is also very accessible. At Sant Jordi Hostels, all metro stations are only a couple of blocks away, so the trip to Tibidabo from any of our hostels is easy to calculate.
Good Tips:
The Tibidabo Funicular Railway price is 4.10 euros buying the entrance to the amusement park. Without buying a ticket, the price of a round trip is 7.70 euros.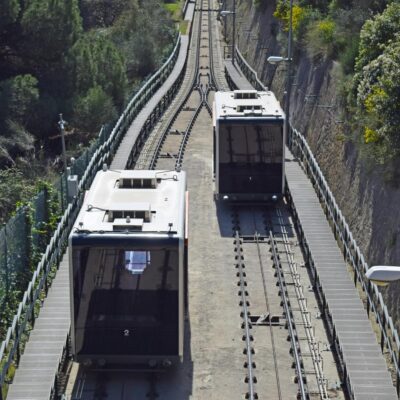 Amusement Park
One of the main attractions at Tibidabo is the extraordinary theme park at the top of the mountain. When you arrive at the park, it seems small with only a few rides but as you emerge you realize they have two levels below the first that extend the park with multiple rides. There are water rides, a Ferris wheel, a roller coaster, a virtual reality ride, a haunted house, bumper cars and so much more to do at the park. They also have an amazing food selection with burgers, hot dogs, churros, waffles, ice cream and more tasty treats to choose from. Whenever will you be able to go to an amusement park on top of a mountain? At every corner of the amusement park, there is a beautiful view of the city of Barcelona.
Good Tips: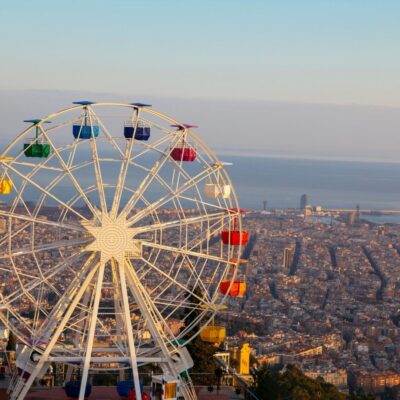 Activities in the area
If you love the bunkers you are going to want to walk around and check out the views from Tibidabo. As you explore Tibidabo you have to check out Uaala! Gelateria / Heladería, which claims to have the best brownie in the world and it is pretty amazing, and worth exploring. Another place to check out will be the church on the mountain near the amusement park that resembles a castle; it took 60 years to construct this magnificent place.
Good Tips: