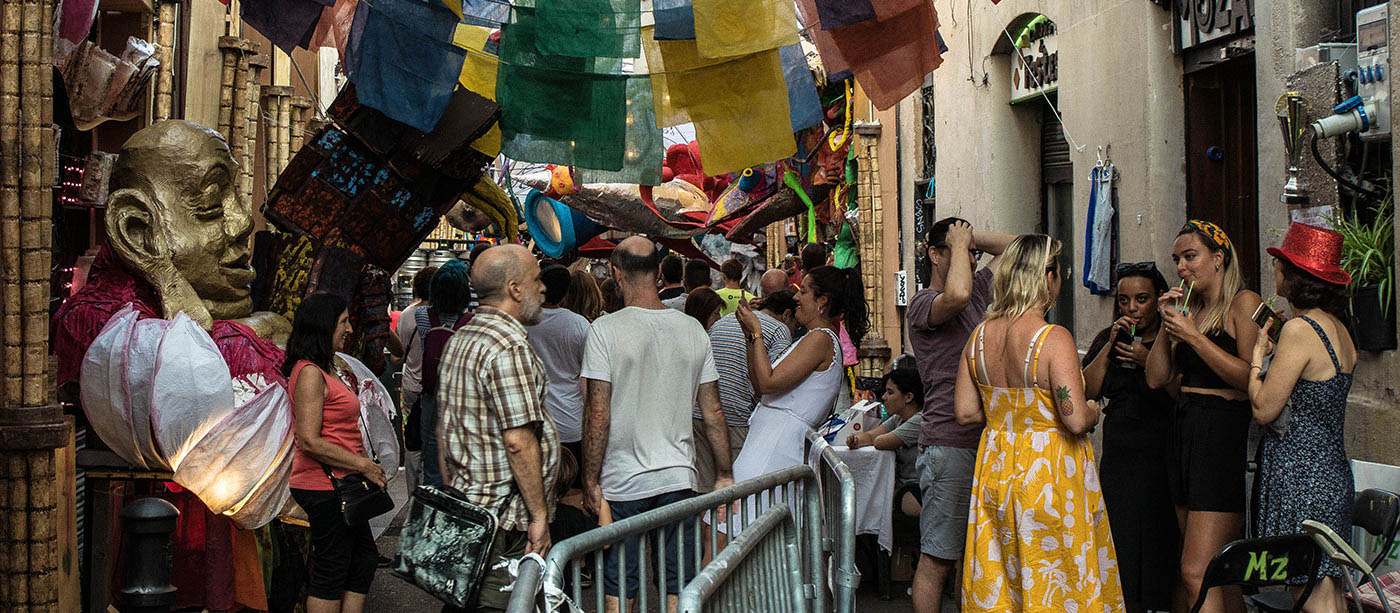 The Gracia Festival Barcelona
The Festa Major de Gracia is one of the best Barcelona events of the entire year – A full blown week-long street party and cultural event with stunningly decorated streets and plazas, over 100 live music performances, cultural events of all kinds, thousands of attendees and a fun, lively, creative atmosphere, it is a perfect example of what makes Barcelona such an inspiring city.
Taking place every year in the middle of August, the Gracia Festival is one of the most anticipated events in Barcelona. With over 100 years of tradition, the streets and plazas of the Gracia neighborhood are transformed into a party wonderland.
What makes the Gracia Festival so special?
The street decorations, the live music, the parties, the thousands of people from all around the world and the inspiring creative atmosphere!!!
The Gracia Festival is an event unlike any other. Organized by the residents of the various streets and plazas of the Gracia district, this is a festival for the locals, by the locals. The people who live on the participating streets or in the various plazas come together to decorate their particular street or plaza and schedule events that make up a weeklong party to be enjoyed by anyone who would like to participate – particularly the people living in other areas of the Gracia neighborhood. The various streets and plazas are entered into competition with one another to judge who threw the best party and who had the best decorations. The competition is fierce and the event is unique and something extraordinarily special.
Celebrated for over a hundred years, the Festa Major de Gracia is filled with tradition and reflects the artistic and creative history of this area of Barcelona. It is truly an amazing event.
Where to stay during the Gracia Festival
Sant Jordi Hostels has two hostels in Barcelona that are perfectly located to enjoy the Festa major de Gracia. If you want to be in the middle of the action, right where the party is at its best, the Sant Jordi Hostels Gracia is the ultimate choice. Located in the Gracia district, right next to one of the most popular plazas during the Gracia Festival – Plaza de la Revolución – Sant Jordi Hostel Gracia will be in the middle of this amazing cultural event. If you are staying at Sant Jordi Hostels Gracia during the Gracia festival expect to walk outside the door of the hostel and find yourself in the middle of one of the most interesting and unique celebrations in the world.
If you would like to be close to the action but not right in the middle of the party, check out the Sant Jordi Hostels Rock Palace. Located just below the Gracia district, the Sant Jordi Hostels Rock Palace is less than 15 minutes walking from the Gracia Festival. This allows you to be in close proximity to the event without feeling like you are one of the locals throwing the party.