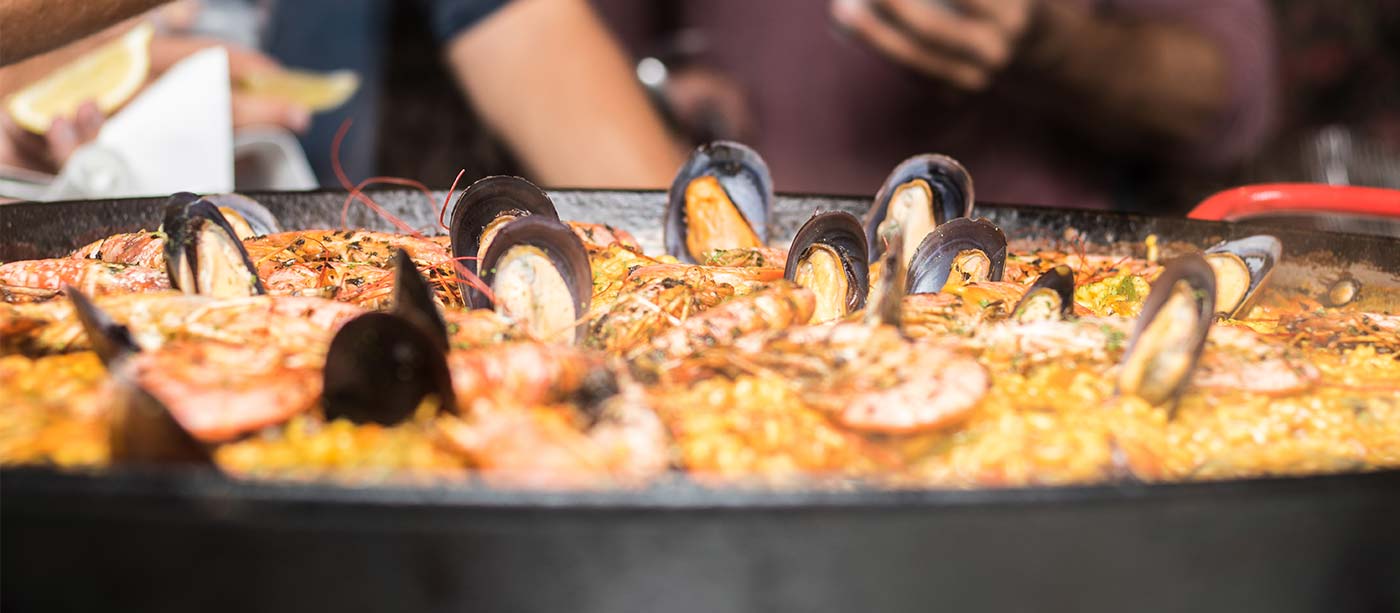 Looking for the Best Paella in Barcelona?

Get to know about the best paella in Barcelona!
Looking for the Best Paella in Barcelona?

Get to know about the best paella in Barcelona!
Find the best places to eat paella in Barcelona
The Best Paella in Barcelona is easier to find than you would think. When visiting Barcelona everyone who appreciates good food and cultural cuisine should take the time to find a good place to have some authentic Paella in Barcelona. For the guests at our Sant Jordi Hostels in Barcelona, finding the best paella in Barcelona is as easy as asking the receptionist – "When are we having another Paella Night?" No joke, we know what's up when it comes to making a dope paella.
Paella is the authentic Valencian rice dish that has come to be known internationally (not by Spaniards) as the national dish of Spain. Commonly found in restaurants throughout Spain, the best and most authentic Paellas can be found throughout Valencia and also in Cataluña – Barcelona included. Paella is a seasoned rice dish that is traditionally served in 3 varieties: Paella Valenciana, Paella Mariscos and Paella Mixto.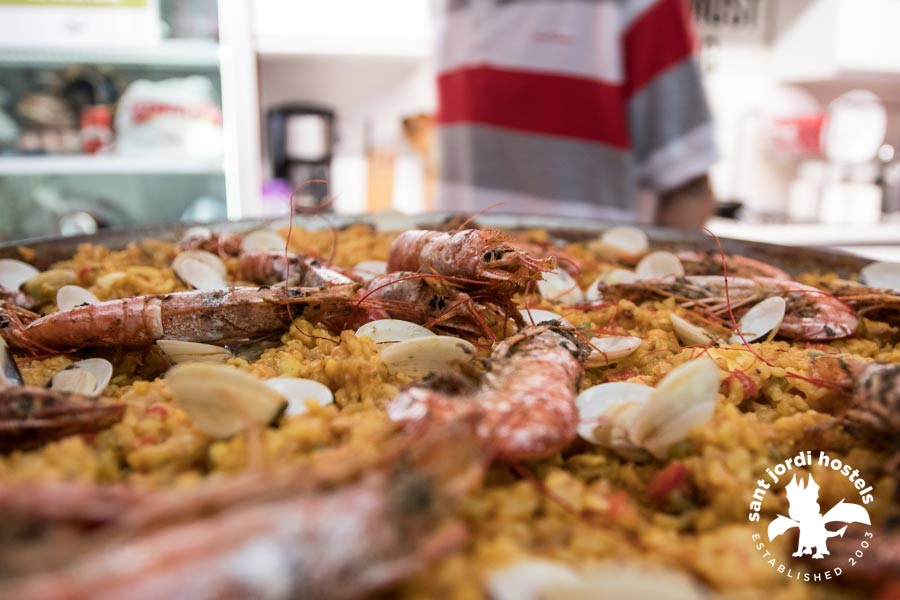 At all of the Sant Jordi Hostels, at least once a week we have a "Paella Night" – where we cook an impressive, authentic paella. Not only is the paella night a really good opportunity for a healthy, hearty and cheap meal, it is also a great way to meet other hostel guests… and if you pay attention you can learn how to make a real, authentic paella; one of the best paellas in Barcelona. Seriously, guests are constantly praising our paella as the best they've ever eaten!
The Sant Jordi Hostels "Paella Night" Paella is normally a seafood paella, but sometimes chicken, and usually includes a homemade Sangria – the traditional sweet, fruity, wine drink of Spain. So expect to have lots of yummy seafood, some good Sangria, the Best Paella in Barcelona and a ton of fun.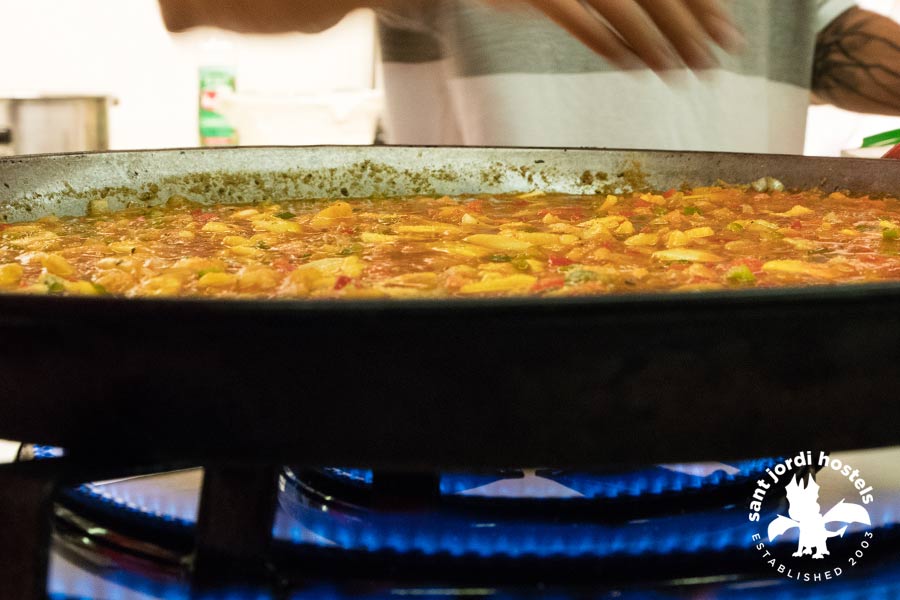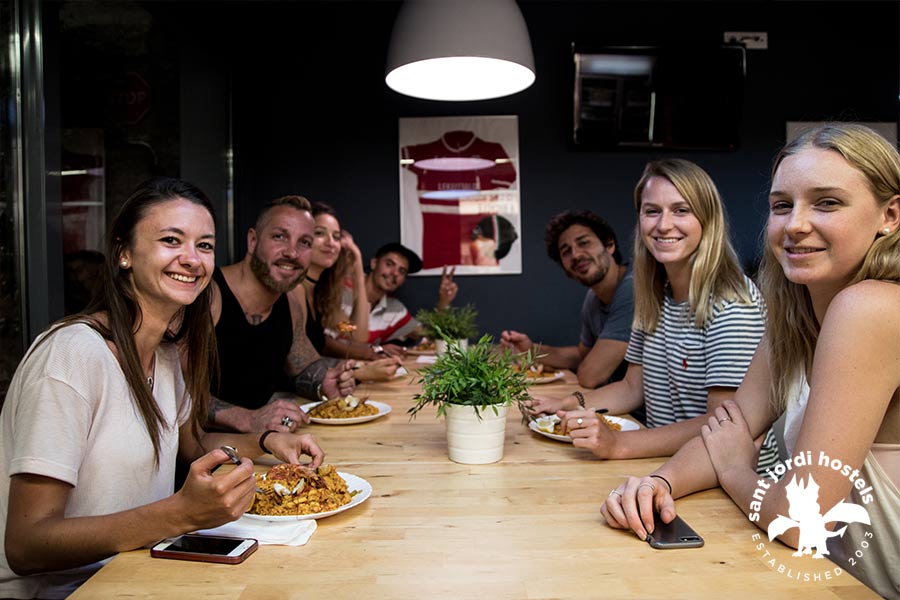 PAELLA RECIPE
The one, the only, the famous Sant Jordi hostel Paella recipe. It's finally here. Guests love this and ask for the recipe ALL-THE-TIME. Yes, it's that good. The best in Barcelona. This recipe can be adjusted to taste, or you may pre-measured paella seasoning packets or stock. We love everything fresh, so here you go! One delicious seafood paella made with Sant Jordi Hostels love coming up!
Good Tips: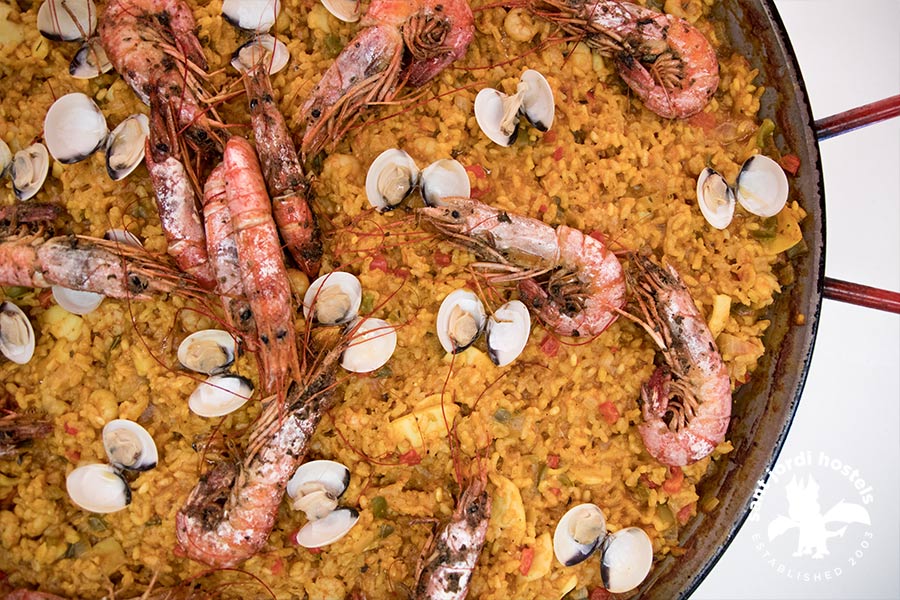 INGREDIENTS
SERVES: 6-8 PEOPLE / READY IN: 1 HOUR
STOCK
2L SEAFOOD STOCK
1 x TBSP OLIVE OIL
1 x ONION
1 x BELL PEPPER
3 x CLOVES GARLIC
2 x TBSP FRESH PARSELY
1 x TBSP SWEET PAPRIKA
2 x TBSP THYME
1 x TSP PEPPER
1 x TBSP SALT (or to taste)
PINCH SAFFRON
PAELLA
3 x CUP BOMBA or RISOTTA RICE
1 x ONION
1 x TBSP GARLIC (MINCED)
2 x BELL PEPPERS (ASSORTED COLOURS)
½ x CUP FRESH PARSELY
300G SHRIMP (UNSHELLED)
200G SHRIMP(SHELLED)
200G MUSCLES
300G BABY OCTOPUS or CALAMARI
400G CHOPPED TOMATOES (FRESH OR CANNED)
2 X LEMONS (QUARTERED)
STEP 1
Firstly, start by preparing the stock. Roughly chop all ingredients and lightly fry with oil. Add in spices and cook for a further 1 minute. Add in Seafood stock (You can make the seafood stock from scratch if you have time). Bring to a boil, and then simmer 30-60 minutes.
STEP 2
Begin the paella by cooking the unshelled shrimps with garlic, oil and some salt and pepper to taste. Once cooked, remove and set aside for garnishing.
STEP 3
Dice vegetables (add all off cuts into the stock). Using the same pan, lightly fry until soft. You'll retain a lots of flavour from the shrimps. Add in remaining seafood and half the parsley. Cook 2-3 minutes. You can use whatever seafood you like and less or more depending on your preference.
STEP 4
Add tomatoes, simmering for 1-2 minutes. Add in rice and mix well with all other ingredients. Stirring for 1-2 minutes. Add in strained stock until rice is just covered with liquid.
STEP 5
The first 5-10 minutes you can continue to stir the paella a few times, but then you have to let it sit. Cook on low temperature for another 20-25 minutes until rice on top is al dente. Keep adding stock little by little; making sure the rice is always moist, and lightly submerged by liquid. Don't worry if the rice on the bottom begins to burn a little, it's important and actually a delicacy… and delicious.
STEP 6
Place the whole garlic shrimps on top of the paela and turn off the heat. Now you must cover and let it sit for a further 10 minutes. It's important to be patient. This will let the paella continue to cook through using it's own heat.
STEP 7
Garnish with remaining parsley. Serve with lemon wedges and sangria! Enjoy!
BEST PAELLA PLACES IN BARCELONA