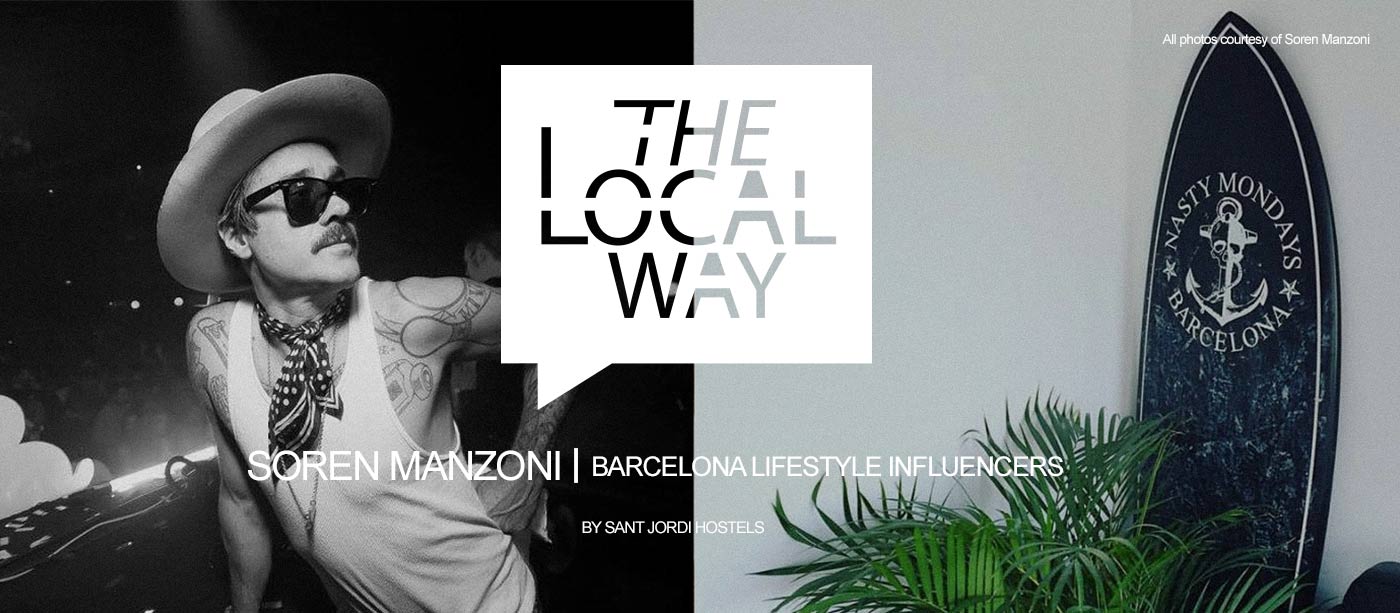 Meet the legendary Soren Manzoni from Nasty Mondays
Notable and notorious influencers share their Barcelona stories with The Local Way.
Meet the legendary Soren Manzoni from Nasty Mondays
Notable and notorious influencers share their Barcelona stories with The Local Way.
The Local Way X Soren Manzoni
Soren Manzoni is a Barcelona local. A lover of tattoos and beautiful woman… Swooooon. He is known for being a DJ, surfer, skater, world traveler and vintage collector. We know what you´re thinking, he´s the epitome of cool and you´re right. Manzoni is the man behind the infamous Nasty Mondays Party here in Barcelona, and has been since they began! If he´s not busy with one of his hobbies, you´ll find him hanging out in the Nasty Garage playing pinball or skating some pools. What a dream! Here he has an amazing collection of different vintage goodies. The biggest collection item is skateboards. As he puts it, "skate does not come from the square, it comes from the sea." This is his way of connecting surfing to land. No matter where he is, he pretty much always has a board with him. The more you learn about Soren, the cooler he gets.
Now an institution in Barcelona, where did the Nasty Mondays concept come from?
The concept comes from the past, the real roots of Barcelona, the place we came from. The beach, skateparks, punk rock, and rock and roll concerts. Nasty Mondays originated in 2005 at right moment at the right time. We decided that we were going to start having our own little local party to play for a lot of our friends. At that time, it was a lot of Swedish girls. We decided to have our own new concept of a Rock N Roll party in a local bar really close to Ramblas. At that time Barcelona clubs were playing a lot of Hip Hop and Electronic music. The Rock N' Roll side of partying was not developed in Barcelona in the way that we would like. So, we decided to create our own party, hence the birth of Nasty Mondays.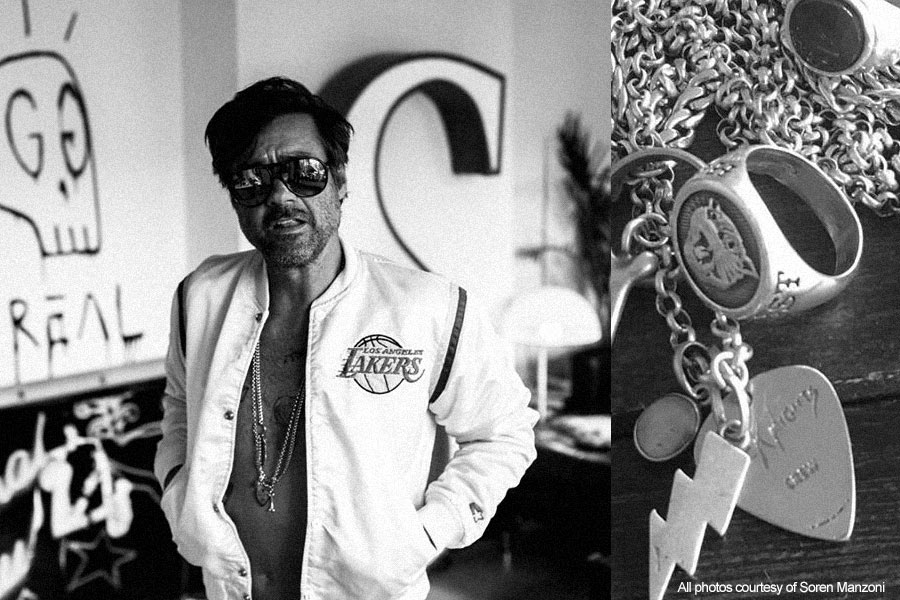 What's your most memorable DJ story… Tell me your secrets!
My most memorable experience is from shortly after when we signed with Franz Ferdinand back in 2008. We did a tour of Spain with Franz Ferdinand in 2008, and we were the end of the party, we played last. Before we started to tour with Franz, we hadn't realized how far we had actually come. I didn't go out one day and say that I was going to be a DJ. I just wanted to DJ to have fun with my friends. But, when I was touring with Franz, I took a step back, and was like wow, this is a career, I am like a band. We were going to Russia and New York once a month to play. I am performing right after Franz Ferdinand. That when I realized that I had made it.
Tell me about the Nasty Garage… What´s inside? Why? Is it open to the public?
Nasty Garage is our story to tell. I've always said that I don't want to just be a party boy. I do not want to be just like the clubs in Barcelona, not just like a party business. Nasty Garage is our home base where we have the office and our pinball machines. I love to collect pinball machines. I love arcades, I love Vespa's, I love skateboarding, and I love to collect skateboards. In Nasty Garage we also have a skateboard museum. Although we want to be public, we are not public because we could not get the license to be public. So, we ended up being private. Soon we are moving to another location, so that's that. Nasty garage really is the story to tell. We are not just Nasty Mondays, we are not just a party, we have a lot more things to tell you. We are more interesting than just the party. We collect pinball machines, we collect skateboards, we love vintage, we love music.
How would you describe the one, the only, and the beloved, Barcelona?
This is a very interesting question because I come from the black and white, or the gray Barcelona. Right after the Olympic games everything about Barcelona changed for me. I was born and raised here, and it was amazing. I remember when I used to go down Ramblas, and it was dangerous because there were a lot of sailors. There were a lot of troubles; however, it's changed so much. Barcelona is beautiful right now. Right after the Olympic games, it was like the city started to become colorful. Everything is perfect now. I am freaking out because everyone is going to "El Carmelo", the bunkers. When I was growing up, that part was like a Ghetto. There were a lot of Gypsies and the police couldn't get up there. So, I am freaking out. I love Barcelona, I do not know exactly how to answer this question. It is everything. I remember when we couldn't even go down to Barceloneta because it was so dangerous and now it is a wonderland. Everyone who is able to come here and discover Barcelona now is lucky. Now is the best time for Barcelona.
What is your favorite street in Barcelona?
Well, it is very difficult to say what my favorite street is. It depends because ten years ago it was El Born, all the streets in El Born. Marqués de l'Argntera is amazing, and one of my favorite streets is honestly Passieg de Gracia. Passieg de Gracia is very nice to walk around. It's very luxurious, and it's very Barcelona. Passieg de Gracia more than La Ramblas, it has the life of Barcelona. I really like Passieg de Gracia.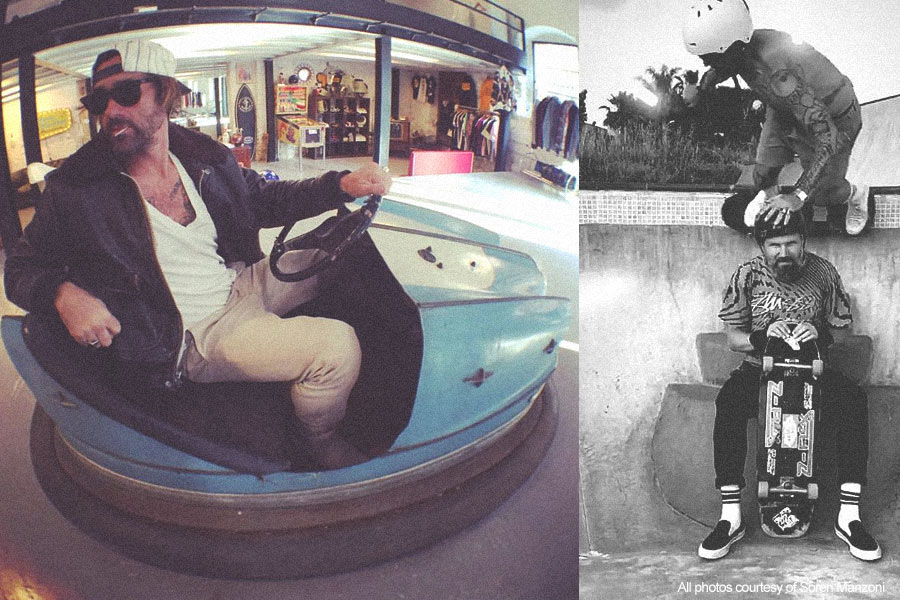 What is the best way to get around the city?
For me, it's in a Vespa. I am a Vespa collector, so the best way for me to get around in the city is with a Vespa. Electric Vespa's are coming up, but I do not have any of those yet. I like the idea of having electric Vespa's for the new generation. But since I am a Vespa collector, I like to travel around with my old Vespa's. My Vespa's are expensive, but in terms of getting around the city on a day to day basis, it is very cheap. I only spend about £6-8 a week on petrol, and no more. I mean of course if you're riding your Vespa all of the time, you are going to spend more money on petrol. But, if you had twenty Euros, you would still have enough for two Vespa's. The really nice thing about driving a Vespa is that I am able to park it anywhere. You can go anywhere you want to in the city, and it's fun too.
Name your top places for eating in Barcelona?
I really like places that are not that touristic. One of my favorite places to eat in Barcelona is La Tinaja. Ask for Antonio. This place is very very very very local. The second place that I could recommend eating is La Flauta. There are two La Flautas. They have the best tapas in all of Barcelona. My favorite Tapa is the Shrimps sticks (Brochetas de Gamba). So, if I had to recommend my top three places to eat in all of Barcelona, I would recommend La Tinaja. Ask for Antonio. La Flauta and Vaso de Oro. The owner of Vaso de Oro is my good friend. We surf together.
What's your secret for living a balanced life, when it's your job to party?
This is a proper question. The line between night and day is very thin. The most important thing for me is to have the right balance. I emphasize that the line between night and day is very thin. It is very interesting. I like to party, but I also have a lot of things in my life that are important. For example, I like to surf, I like to party, I like to collect, I like to skateboard, and I like vintage; however, I cannot do only one of these things for the rest of time. I have many interests that are very important to me, and they keep me going during the day. I love vintage, I love to collect, I love to go skateboarding, I love to care for myself in my own way.
I wake up and I drink hot water with lemon. Second, sleep well and sleep a lot. Sleep is incredibly important. Even more important than the lemon water. I actually put sleep first, second the hot water with lemon. Third which is very important, Spanish oil. We have the best oil ever and it is the healthiest thing on the planet. "Aceite de oliva". I take a shot of oil every morning. Fourth, it would be garlic, but I do not do garlic so often. I am talking about the healthy way, but if we are talking about happiness, it is very important to go to Sitges, to go surfing. The connection between surf, water, waves, and sand; it gives you the happiness.
For example, this is my balance. I have a party, I am having fun, I drink a lot and enjoy the night. Then, I take care of myself by first getting enough sleep. Waking up and having hot water with lemon, and then a shot of Spanish oil. I'm also active in sport in my way, you know? I don't really to go to the gym, but I really like to go skating and I really love to surf. I surf in Barcelona when there are waves because we don't have waves that often, but we have them more often than people think. It is hard to express that we surf here.
What music do you listen to when you travel?
I am really into 80's music. It's what I come from. I listen to everything, but I am not really into electronic music. I'm pretty 80's man. I think the 80's was the perfect moment where all the genres of music were together. It is very hard to say my top 5 tracks, but one of them would have to be "The Boys of Summer – Don Henley". It's so me, and I can never get tired of this song. Probably the second song that I always listen to is "I Melt with You – Modern English". Then, I would have to say it's a lot of Rock N' Roll. "So Alive – Ryan Adams" is one of the songs that give me life. Also, I really like a lot of ACDC, Poison, Scorpion, Mötley Crüe, all of the sunset strip boulevard bands back in the 80's, and Guns N Roses.
Since you´re such a world traveler, what are your top 3 destinations?
My favorite city, I have always said, is Barcelona. But, if I had to choose one of the top three cities in the world, it be Barcelona, New York, and Sevilla. Sevilla is one of the most amazing and beautiful cities ever. The people are so friendly, and it's the best party. My heart is divided between Barcelona and New York. I absolutely love both Barcelona and New York. I also really like Bali even though it's not in my top three. It would be fourth for sure.
Do you have any recommendations on record shops in Barcelona?
You have to go to Discos Revolver on taller street. This is the main record store in all of Barcelona. Since forever. I find myself here quite a bit when I am on the hunt for some new records. The other store than I would recommend would have to be Mondo sin Fonola on Avinguda de Gaudí. Right near La Sagrada Família.
What is your favorite vintage market in Barcelona?
My favorite vintage market is Los Encantes. I think that the new one is just about the same as the old one. When you are really into vintage, you see what other people don't see. There are a lot of interesting things always there. The market is on every Monday, Wednesday, Friday and Saturday. I go every week. Today I didn't, but I go every week. They know me man. If there is ever a skateboard there, they just call me. It is very interesting, super cool, and it's still good. I definitely recommend going there.
What clothing shops do you recommend in Barcelona?
I always go to Flamingos Vintage Shop, first of all because they are my friends. I've found that we do not really have a vintage culture here in Barcelona. You can find an amazing jacket which is going to be 10x more expensive in the U.S. for 1/10 the price in Barcelona. It actually is kind of funny because these jackets are being brought back to Barcelona from the U.S. The people here do not have the knowledge and culture to appreciate this piece here as they do in the United States. They have to sell these items at a cheaper price here because of the culture. Often, I am buying vintage clothes in Barcelona that are both better quality and cheaper than in the U.S., trust me. I am a vintage collector. I really like to collect the vintage 80's college jackets because they are slimmer than the college jackets in the 90's. Holala is also very important to mention because it is the first vintage clothing store in Barcelona, but they are very expensive.
Could you describe a perfect day in Barcelona?
I wake up late, always, it isn't healthy to wake up early. So, I'd wake up late, around 10:30, then I would check out the live webcam of Barceloneta. If there are waves, I like to go to surf. If it is a sunny day, and there are not waves I would like to go skating or have a nice brunch. I normally go to my local shop and eat a bocadillo salchichas con queso. So yeah, I like to wake up late, check out the forecast, either surf of skate. If it is sunny, one of the things I would recommend doing would be to go to Sitges because it is a very small village, and it is very peaceful. They have very mellow waves that can be surfed with a longboard and if not, it is beautiful to just go around and check out the small town. It is very nice. I think my next step with a family might be to Sitges. My perfect day is like surfing, skating, enjoying the sun in Barcelona and waking up late. Maybe having a party in the night, maybe Nasty Mondays.
This interview wouldn't have been possible without all the support from Soren Manzoni and the efforts of the Sant Jordi Hostels marketing team (Duda Castro, Natalee Riedel, Sasha Romanoff and Bill Rauscher).
*All the photos courtesy of Soren Manzoni.
This interview wouldn't have been possible without all the support from Soren Manzoni and the efforts of the Sant Jordi Hostels marketing team (Duda Castro, Natalee Riedel, Sasha Romanoff and Bill Rauscher).
*All the photos courtesy of Soren Manzoni.