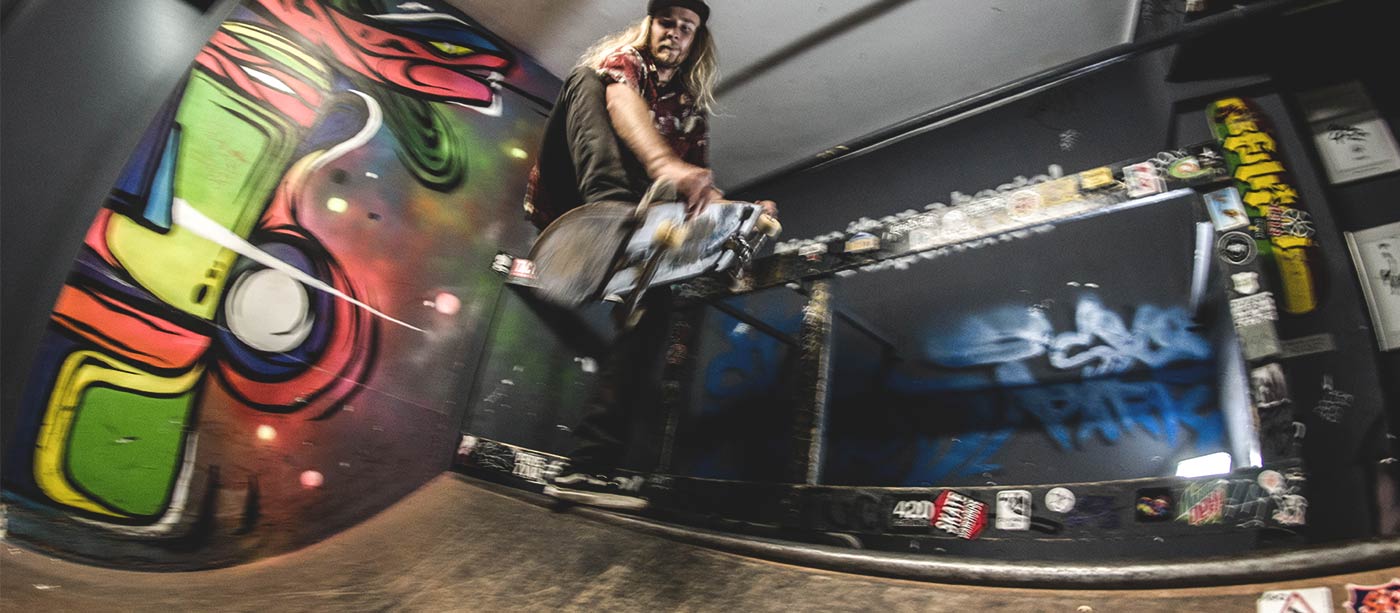 10 REASONS TO STAY AT SANT JORDI SKATE HOSTEL
A place where you can sleep, skate and meet other travellers!
10 REASONS TO STAY AT SANT JORDI SKATE HOSTEL
A place where you can sleep, skate and meet other travellers!
WHY STAY IN A SKATE HOSTEL IN BARCELONA?
Sant Jordi Sagrada Familia is the worlds first dedicated skate hostel. Where is it located? Obviously in the world capital of skating… Barcelona! This place is the spot to stay if you're a skate enthusiastic! Here are the top 10 reasons…
1-MINIRAMP INSIDE
Yeah, that's right, a mini ramp… A mini ramp inside the hostel! That means from morning to night, rain or shine you can skate. This private skate room has couches, speakers and graffiti ridden walls. It's sick. The perfect haven for skaters to hangout in the hostel.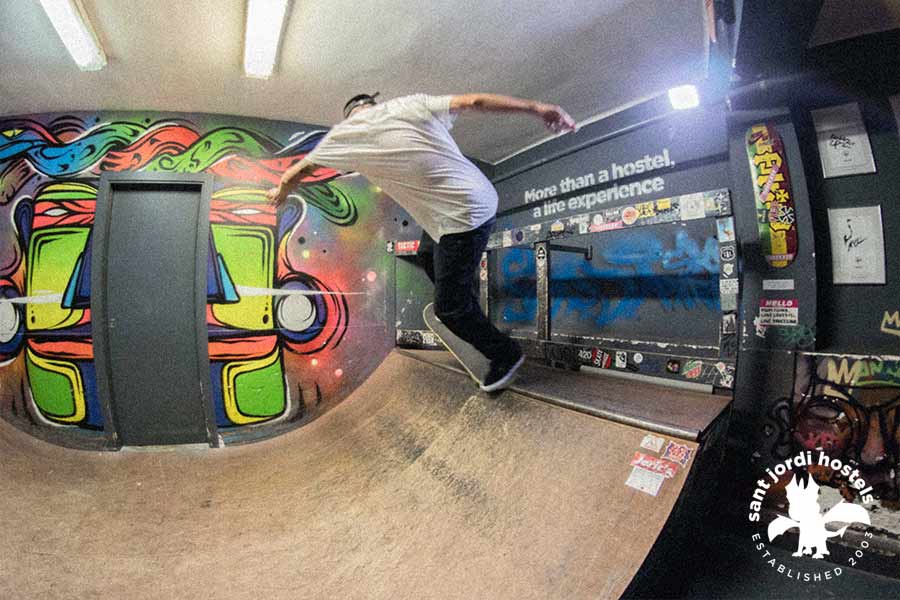 2-NIGHTLY BARCRAWLS
Seven nights a week we take you to different bars and clubs. The party staff begin the festivities by initiating drinking games to amp you up for the night ahead. Everyone get's involved and it's a great time to meet people. They take you to the best and most popular clubs in Barcelona. Not only is it free, but you even skip the line and go straight inside.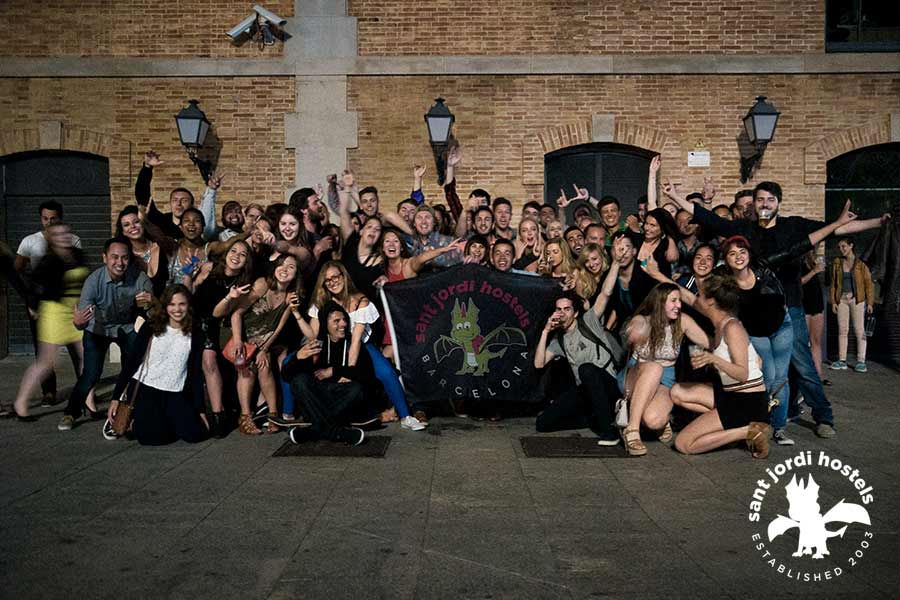 3-KITCHEN FACILITIES
Our kitchens are big, bright and come fully equipped. You will find everything you need and have plenty of space to use it. The kitchen opens up onto the dinner area and common space. There's always a good vibe and it becomes a very social and inviting space.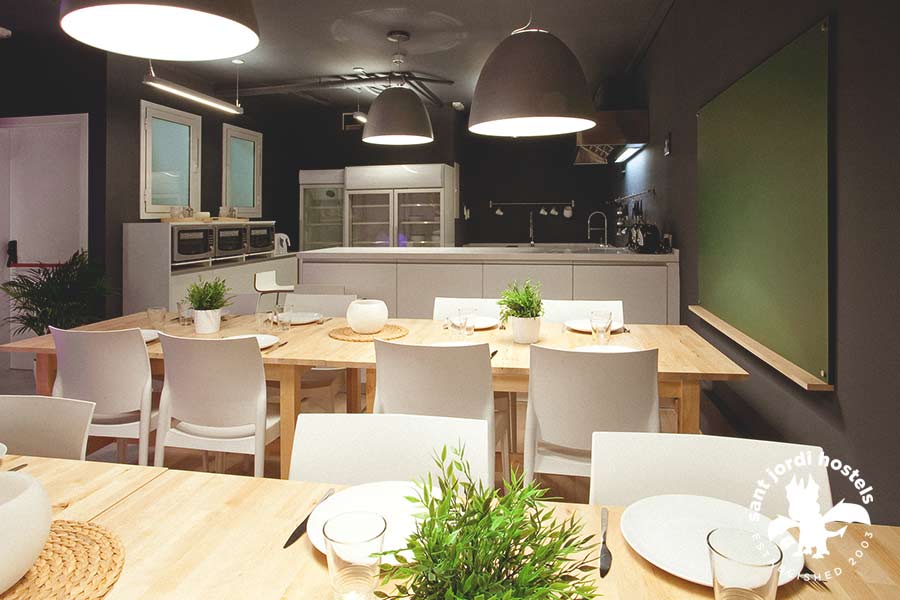 4-NIGHTLY DINNERS
If you're not in the mood to cook dinner, you're in luck! We cook nightly dinners at the hostel, and they are absolutely delicious. Each night is a different dish. This includes Spanish paella, Mexican burritos, Milanese chicken, Brazilian beer stroganoff, pastas, Thai green curries and many more – Some meals even come with unlimited sangria!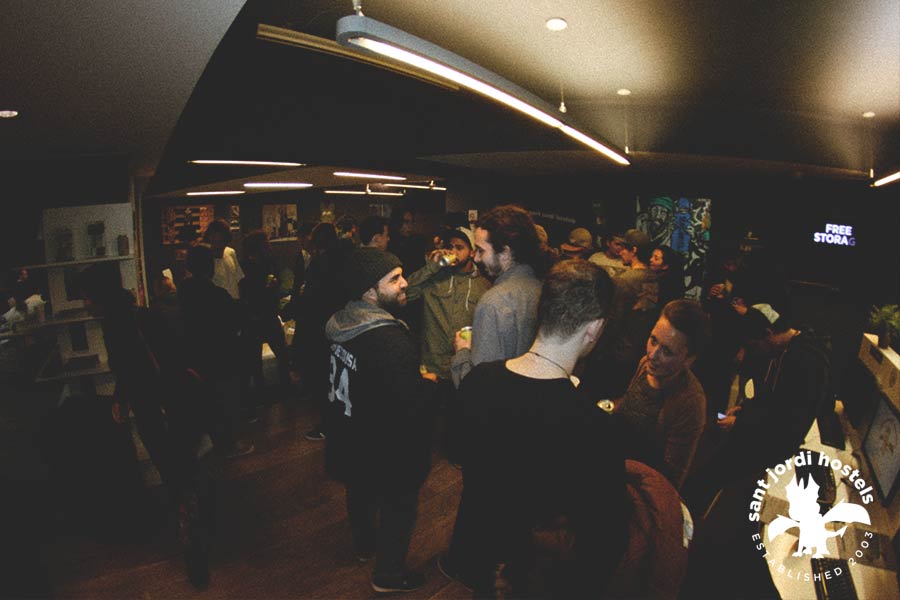 5-FUN KNOWLEDGABLE STAFF
Our staff are travellers just like you. That means they know what you want and how to help you. If you have any questions or queries about the city, they will happily inform you. Don't be surprised when you find a few of these guys out with you on the bar crawl. They're fun and don't mind a party.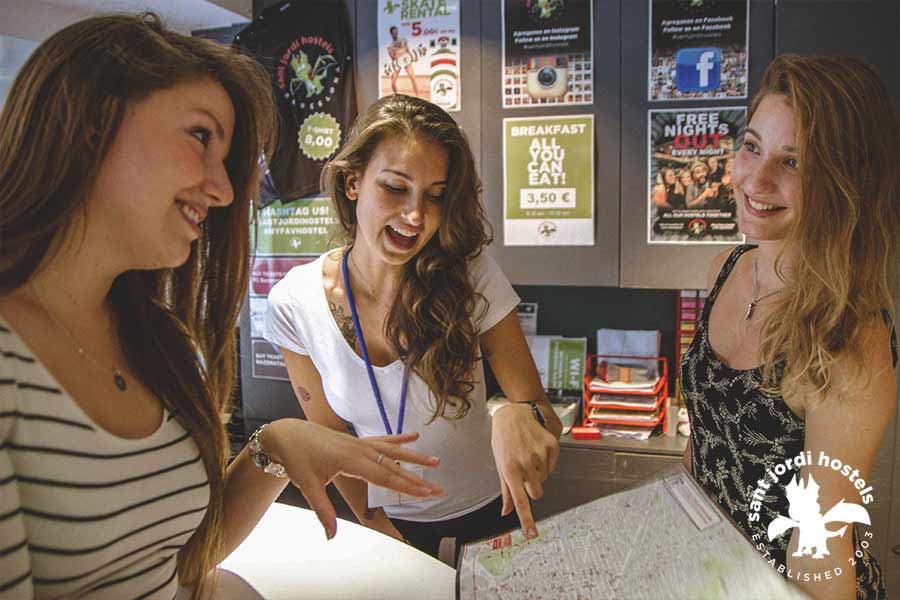 6-TV, MOVIE PROJECT, COMPUTERS, WIFI AND CHILLOUT AREAS
If you need to relax, we've got you covered. There's a flat screen TV and a movie projector in our common room and a ton of beanbags to sprawl out on. Chuck on lords or dog town to keep that skate-hype up. You'll find free computers in the common area or fast wifi beaming throughout the hostel. There's also an outside terrance with tables and big pallet chairs. Perfect spot for your morning coffee or afternoon cerveza. The space has an alternative urban vibe with graffiti designed walls. We change the designs every now and then to keep it fresh.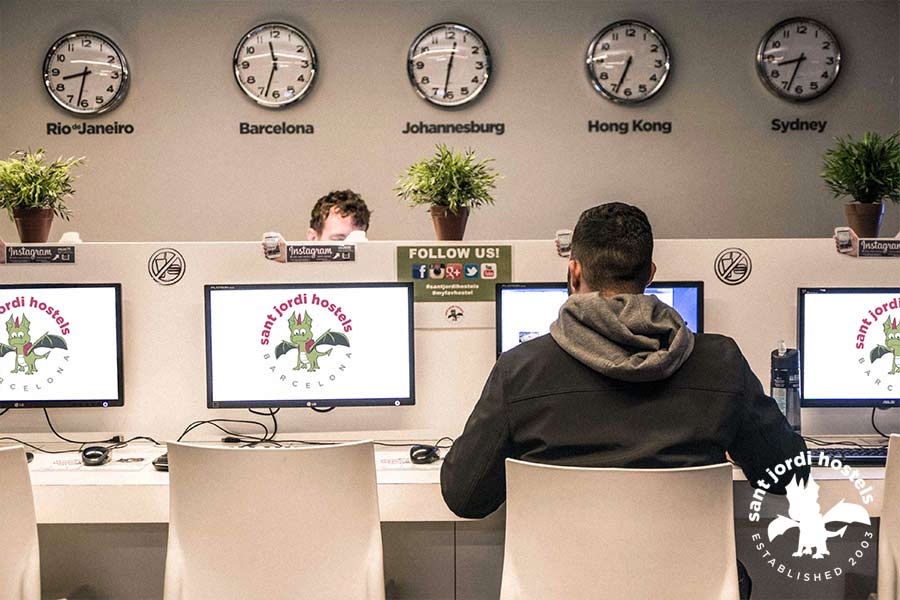 7-LOCKERS WITH KEY CARD ACCESS THAT FITS YOUR SKATEBOARD
We've made security easy. To enter the hostel, your room and your personal locker simply requires one single key card. The lockers even have enough space for skateboard!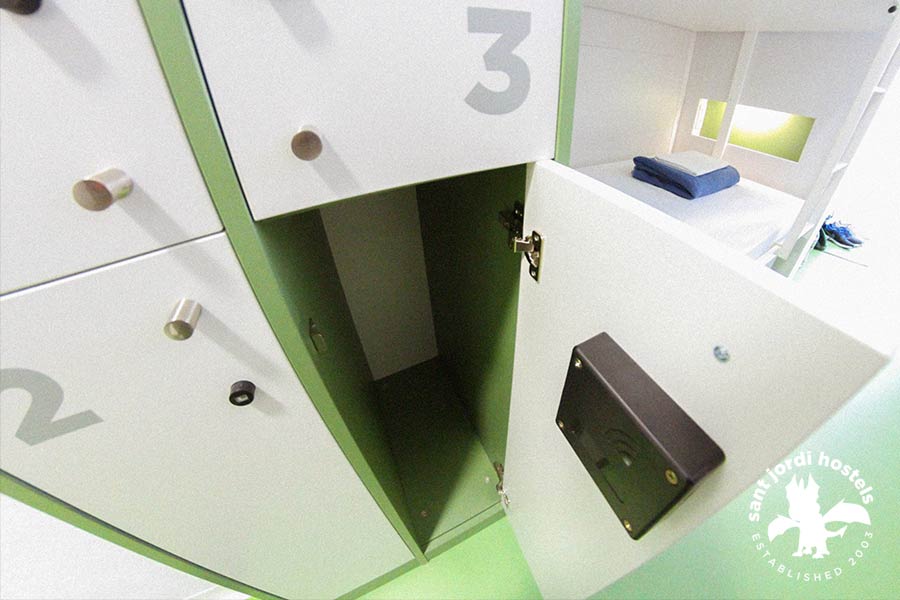 8-BOARD AND BIKE RENTAL
We rent skateboards and bikes straight from reception. The best way to explore Barcelona is by skate, bike or foot! Grab a map from reception and go an adventure around the city.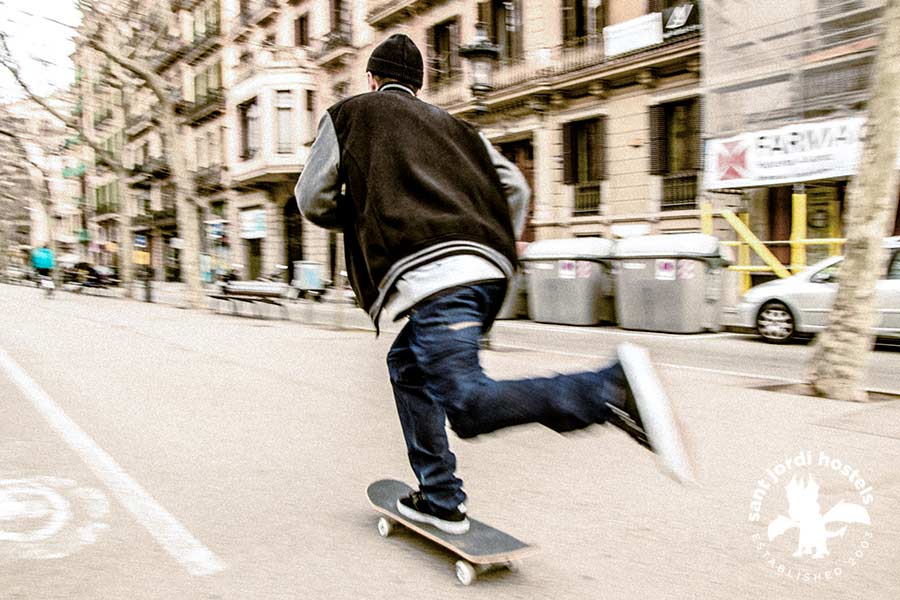 9-GREAT FACILITIES
The hostel has a fresh and modern design. The beds are comfortable and the shower pressure is amazing. We have cleaners constantly making sure the place is in top condition too. We know you've got no time for grime.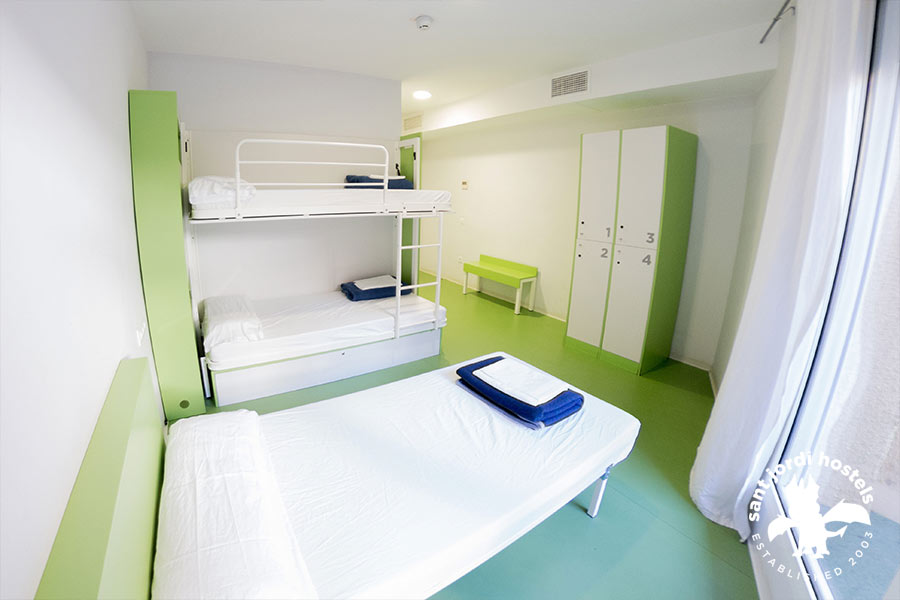 10-WORLD CLASS SKATERS
Not only do we have a slew of cool amature skaters staying with us, but some famous ones too. A few profesional drop ins include Evan Smith, Luan de Oliveira, Barney Page and the Vans and Element skate teams. So, you may even run into your skate hero over a cheeky Estella!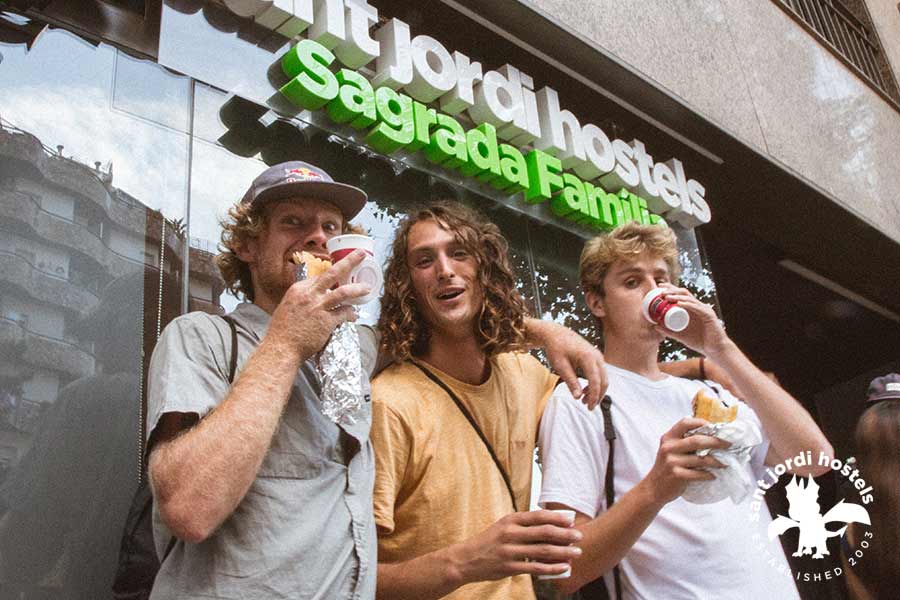 LOCATON AND ADDRESS
Sant Jordi Hostels Sagrada Familia
Carrer Freser 5, Barcelona 08026
Phone: +34 934 460 517
Email: [email protected]
GPS: 41° 24' 35.67" N, 2° 10' 44.914" E