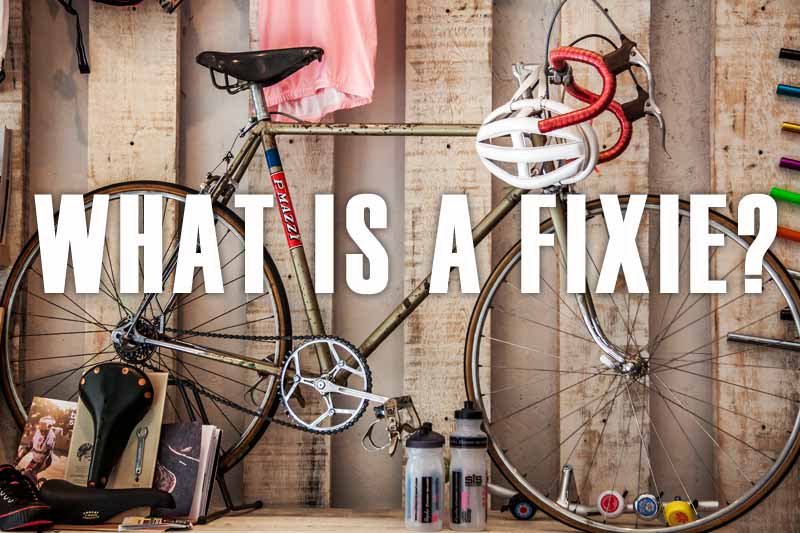 What is a fixie?
The simplest way to describe a "fixie", or fixed-gear bicycle, is a bike that has only one gear and no freewheel (that technical part of your bicycle that allows you to keep the pedals still, or even move them in a backward direction, while the bike continues to move forward). That means that on all fixies, as the back wheel of the bike moves, so do the pedals. Regardless of which direction the bike is going – forward or backward – the pedals will move in the corresponding direction and at a corresponding speed.
If you think about this for a few minutes you begin to realize that as the fixed-gear bicycle goes faster so does the speed of rotation of the pedals. This makes going down big hills a bit of a challenge and is definitely a learned skill. As most fixed-gear bicycles do not include brakes – this is a preference of some fixie aficionados – the only way to slow the bike down is by controlling the speed of rotation of the pedals; in extreme cases forcing the bike to skid. This exclusion of brakes on fixed-gear bicycles can be dangerous and is, in many states and countries, illegal.
Modern Use of Fixed-gear Bicycles
If you dig a little deeper into the world of fixie, you will discover that there are several different kinds of fixed-gear bicycles used for a variety of particular purposes. There are fixies designed specifically for doing tricks or BMX type stunts, fixies made for veledrome or track racing, fixies adjusted to be used in the newly popular sport of bike polo, fixies modified especially for bike messengers and of course, the ever popular fixie designed for the oh-so-cool urban hipster. Functionality or fad, the fixed gear bike is here to stay.
Around each specialized type of fixed-gear bicycle has develop a rich subculture or group of individuals who identify themselves with and through the type of bicycle that they ride: The fixie designed especially for doing BMX type stunts in urban environs has a hardcore following of dedicated amateurs and professionals; People who own track bikes to be ridden on veledromes or outdoor tracks are generally bike racers at heart;  Bike messengers are simply bike messengers; Hardcourt bike polo enthusiasts are just plain cool; and the urban hipster, well, if one is riding a fixie then he or she is definitely making a statement about something.
The First Ever "Fixie" Hostel is in Barcelona
Fixed-gear bicycles have become so popular around the world and particularly in Barcelona that in Spring 2012 the Award winning Barcelona Hostel Chain, Sant Jordi Hostels Barcelona, will be opening the first ever fixie Barcelona fixed-gear bicycle themed hostel – designed to provide comfortable, modern, hostel-style accommodation with an international, fun and friendly environment that celebrates the contemporary urban love for all things fixie.
If you're just looking for a great hostel in Barcelona and don't even know what a fixie is, no worries, you'll love Sant Jordi Hostel Gracia as much as the next guy. If you are into the fixie scene and love all things fixing then Sant Jordi Hostel Gracia is the place for you. Period.
More on Fixies in Barcelona and Basic Fixie Info
If you're interested in finding out more about fixed-gear biking, riding fixies in Barcelona, the many different modern uses for fixed-gear bicycles, or would like to contribute to a discussion on whether "fixie" is just a fad, check out the rest of our blog and feel free to leave comments. Be sure to chech out these links for more on all things fixie: