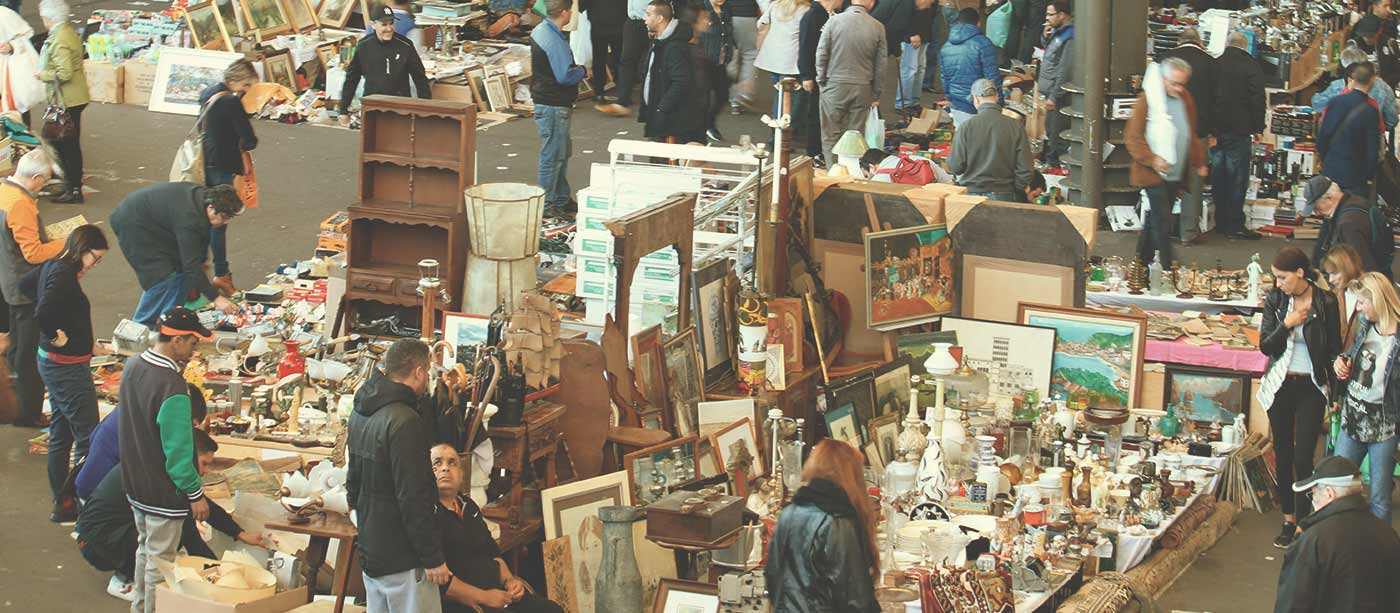 The Flea Market of Barcelona
If you are looking for a good Barcelona Flea Market or a place to do some vintage shopping in Barcelona, Encants is the place for you. Even if this type of shopping isn't your style, it is well worth checking out if you're in town. The organised chaos is just apart of its charm.
As you walk beneath the huge golden glimmering ceiling, be encapsulated by the hustle 'n' bustle of the city's oldest flea market. Encants remains the biggest and the best flea market in Barcelona, with more than 500 vendors. It is a great place to spend a few hour rummaging through the mountains of antiques, vintage furniture, clothing, appliances and other knick-knacks.
Encants Has Everything
Mercat dels Encants has everything. I mean everything. Honestly, if you're looking for something special and not just another souvenir magnet, this is the spot. The pickings are diverse – clothes, vintage lighters, badges, timeworn books, sunglasses, stationary, cameras, old rusty bikes and much more. You can find some absolute gems. As it is a flea market, expect to also stumble across some rubbish.
The New Encants Market
In 2013 "Los Encants" found a new home. It was relocated to a modern building just up the street from the Tore Agbar (Agbar Tower) and the Glories shopping center. Breaking it down – there are 3 levels to the market. The ground level is where you'll find transient sellers with second hand antiques, clothes and knick-knacks. Bartering here is essential – essential. As you walk up a little you'll notice stalls tend to be more fixed and organised selling unused goods. This includes electronics, miles of stunning fabrics, haberdashery, bags and all types of under garments. Backpackers, you may like to take a moment to replenish your ever-disappearing sock collection now. Top tip – Encants is where you can buy beach blankets for half the price of shops and on-the-beach sellers.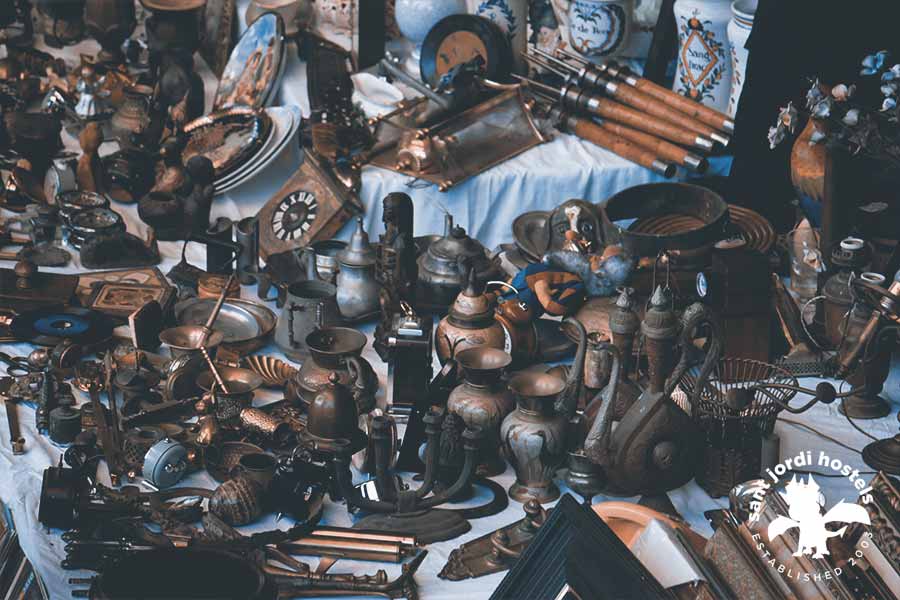 The Top Level
The top level has a few fixed stores, cafes and bars. Have you heard of La Xampanyeria? One of the most well-known and authentic Catalan bar/restaurants in Barcelona? If not, they serve up traditional tapas with delicious bottles of cava. Hiding away on the top level is a micro café version of it's original. If you haven't indulged in a glass (or bottle) of their famous rosé cava yet, now is your opportunity.
Opening Times
The flea market is open Monday, Wednesday, Friday and Saturday from 9:00 am to 8:00 pm. Public auctions are held on Mondays, Wednesdays and Fridays from 8:00 am to 9:00 am. To have the best chance of finding some great vintage items try to get there early – between 8:00 am and 10:30 am.
You can also go on Saturdays, but be warned. It will be very crowded. If you happen to be staying at the Skateboard Hostel Barcelona, Sant Jordi Hostels Sagrada Familia, the Encants flea market is just down the street.