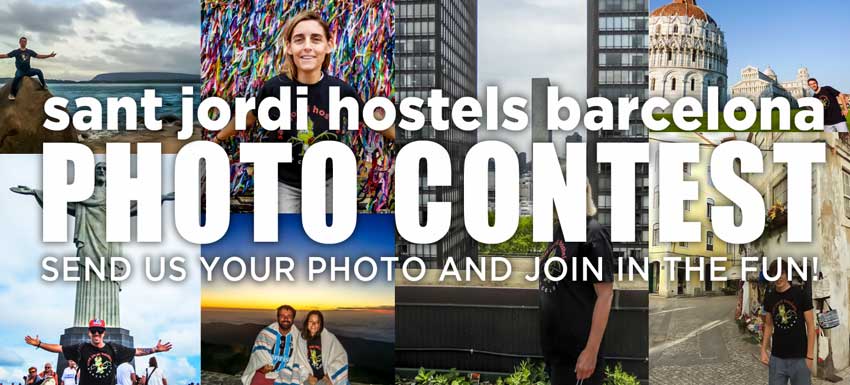 We have been asking our guests to take photos of themselves in random places around the globe wearing a Sant Jordi Hostels t-shirt… with some impressive results!!!
We have received some amazing photos taken in some of the coolest places around the world. It has been so much fun… Through our photo contest we have been able to share in the journeys and adventures of hundreds of our friends and past guests as they traverse the globe.
Check out some of the photos from this year's competition and some of our contest entries from previous years and see just how cool it can be!!!
And don't forget to send us your photo!!!
How to Participate: It's simple. Take a picture (JPG Format – max 2mb) of yourself or a friend wearing the Sant Jordi Hostels Barcelona T-shirt anywhere in the world that you find interesting and send it to [email protected]. We will post your photo to our facebook page where people can begin to vote.
How to Vote: Go to our webpage and click on the photo contest tab or go directly to our facebook page and find the photo album "2012 Photo Contest – Sant Jordi Hostels". Pick the photo that you like best, and then use the "Like" button to make your vote official.
**Terms and conditions apply**
TERMS & CONDITIONS – Sant Jordi Photo Contest:
Send us your photo and you could win an iPod!
Send us a photo of someone wearing a Sant Jordi Hostels t-shirt. If your photo gets the most votes you will win an iPod.
On December 10th we will tally the vote. The photo with the most "Likes" will be announced the winner.
The contest runs from 01/01/2012 – 10/12/2012