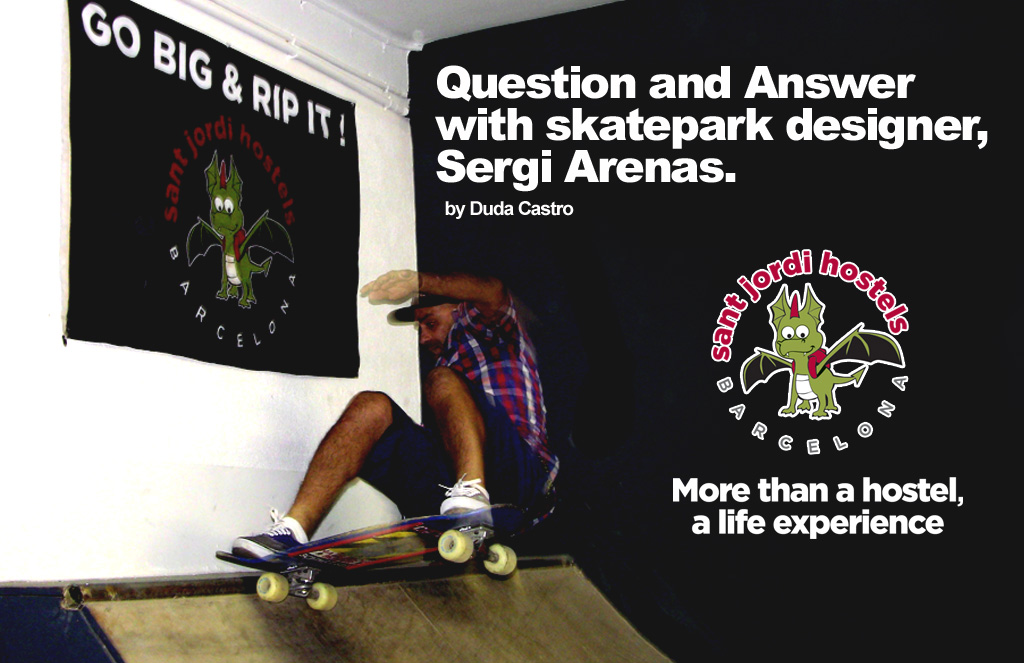 During a friendly skate session with Barcelona skater and skate-park designer Sergi Arenas, we had the pleasure of learning a few things about the creator of our mini ramp.
SJ: First of all, who are you? What's your thing?
SA: Sergi Arenas, skateboarder, snowboarder, surfer, family man and earthling.
SJ: How Long have you been skating?
SA: In October it will be 28 years since a got my first skateboard.
SJ: What about your first skateboard?
SA:It was a wooden banana skateboard that I inherited from my brother.
SJ: What kind of music do you listen to when you're skating?
SA: Punk Rock, psichobilly, rock and roll in general.
SJ: How long have you been building skate-parks?
SA: I built my first skate-park in 1997.
SJ: What do you think about a mini ramp in a hostel?
SA: Man!! It's sick, its a good option that is not usually found often and the idea you had is great!!
SJ: Is it very difficult to build a mini ramp?
SA: It depends, for me it's almost mechanical, I've done many with different colors and shapes.
SJ: Can a skate hostel in Barcelona help the image of the sport in the city?
SA: All that represents the city in a healthy way is good and having a skate hostel in Barcelona shows that we are a young and modern city.
SJ: Do you think the Barcelona backpackers will appreciate this new option in the world of hospitality in Barcelona?
SA: I would value it as a modern hostel, nice and with a mini ramp … you should see where I was staying when the mecca of skateboarding was San Francisco, your hostel is awesome.
SJ: Do you have a website to show all our customers photos of your work?
SA: Currently I am preparing my website, I know that without it I am nothing in the cyber world, but it will be ready shortly. At the moment you can find me on Facebook and You Tube.