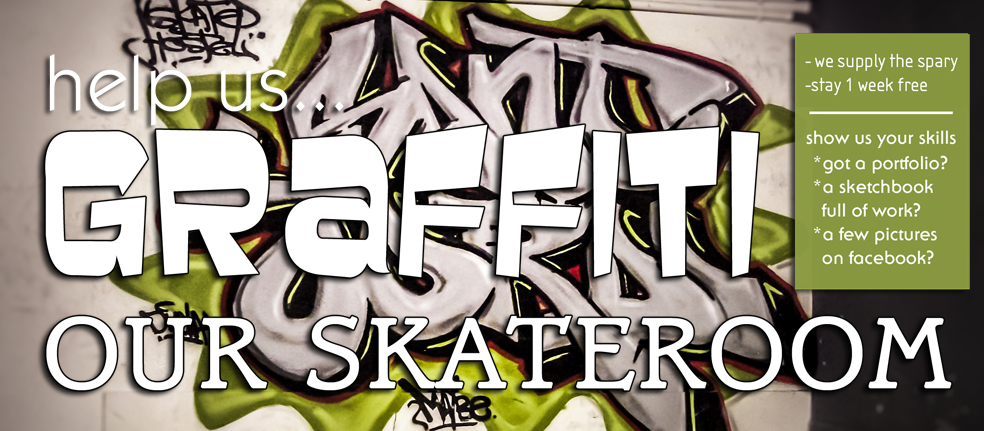 You Can Graffiti Our Skateroom
Ever wanted to Graffiti in Barcelona, throw a bomb, tag a wall or better yet leave a solid piece behind?
If you can demonstrate that you've got the skills, we'll let you leave your mark in our skateroom. We'll even let you stay with us for 1 week free and supply the paint. Offer good until December 30th, 2013.

– Here's the deal –
In our Sant Jordi Hostel Sagrada Familia, the barcelona skate hostel, we have a seperate skate room, with a miniramp, sofa and chill area special for our skateboarding guests. We want to give it a real, authentic look – make it a real skate room. And, that means graffiti, lots of graffiti, of all sorts, styles and sizes. We want the walls to resonate street – street art, street life, street skate… whatever, just street!
So… we are starting a program to try to get street artists, graffiti artists and the like to come and help us make our skate room more authentic. We already have one piece on the wall and are hoping for a lot more. We're up for whatever. If your into bombing, tagging, stencil, wildstyle, blockbuster, stickers, etc. it's all good. Just as long as its quality work.
This is not a joke and this is not a competition. If you are a graffiti artist and will be in Barcelona sometime before the end of the year, come stay with us at our Barcelona hostel for 1 week free! We'll even buy the paint… and not some crap paint either. We'll go with you to the Montana Colors shop in Barcelona and let you pick out a few cans of the best spray paint money can buy.
– How to Apply –
Send a few examples of your work to [email protected]. Be sure to include in the email when you are planning on coming to Barcelona so we can save you a room.