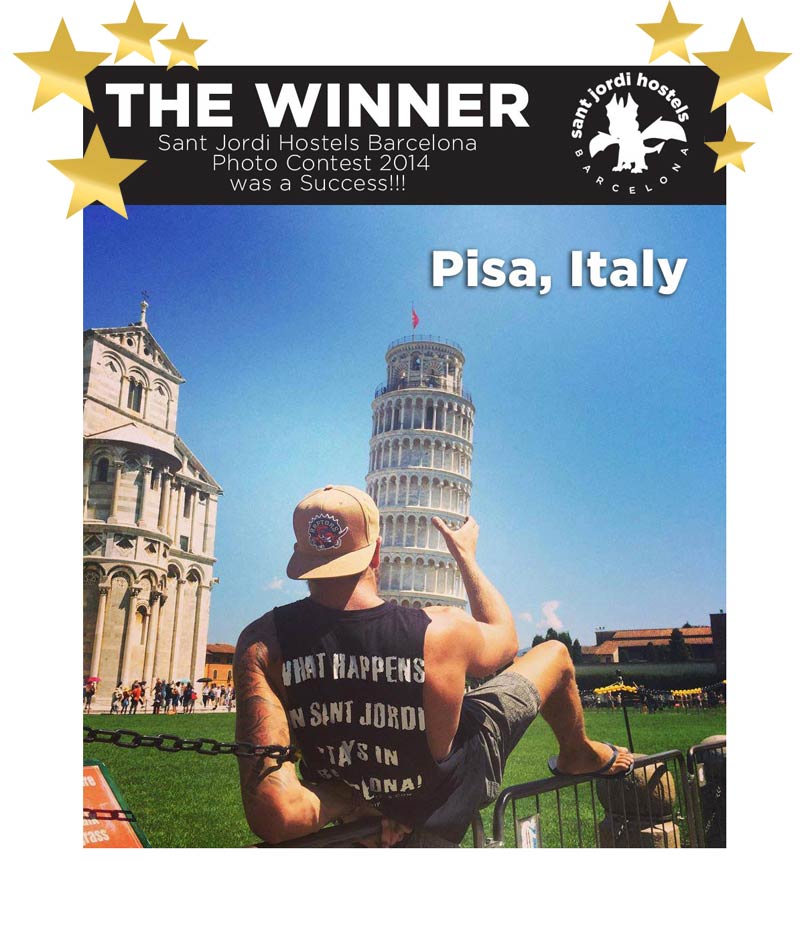 Ok, first of all we want to say thank you to everyone that participated in the 2014 photo contest. There were so many cool photos from so many beautiful places. It was really nice to see our lovely costumers representing Sant Jordi Hostels across the globe.
This whole photo contest thing started a few years ago when we asked a good friend to send us a photo from Australia. It is now 5 years later and the competition has become massive. We have an amazing collection of photos from around the world. We don´t just enjoy seeing our customers as they travel the planet, we use all the photos as part of decoration in all our hostels. And, every time we pass in front of the photo wall, we remember that each and every one of you guy are part of the Sant Jordi Hostels history.
Now, let´s talk about the the winner of the photo contest 2014, James Katsoolis. He took an amazing photo in Pisa, Italy. Everyone has their own take on the famous Leaning tower of Pisa tourist photo. Some people pinch it with their fingers, others hold it in the palm of their hand, some lean against it as if they are tipping it over. James took a different approach and our fans rewarded his enthusiasm and creativity. He is the winner because his photo received the largest number of likes on Facebook – plain and simple.

About the prize?¿?
The prize for the winner of the Sant Jordi Hostels 2014 photo contest is an Ipod. Now James can rock out to some good tunes while he is on his next trip!

Congratulations James katsoolis,