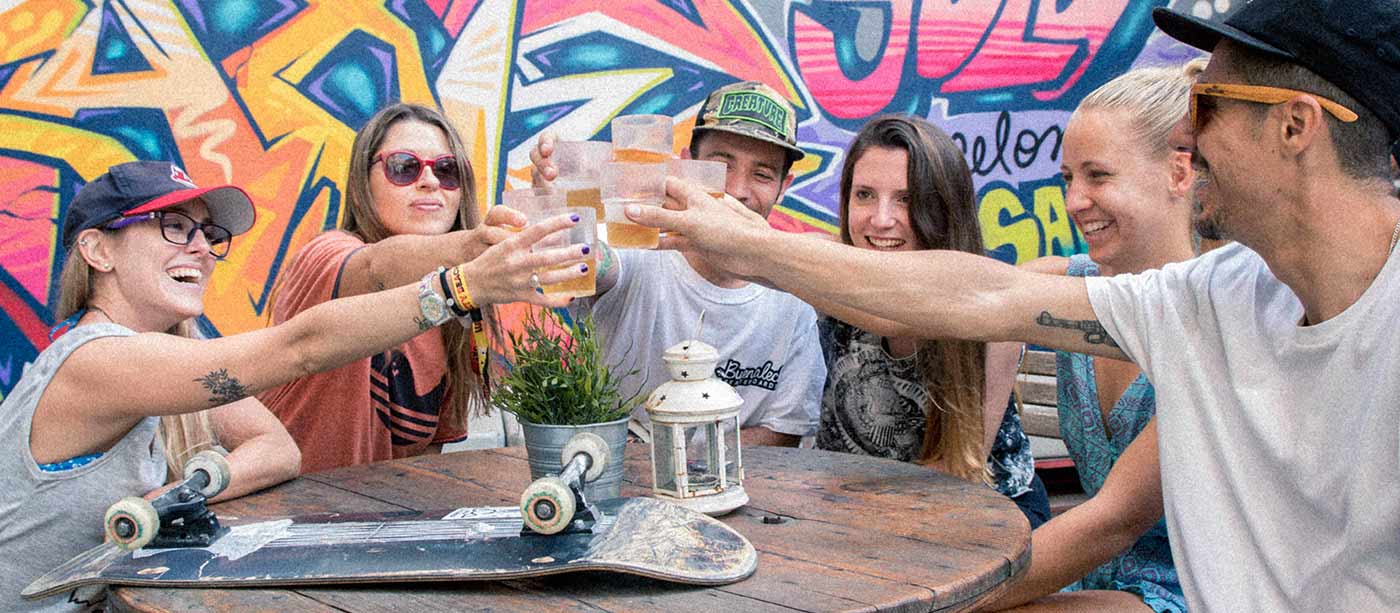 The Skate Hostel in Barcelona
A perfect hostel in Barcelona with a miniramp inside
The Skate Hostel Barcelona
A perfect hostel in Barcelona with a miniramp inside
The Skate Hostel
A Skateboard Hostel is the ultimate accommodation for skateboarders in Barcelona. What skater wouldn't want to stay at a hostel with an in-door miniramp just downstairs and free organized parties almost every night?
Our Sant Jordi Hostel Sagrada Familia was designed from the very beginning to be a skateboarder's paradise. Knowing that Barcelona is considered the European Capital of street skating and probably the best city in all of Europe for skaters, we thought it was more than appropriate for Barcelona to be the city to host Europe's first skate hostel.
Our goal was to create a skate hostel that would be the dream accommodation for skaters visiting Barcelona and at the same time a place that is comfortable for normal travelers expecting the best hostel facilities and services in Barcelona, all at a reasonable price.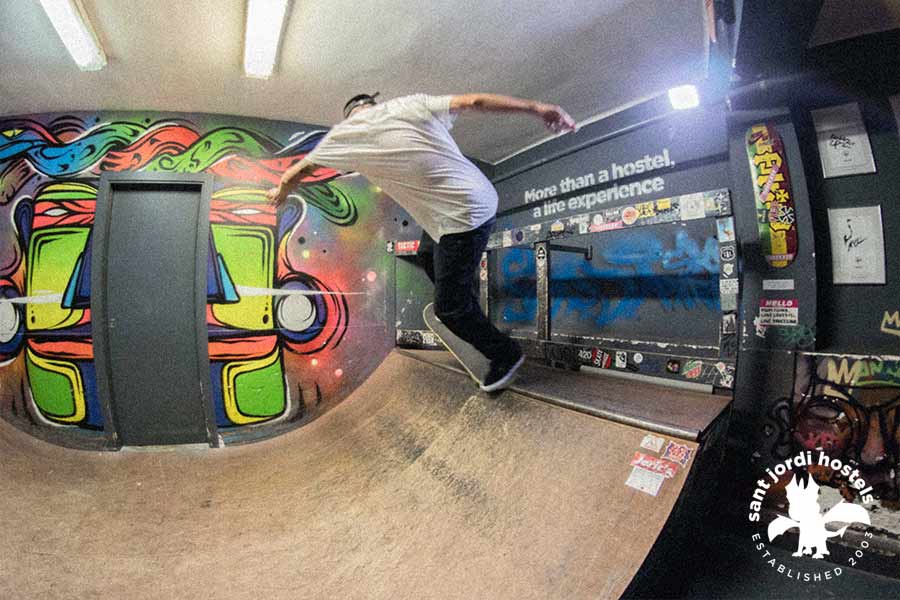 What makes a skate hostel different from any other hostel and why is Sant Jordi Hostel Sagrada Familia the best hostel for skateboarders in Barcelona?
First, we offer some of the best facilities and services of any hostel in Barcelona, maybe even the world. Second, we are totally dedicated to the Barcelona Skateboarding scene. Third, we have an in-door minirap! And finally, our hostel kicks ass – and not just because it is cool, fun, and one of the best rated hostels in Barcelona!
Over the past 5 years the standards of youth hostel facilities and services has been dramatically improved. Today, backpackers traveling throughout Europe expect so much more out of a youth hostel. Our Barcelona skate hostel, Sant Jordi Sagrada Familia, fulfills all of these expectations and more. We provide some of the best accommodation of any youth hostel anywhere in the world.
We know what travellers want. This means private cubby bed heads with reading lights and charging sockets, showers with good water pressure, movie projector, TV, computers, cool outside terrace with colorful graffiti covered walls (which is perfect for an insta pic) and lots beanbags to chill out on. Not only do we provide guests with a big, modern and well-equipped kitchen, but also give the option of unlimited breakfast and nightly dinners. Now, we're talking delicious Spanish paella's, traditional Brazilian stroganoff, hand prepared Milanese chicken and Mexican fiestas – to name a few! The dinners are prepared by our fun staff who love travelling as much as you do, so they're always keen for a chat!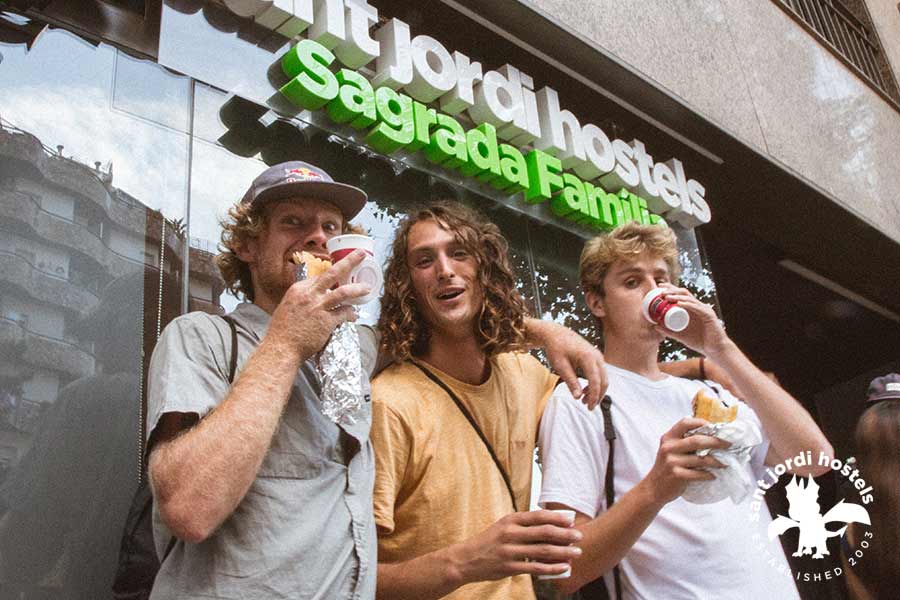 Skate Hostel Activities
After our dinners, the party team sets up games and music to start the nightly festivities. This is where everyone really gets to together. To not disturb those sleeping, we then take guests out on a nightly pub-crawl. We go to the best and most popular clubs in Barcelona. Seven nights, seven different clubs – for free!
We also provide something extra, above and beyond, for the skateboard enthusiasts. Ok, as you probably already know, we have an in-door miniramp. It is located in a separate closed room alongside our common areas.
That way you can skate all day, rain or shine! And, it won't bother anyone. We also have an ever-growing collection of skateboards – some vintage collectors items and others half-broken decks donated by previous guests (pro skaters included).
Pro Skaters Support and Visited
Just ask Luan de Oliveira, one of the best street skaters in the world. He stayed with us in 2013 after tearing it up at the XGames Barcelona street league competition. We have a slew of pro skaters dropping in. Even Evan smith has done a few stints here while in Barcelona. We've also looked after the Vans and Element skate teams! So yes, you may meet some famous pro skaters over paella on your stay. The hostel is always swarming with fresh armature skaters too, keen to take on the epic Barcelona streets!