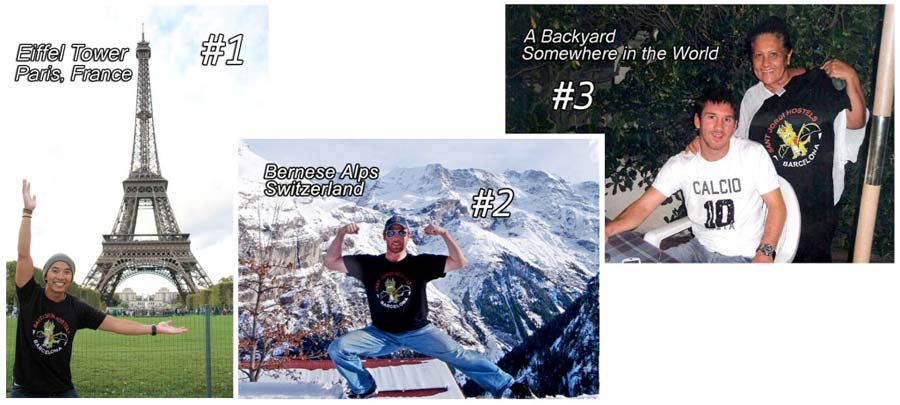 Our Sant Jordi Hostels Barcelona 2011 Photo Contest was a Success!!!
Thank you to all contestants and to everyone who placed a vote to help us pick our winners. We received so many cool pictures of friends sporting Sant Jordi T-shirts in so many random places around the globe. It was truly impressive!!!
1st Place – Steven Tieu from Australia, doing the YMCA dance in front of the Eifel Tower in Paris. We love that dance too. Rock on Steven!!!
2nd Place – Kevin Putnam from Canada, looking like King Kong and sporting a Sant Jordi T-Shirt on a rooftop in the Bernese Alps, Switzerland. Kevin, You are the Man!!!
3rd Place – Mama Lidia from Urugay, hanging out in a backyard somewhere in the world with soccer legend Lionel Messi of FC Barcelona. We don't know how you did it Mama Lidia but you sure are cool!!!
It was so much fun seeing our friends and former guests representing our Barcelona Hostels around the world. We can't wait to see where they end up in 2012!!!
Join the fun and participate in our 2012 Sant Jordi Hostels Barcelona Photo contest. Submit your Photo or just place a vote and you can be winner!
*Each winner will receive an ipod shuffle for their outstanding contribution
**The names of everyone who voted will be placed in a drawing and one lucky person will win an ipod just for voting.