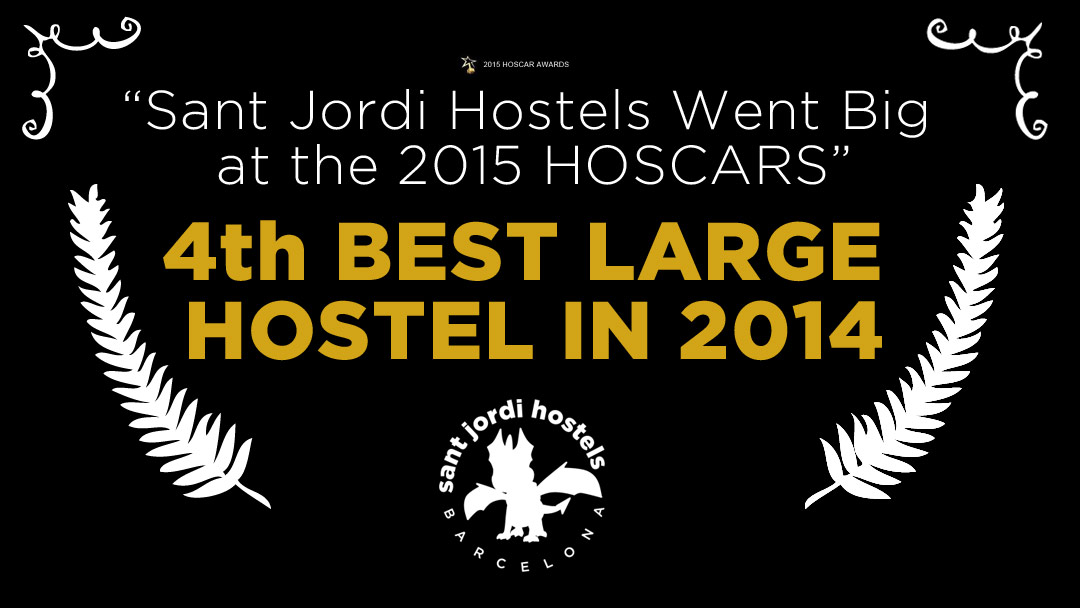 Este año Sant Jordi Hostels ha triunfado otra vez en los HOSCARS 2015, un evento organizado por la famosa pagina de reservas Hostelworld.
Nuestros hostels en Barcelona han sido premiados en dos categorías:
Sant Jordi Hostel Sagrada Familia
Premiado 4º Mejor Hostel Grande del mundo
Premiado Mejor Nuevo Hostel en 2015
Estamos muy contentos de poder dar a nuestros clientes la mejor atención y hacer de su viaje a Barcelona una experiencia inolvidable.
Queremos agradecer a todos nuestros clientes y amigos por el cariño, confianza y dedicación. Y también  damos las gracias a la mejor página de reservas de todo el mundo, Hostelworld.com, por premiar a Sant Jordi Hostels Barcelona.
Muchas Gracias a todos
This year Sant Jordi Hostels has triumphed again in the Hoscars 2015, an event organized by the famous hostel booking site Hostelworld.
Our hostels in Barcelona were awarded in two categories:
Sant Jordi Hostel Sagrada Familia
Awarded 4th Best Large Hostel Worldwide in 2014
Awarded Best New Hostel in 2015
We are very happy to give our customers the best service and make their trip to Barcelona unforgettable.
Thank you to all our customers and friends for the love, trust and dedication. We are also grateful to Hostelworld.com for reward Sant Jordi Hostels Barcelona.
Thank you all