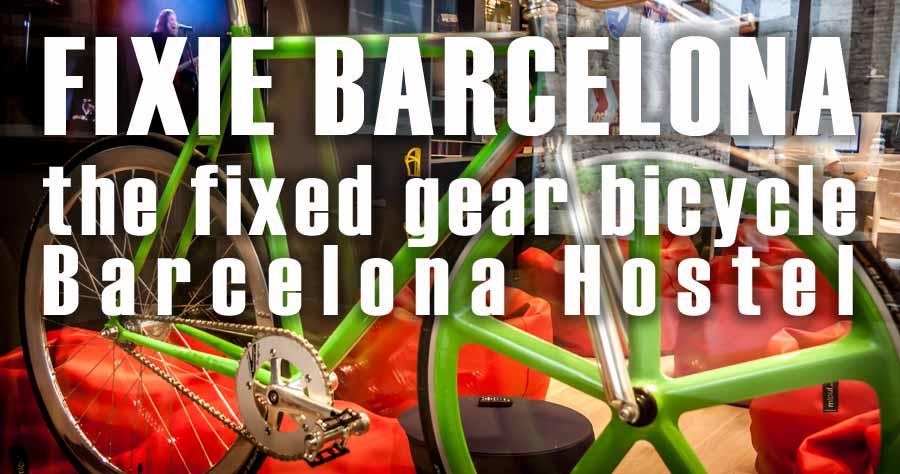 The Fixed-Gear Bicycle Barcelona Hostel
The fixie movement is blowing up across the globe and Barcelona is no exception. Representing an increasingly popular subculture of modern urban environs, a "fixie" is much more than just a bike; it signifies a way of life – a world view. Sant Jordi Hostels Barcelona finds the fixie world view so cool and inspiring that we are opening the first ever fixie hostel – a youth hostel dedicated to all things "fixie".
Why a "Fixie"?
Fixed gear bicycles are becoming ever more popular for a variety of reasons. The recent popularity of fixies has inspired a range of commentaries, some for and some against the use of fixed-gear bicycles. Whatever one's opinion might be, one must acknowledge that fixed-gear bicycles are a viable form of transportation, serve a wide variety of purposes and have inspired many.
In Contemporary Barcelona fixies are as loved as anywhere else in the world. They are a popular mode of transportation, a vital tool for performing tricks and BMX style stunts in an urban setting and are also being used in the increasingly popular urban sport, hardcourt bike polo.
The First Ever "Fixie" Hostel is in Barcelona
The New Barcelona Hostel Sant Jordi Hostel Gracia is the first ever fixed-gear bicycle themed hostel. Fixed-gear bicycles have become so popular around the world and particularly in Barcelona that in Spring 2012 the Award winning Barcelona Hostel Chain, Sant Jordi Hostels Barcelona, will be opening the first ever Barcelona fixed-gear bicycle themed hostel – designed to provide comfortable, modern, hostel-style accommodation with an international, fun and friendly environment that celebrates the contemporary urban love for all things fixie.
If you're just looking for a great hostel in Barcelona and don't even know what a fixie is, no worries, you'll love Hostel Sant Jordi Hostel Gracia as much as the next guy.
More on Fixies in Barcelona and Basic Fixie Info
If you're interested in finding out more about fixed-gear biking, riding fixies in Barcelona, the many different modern uses for fixed-gear bicycles, or would like to contribute to a discussion on whether "fixie" is just a fad, check out the rest of our blog and feel free to leave comments. Chech Out these links for more on all things fixie: