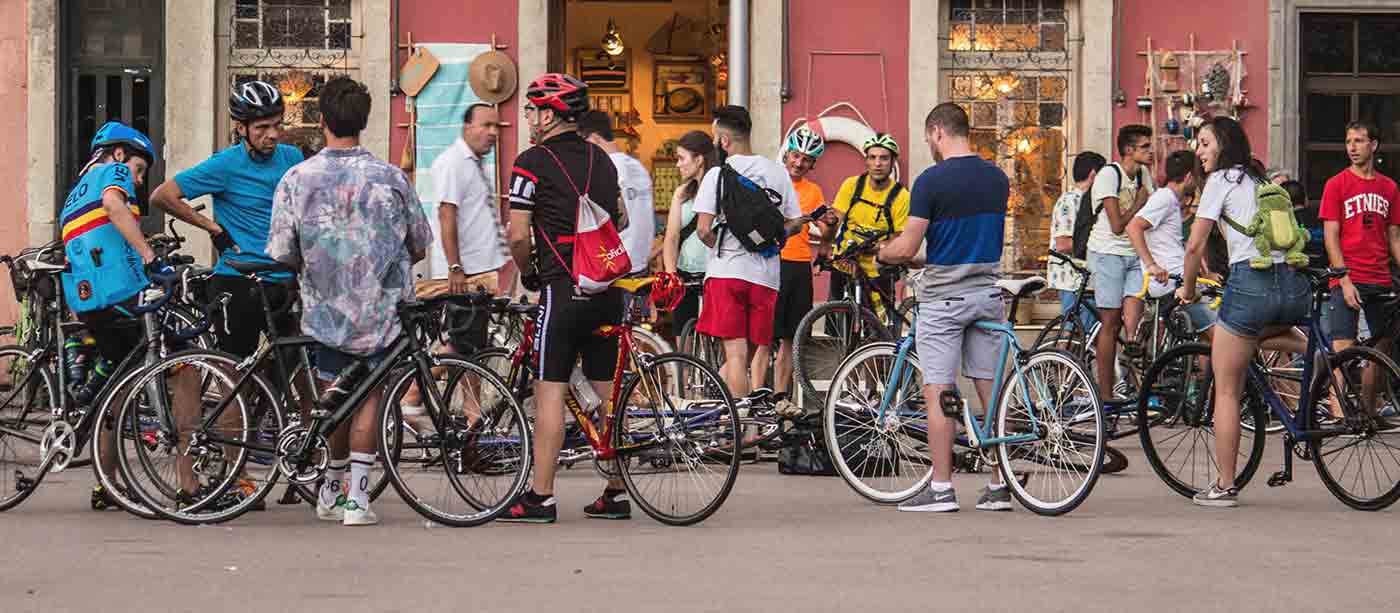 Because we at Sant Jordi Hostels Barcelona are opening the first ever fixie themed hostel this spring in the Gracia neighborhood of Barcelona, we would like to clear up a few things about fixies and fixie use in modern urban environs.
Modern Popularity of Fixies
Fixed-gear bicycles are becoming more and more popular. It is not at all uncommon to see fancy, retro-looking or bright colored "fixies" with all the latest accessories parked outside of any random café, book store, vintage clothing or record shop of whatever bohemian neighborhood of whatever modern city you might be in wherever around the world you might be. It has almost become too common. If you happen to be in the "cool" neighborhood, you will see fixies in New York, Seattle, San Francisco, Munich, Barcelona, Singapor and on, and on around the world. Is this because they are great bikes or because they are just plain cool?
Why Ride a Fixie
The forefather of the modern fixie is the track-bike, a bicycle designed especially for racing on an outdoor track or a velodrome. Actually, a fixie is nothing more than a popularized version of track bike. Because they are designed for racing – and in racing, aerodynamics and low weight are vital – track bikes are stripped of all unnecessary parts. This makes track bikes and fixies accordingly very light weight and mechanically simple.
Because of their light weight, speed and functionality, fixed-gear bikes were adopted by bike messengers in big cities. Bike messengers, are always under pressure to deliver the package quickly, safely and without delay and therefore require a fast and reliable bike that will not break and if it does, can be fixed at a moment's notice. Most bike messengers swear by their fixed-gear bikes and would not consider riding anything else.
Fixie – Fad or Functionality?
Does this mean that a fixie is the best bike ever, for everyone? Probably not. But, that doesn't mean that they are not cool, fun to ride and maybe even a benefit to the environment. Some will argue that the whole fixie scene is just a fad for hipsters who want to look cool, feel unique, or convince themselves that they are doing something special, different and maybe even rebellious or illegal. That just might be the case. But, that doesn't negate the fact that fixed-gear bikes are functional, fun to ride and might just convince a person who would otherwise drive, to get a little exercise and take a short break from contributing to global warming, pollution and the empowerment of the oil industry. Ok, I might be a little too optimistic, but in my opinion anything that makes a person happy and feel better about themselves is a positive thing; fad or not.
The First Ever "Fixie" Hostel is in Barcelona
Fixed-gear bicycles have become so popular around the world and particularly in Barcelona that in Spring 2012 the Award winning Barcelona based Hostel Chain, Sant Jordi Hostels Barcelona, will be opening the first ever fixie Barcelona, fixed-gear bicycle themed hostel – designed to provide comfortable, modern, hostel-style accommodation with an international, fun and friendly environment that celebrates the contemporary urban love for all things fixie.
If you're just looking for a great hostel in Barcelona and don't even know what a fixie is, no worries, you'll love Sant Jordi Hostel Gracia as much as the next guy.
More on Fixies in Barcelona and Basic Fixie Info
If you're interested in finding out more about fixed-gear biking, riding fixies in Barcelona, the many different modern uses for fixed-gear bicycles, or would like to contribute to a discussion on whether "fixie" is just a fad, check out the rest of our blog and feel free to leave comments. Chech Out these link for more on all things fixie: