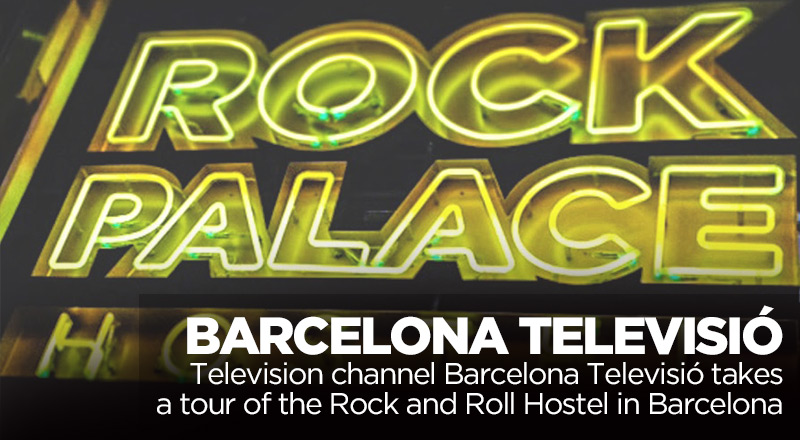 Barcelona Televisio Features the Rock Palace Hostel by Sant Jordi Hostels
Sant Jordi Hostels' Rock Palace hostel is in the news and on T.V.
Barcelona TV channel, Barcelona Televisio, recently did a feature report on the new Sant Jordi Hostel Rock Palace. They came out, took a tour of the facilities and got informed about what makes the Sant Jordi Hostel Rock Palace such an amazing hostel. They were pretty impressed by what they saw.
We started them off exactly where the customer would start – in the reception. After providing a brief explanation of why the hostel, is designed after various bars and clubs that were vital to the development of Rock music, we showed them our lounge area, some dorm rooms, the roof-top patio with pool and some other common spaces where guests can relax and enjoy.
They got to see our guitar collection, the noble floor (a historically protected area of the hostel that was restored and preserved and is now a hostel chill out area and dorm rooms), our grand marble stair case and underground-club inspired emergency exit stair case. By the end they were blown away by the attention to detail, the inspired design and the luxurious facilities that hostel guest are provided.
They had no idea a hostel could be so cool!
For the best hostel experience in Barcelona, Sant Jordi Hostels Barcleona is the one and only! Awarded, Best Small Hostel Chain Worldwide in 2014, Sant Jordi Hostels Barcelona is not only the best hostel chain in Barcelona, it is one of the best in the world. We are taking the hostel experience to the next level. Stay with us and enjoy awesome facilities, great locations and fun activities.