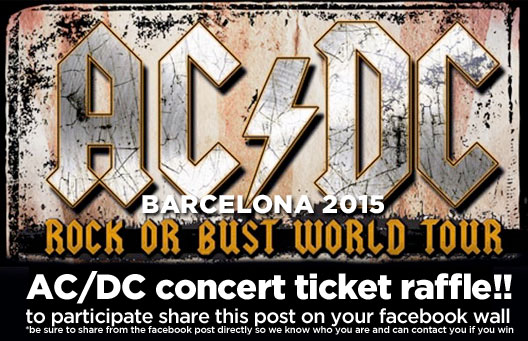 Free AC/DC Ticket!!!
IT'S A RAFFLE… WIN A TICKET!!!
SEE AC/DC LIVE IN BARCELONA
How to Win
Sant Jordi Hostels is Raffling a ticket to the AC/DC Barcelona 2015 Concert, scheduled for May 29th 2015. To participate in the raffle just share the facebook post below on your facebook timeline.
*Be sure to share (visible to the public) from the facebook post on the official Sant Jordi Hostels facebook fanpage, so we know who you are and can contact you if you win.
The winner will also receive free accommodation in the Sant Jordi Hostel Rock Palace for the night of the concert as well as the following night. Sant Jordi Hostel Rock Palace is the Rock Hostel in Barcelona – click here to check out the photos.
The winner will be chosen on Friday the 20th of March, 2015 – a full two months before the concert – to provide plenty of time to plan the trip, book a flight, feed your dog, tell your mom your going to Barcelona, break up with your boyfriend (or girlfriend) and do whatever else needs to be done so you can join us at the AC/DC "Rock or Bust" 2015 concert in Barcelona.
We wish everyone a lot of luck!!! But, remember, there can be only one… so, don't forget to share this post on your facebook wall for a chance to win.