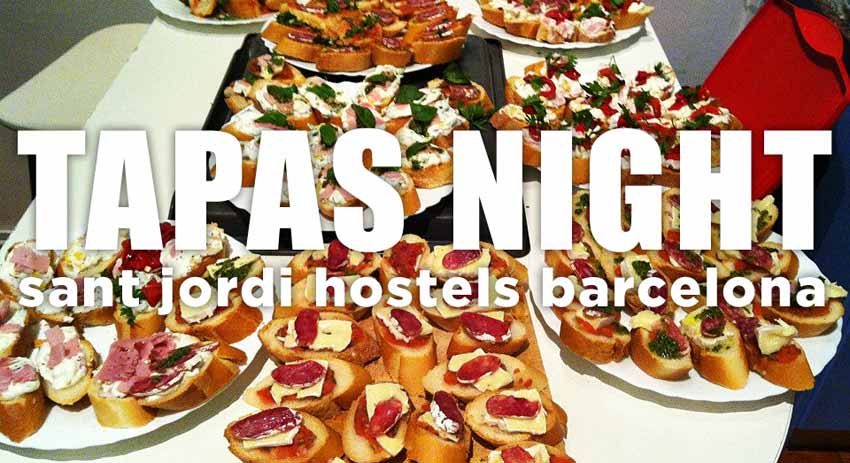 Looking for some good, quality tapas in Barcelona? When visiting Barcelona everyone should take the time to find a good place to have some authentic tapas in Barcelona. For the guests at Sant Jordi Hostels finding good, quality tapas in Barcelona is as easy as asking the receptionist – "When are we having another Tapas Night?"
Tapas are a wide variety of small Spanish dishes, finger food or appetizers. Depending on where you are in Spain you will find that tapas can be anything from a small dish of olives to sautéed shrimp or fancy hors d'oeuvre made of any number of interesting ingredients.
At several of our Sant Jordi Hostels in Barcelona we regularly organize 'Tapas Nights' so that the guests can come together have some great food, enjoy some Spanish culture and get to know one another. It is a great opportunity for hostel guests to learn how to make a wide variety of different tapas. In the spirit of Spanish culture, it is also a very social occasion and a perfect chance to meet some of the other interesting people staying in the hostel. Expect to eat some yummy tapas, enjoy some good conversation and have a lot of fun.
Looking for some good tapas bars in Barcelona?
Check out the "Top 3 Best Tapas Bars in Barcelona" – we provide description, directions, map and more. These are the best traditional tapas bars in Barcelona.