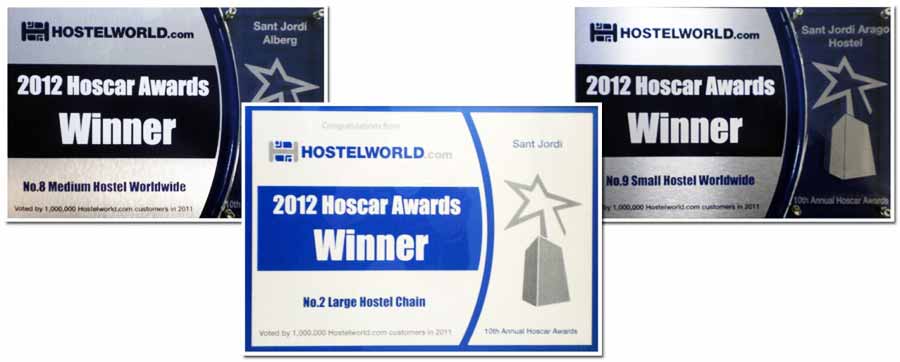 The HOSCARs – Hostelworld.com Customers Anual Ratings – is the most important anual awards celebration in the hostel industry. Compiling over 1 million customer reviews of more than 25,000 locations from around the world, the HOSCARS is the best, most non-biased way to reward and acknowledge the hostels and hostel chains that are leading the hostel industry into the future.
At the 2012 awards ceremony, our Sant Jordi hostels in Barcelona were awarded 3 of the prestigious HOSCAR awards
2nd BEST LARGE HOSTEL CHAIN WORLDWIDE, 2011 – Sant Jordi Hostels
8th BEST MEDIUM HOSTEL WORLDWIDE, 2011 – Sant Jordi Hostel Alberg
9th BEST SMALL HOSTEL WORLDWIDE, 2011 – Sant Jordi Hostel Arago
Needles to say we had a great time in Dublin with all of our friends and colleagues in the international hostel community.
We would like to thank all of our wonderful customers – as everyone who has ever stayed in a hostel knows, one of the most important factors to having a great hostel experience is meeting cool people, sharing good times and making new friends. Thank you also to our dedicated staff for their endless hard work, to hostelworld.com for making this all possible and to all of the hostels around the world for joining us in our efforts to continually improve the industry.