The most prestigious awards in the international hostel industry, the 2013 HOSCARS award ceremony is scheduled for this Thursday, the 21st of February. The Sant Jordi Hostels crew will be in attendance and we hope to bring home a few of the top honors.
Hosted by the good folks at Hostelworld, the 2013 HOSCAR award ceremony is a chance for the best in the business to be recognized for their hard work, innovation and inspirational contributions to the ever-improving standards and creative designs of hostels around the world. In the increasingly competitive industry of the international youth hostel, this is the ultimate chance for the best of the best to be acknowledged and recognized among their peers.

In years past Sant Jordi Hostels Barcelona has brought home some of the top prizes – No.2 Large Hostel Chain 2011, No.8 Medium Hostel Worldwide 2011, No.9 Small Hostel Worldwide 2011, No.2 Hostel Chain Worldwide 2010, No.1 Hostel in Spain 2010, No.10 Small Hostel Worldwide 2010, and more. Hopefully this year we do the same.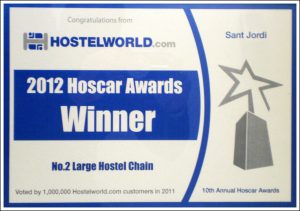 We want to bring home another one of these bad boys!
Wish us luck!