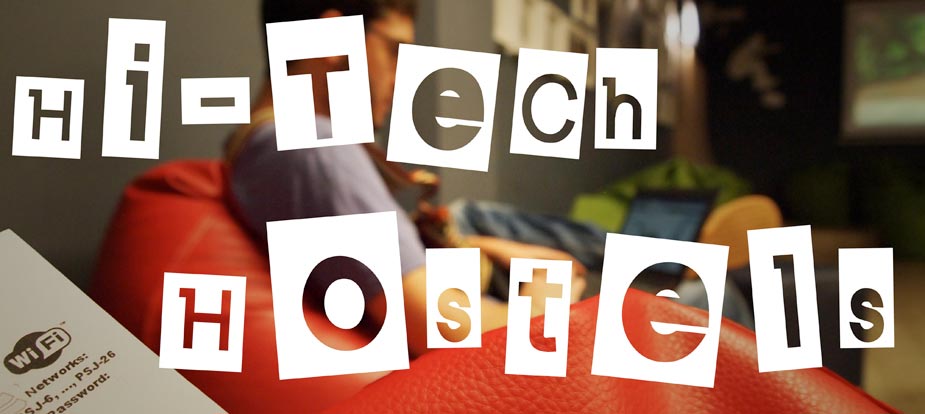 High-tech hostel amenities and well designed, modern installations have become the standard in the increasingly competitive industry of international youth hostels. Free Wi-Fi, free use of computers with free high-speed internet, solid hostel security and individual bed-side charging stations for portable devices are more frequently regarded by well travelled hostel guests common sense amenities and are increasingly expected features of a good hostel.
Why is it then that most hotels around the world, whether 2 star, 3 star, 4 star or higher, charge extra for high-tech amenities; if they offer them at all?
For anyone who has stayed in a youth hostel during the past 2 or 3 years, anywhere around the world, it may seem logical that free Wi-Fi connection and guest computers with free high-speed internet is included in the price. It has also become almost standard that next to the bed is an individual charging station with electrical plug and cubby/shelf for charging portable devices while you sleep. The best and most competitive hostels world-wide have been taking note of what guests want and expect out of a nice hostel with modern facilities.
High-tech Hostel Amenities at Sant Jordi Hostels in Barcelona
The Barcelona based hostel chain, Sant Jordi hostels, has been paying close attention to the opinions of hostel guests and has made progressive steps to modernize their services and facilities. Over the past two years Sant Jordi hostels has put great effort into both renovating their existing Barcelona hostels and opening entirely new hostels in Barcelona. All of the renovations, as well as new construction, have focused on improving the high-tech hostel facilities and modernizing the hostel amenities and services.
At the Sant Jordi Hostel Sagrada Familia (newly opened in June of 2011), the Sant Jordi Hostel Gracia (newly opened in April of 2012), as well as the Sant Jordi Hostel Alberg (newly renovated in February of 2012) high-tech hostel facilities are the norm. Each of these Barcelona hostel locations have been designed with particular attention paid to the modernization of security and connectivity.
After considering all of the high-tech modern amenities and facilities offered by youth hostels world-wide, it is little wonder that the hotel industry is having to play catch-up in order to improve their high-tech amenities and fulfill their customers' basic needs and desires.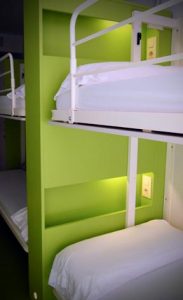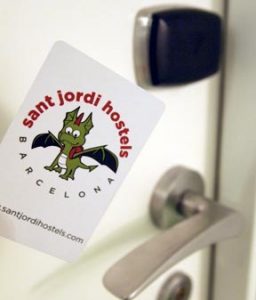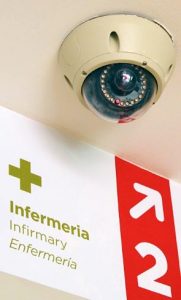 High-tech Hostel Security
As security is a primary concern for all travelers – everyone wants to feel comfortable leaving their valuables at the hostel while they explore a new city – the modernization of hostel security was an important part of the renovation and construction of the Sant Jordi hostels. To improve and modernize the security of their new and newly renovated hostels, they installed a network of security cameras as well as a magnetic card operated entry and locker system.
Magnetic cards, which provide access to the main hostel entrance, guest bedrooms and lockers, are the best way of providing hostel guests both convenience and security. The magnetic cards are easily programmed to expire when the guests stay ends and will no longer work if a replacement card has been issued. This ensures that if a card is lost, stolen or expired it cannot be used to access the hostel facilities.
The network of security cameras at Sant Jordi's high-tech hostels are strategically located at the entrance, in the common areas and in stairways and corridors to ensure that they are not intrusive to the privacy of guests and at the same time deter thieves or catch them in the act.
High-tech Hostel Connectivity
With the increasingly frequent use of laptops, tablets, and other mobile devices with wireless connectivity, it seems almost common sense that hostel guests would greatly appreciate the availability of wireless connectivity. Sant Jordi hostels have taken this idea a step farther.
At Sant Jordi's high-tech hostels in Barcelona free Wi-Fi is provided throughout the entire hostel. That means that guests can relax where they please – in their bedrooms, on the outside patio or in the common areas – and use their own personal mobile devices to surf the web free of charge.
Also, for those guests who did not bring a wireless mobile device, there are always sufficient guest computers with high speed internet and usb ports available for guests to use free of charge. The guest computers are located in the common area and are available for use 24 hours a day.
High-tech Hostel Comforts and Amenities
Paying close attention to their increasingly tech-savvy guests' needs and desires, during the design process of the renovations and new hostel constructions, the Sant Jordi hostels team carefully planned the design of every aspect of the hostel facilities. Keeping in mind that guest are more frequently traveling with electronic devices that need regular recharging, the Sant Jordi design team created an entirely new system of bunk beds that include individual cubbies with electrical outlet, shelf and reading light for each bed. This provides the guest a secure place to recharge their devices while they sleep comfortably and worry free.
The common areas of Sant Jordi's high-tech hostels were also designed to provide ease of use, comfort and durability.