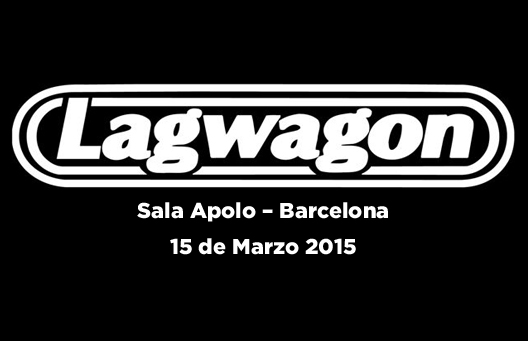 Lagwagon Concert Barcelona Ticket Raffle
We are giving away a free ticket to the Lagwagon concert at the Sala Apollo in Barcelona on the 15th of March, 2015
Once again, Sant Jordi Hostels Barcelona brings you a concert ticket raffle. This time for a chance to see the mythic Californian Band Lagwagon, as they participate in the Vans Music Tour along with The Flatliners & Western Addiction.
Thanks to our collaborator Rock Zone magazine for providing the tickets!
In addition to winning a free ticket to the show, the winner will also receive 1 free night accommodation at the Rock Hostel Barcelona, Sant Jordi Hostel Rock Palace.
Lagwagon Concert Barcelona
Where: Sala Apollo
When: March 15th 2015
How to Participate in the Raffle
Be a fan of the Sant Jordi Hostels facebook fan-page.
Be a fan of the RockZone magazine facebook fan-page.
Share the facebook fan-page post "Lagwagon Concert Barcelona Ticket Raffle" from the Sant Jordi Hostels Facebook fan-page or the RockZone magazine facebook fan-page on your facebook wall (be sure to share it publicly so we can track your participation).
The raffle will take place on the 13th of March 2015.
The winner will be placed on the invite list of the concert. To participate, don't forget to share the post and become a fan.
Lots of luck to all participants!