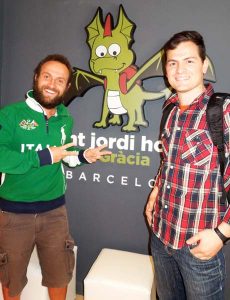 It is official, the first guests at Sant Jordi Hostel Gracia were successfully checked in. After 6 months of constructions and over a year of planning we are finally open for business and have some seriously satisfied customers. A big thank you to everyone that contributed to the project and helped to make our grand opening a spectacular success!
For more information about our newest hostel in Barcelona, Sant Jordi Hostel Gracia, check out "Fixie Barcelona – The Fixed Gear Bicycle Barcelona Hostel". To see some photos of the final stage of construction, check out "A Few Finishing Touches – Sant Jordi Hostel Gracia is Opening Soon". Reserve your bed now and take advantage of our super low prices. To check out availability and prices go to our book now page and click on the link for Book Hostel Sant Jordi Hostel Gracia.
We are super proud of the newest addition to our group of hostels in Barcelona. Not only is it brand new and designed especially for backpacking and hostel enthusiasts but it is also located in one of the coolest neighborhoods in Barcelona and provides a hip, international atmosphere.